Authenticity is a broad subject that probably many people agree that we'll never agree on, since food changes and evolves, as time goes by, and as people cross borders, using what they can get where they live. But I sometimes have an amusing image in my head that the people who are scouring the internet, pointing out inauthentic recipes, are sitting in cafes, eating chicken Caesar Salads. (The true Caesar Salad doesn't have chicken on it. Or tomatoes, shrimp, corn, or tortilla chips, which I've seen.)
I didn't know a lot about Salade Niçoise, the true version, until I came to France. But even so, your chances of finding a vrai (true) Salade Niçoise are almost nil. I've seen versions that have everything from rice to Parmesan on them, and some even have cooked green beans and potatoes.
What? You are probably saying to yourself. Potatoes and green beans are supposed to be on a Salade Niçoise – right? Well, not really. A true Niçoise Salad only has raw vegetables. It can have anchovies or canned tuna, but never both, and neither is required. (Grilled tuna is another no-no.) The only thing cooked on the salad are hard-boiled eggs.
Before you click away in shame or disbelief, it's fine if you want to use all those things on your salad. I'm okay with defunding the authenticity police. But if you want to make a true Salade Niçoise, that's what's happening here.
The two proponents of the authentic Salade Niçoise that I look to guidance for are Jacques Médecin, in his book Cuisine Niçoise, and The Cuisine of the Sun by Mireille Johnston. Jacques Médecin was the former mayor of Nice who was a fierce proponent of authentic Niçoise cooking, said in his final words before his recipe for (Genuine) Salade Niçoise; "…never, ever, I beg you, include boiled potato or any other kind of boiled vegetable in your salade niçoise."
Mireille was a bit more gentle, advising readers to "Use the freshest raw vegetables, never frozen or canned." (In case anyone might be inclined to steam a fresh vegetable, she italicized raw.)
Another difference is the dressing. Jacques says to rub the salad bowl with a clove of garlic and just dress the salad with olive oil and fresh basil, saying vinegar and vinaigrette doesn't belong on the salad, Mireille sauces hers with a vinagrette made with basil and garlic, and yes…vinegar.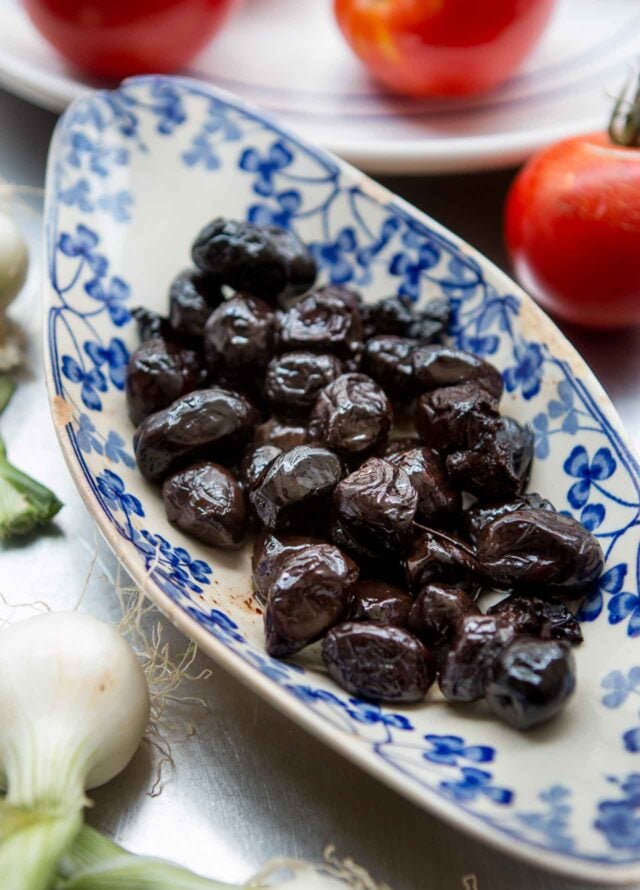 Lest I (or they) scare you away from making Salade Niçoise, the great news is that it's actually quite easy, and a lot of the work can be done in advance. You can even make the whole salad in advance and keep it in the refrigerator. (Jacques actually tells you to do that before serving to get it well-chilled.) If you don't like anchovies, one piece of advice I can give you is to try very good anchovies.
The best I've had are Callol Serrats, which are beautiful strips, caught and packed in Catalonia that aren't fishy or mushy, but pretty perfect. (Beaune Imports exports them to the U.S. The price reflects that they are shipped under optimal conditions and even Chez Panisse uses them.) The upside to them also is they are packed in oil so there's no messy cleaning. But find a good anchovy, if you use them, avoiding those that come in those rectangular tins, which are usually not-so-great.
For the anti-anchovy folks, you can open a can of tuna and use that, adding the flakes or pieces to the salad. According to Jacques Médecin, people in Nice used anchovies (which they put up themselves at home) if they couldn't afford to buy tinned tuna.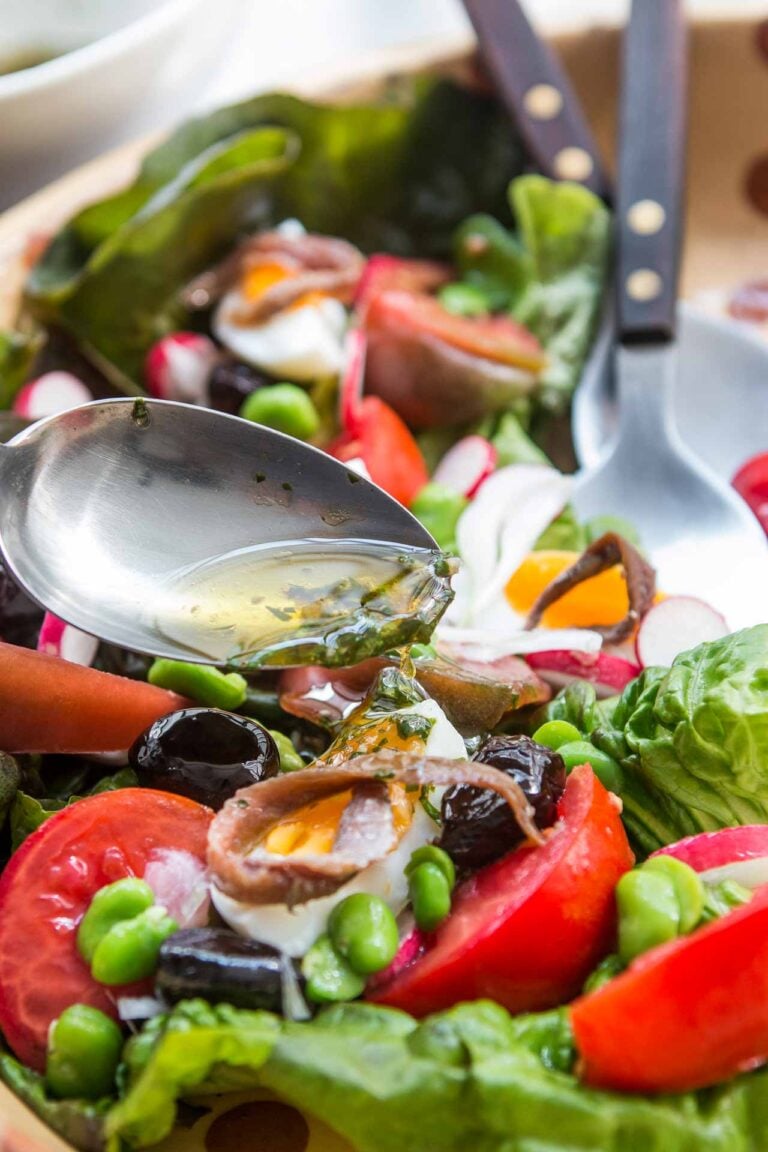 I don't love bell peppers so keep them off my Salade Niçoise and while both authors agree on cucumbers, Mireille is a fan of thinly sliced fennel. I made a few other observations before the recipe but the main thing when you're cooking and eating is to enjoy yourself. If you want to add whatever, you can. Just don't tell Jacques, or Mireille.
Salade Niçoise
Inspired by
Niçoise Cuisine: Recipes from a Mediterranean Kitchen
by Jacques Medecin and
The Cuisine of the Sun
by Mireille Johnston I mentioned a lot of variations and suggestions in the post, so you have some latitude. I didn't include a cucumber in my salad that I made for the photos in this post as no one had any at the market, but I included them in the recipe. Most of the ingredients are easy to get (unless you go shopping the one day no one has cucumbers at the market!) but the fava beans may prove a challenge. They are usually in season in the spring and purchased in the pod. The beans will need to be removed from the pods and the individual beans have a leathery skin that needs to be pulled off, unless they are quite young, in which case the skin is sometimes soft enough to eat. With all due respect to Ms. Johnston,
Picard
in France sells frozen fava beans that are pretty good. (Avoid the already peeled ones, which I find mushy.) In the U.S., while inauthentic, some use edamame beans. Otherwise you can use small, raw artichokes, sliced as thinly as possible, preferably on a mandoline, or skip the beans or artichokes, if unavailable. The classic Niçoise Salad includes peppers, but neither one of us are fans of raw peppers so I omitted them. If you use unpitted olives, especially tiny Niçoise olives, advise guests to watch out for pits. And at the risk of adding too many rules, if you go with oil-cured olives, the ones from Nyons, produced about an hour from Nice, are quite good : )
For the Salad
5-6

medium

tomatoes

,

sliced and gently salted

1

small

head of lettuce

,

preferably a soft lettuce, such as Bibb or Boston

12

radishes

,

sliced

1

small cucumber

,

peeled, seeded, and sliced

3/4

cup (110g)

peeled fava beans

,

or 8-10 very small artichokes, trimmed and very thinly sliced

1/2

cup (70g)

black olives

,

Niçoise or oil-cured, pitted or unpitted

4

hard-cooked eggs

,

peeled and quartered (see note after recipe)

5-6

anchovy filets

,

cut into thin strips lengthwise, or a 6 ounce (180g) tin of tuna

4

spring onions or 6 scallions

,

trimmed to just use the white and light green parts, thinly sliced, or 1/2 small red onion, peeled and thinly sliced

freshly ground black pepper
For the vinaigrette
3

tablespoons

red wine vinegar

1/2

teaspoon

kosher or sea salt

1/2

cup (125ml)

extra-virgin olive oil

10-12

leaves

fresh basil

2

small cloves

garlic

,

peeled and minced
In a small bowl, sprinkle a little salt over the tomato slices and let stand 10 minutes.

Wash and dry the salad. Place the leaves in a salad bowl or on a serving platter. (You can either place the ingredients in individual piles over the lettuce to make a "composed salad" or do as I do here, and just arrange everything over the lettuce.)

Arrange the radishes, cucumber slices, fava beans (or artichokes), olives, quartered hard-cooked eggs, and tomatoes over the lettuce. (Drain away any liquid the tomatoes may have exuded.) Place the anchovy strips over the eggs. If using tuna, scatter big pieces or flakes over the salad.

Make the vinaigrette by stirring the vinegar and salt together in a small bowl until the salt is dissolved. Stir in the olive oil, then the garlic and basil and add them. Taste and adjust for salt and to make sure the balance of vinegar and olive oil is right.

Serve the salad. You can either dress the salad before serving (some people gently toss the ingredients together, before serving), or serve the salad undressed and let guests add their own dressing. If you dress the salad beforehand, add some freshly ground pepper when you do. If not, have a peppermill handy for guests to use.
Notes
To make hard-cooked eggs: Start with room temperature large eggs. Bring a small pot of water to a boil. Reduce the heat to a simmer and gently lower the eggs in with a spoon. Simmer at a very low boil for 9 minutes. Remove the eggs from the water and plunk them into a bowl of ice water, cracking the shells a bit after a few minutes, which aids in peeling.
Related Recipes and Links
How to Prepare Fava Beans (Fine Cooking)
Niçoise Salad (Simply Recipes)
Salade Niçoise (Nicerendezvous, in French)
Creamy Feta-Red Wine Vinegar Dressing
How to Find Foods and Other Items Mentioned on the Site
French Purists Rise Up in Defense of Niçoise Salad (Times of Malta)