The National Garlic Dish of France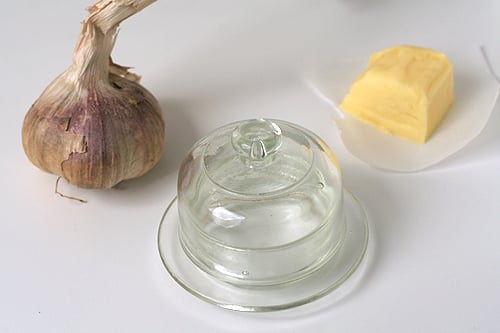 I'm pretty sure that there's sometimes a secret conspiracy around here to make me think that it's me who is crazy. For example, I bought this little glass dish last weekend. When I brought it to the seller to pay, I said, "This is such a beautiful butter dish."
She looked at me, then at it. Then back at me.
"Non, non, monsieur, it's for garlic."
When I pointed out that the cloche is way too small to enclosed a head of garlic, she said, "It's for peeled cloves of garlic, so they don't smell in your refrigerator."
Scratching my head, I asked another customer who was walking by, who wasn't privy to our conversation, for his word.
"Quick…what's this for?" I said, thinking I would trip him up.
"Pour l'ail, monsieur! Bien sûr!"
Everyone else around agreed that it's for garlic—except me.
I mean, I ask you; who in their right mind….er…let me rephrase that…
1. Who intentionally peels more garlic than they need, then stores the rest?
2. Who around here refrigerates anything that doesn't absolutely, positively doesn't have to be refrigerated?
3. Can you trust the word of a group of people whose grown men who wear socks with cartoon characters on them?
When I got back to the house, I gathered all 'round, to get their opinion. I was keen on hearing what others had to say, since I seemed to be the lone voice amongst the previous folks, who insisted that it was absolutely inconceivable that anyone would possibly store anything but garlic in a dish like this.
I'm sure I don't even need to tell you what everyone agreed it was for.
I think that does it. Either I'm nuts—or they are.