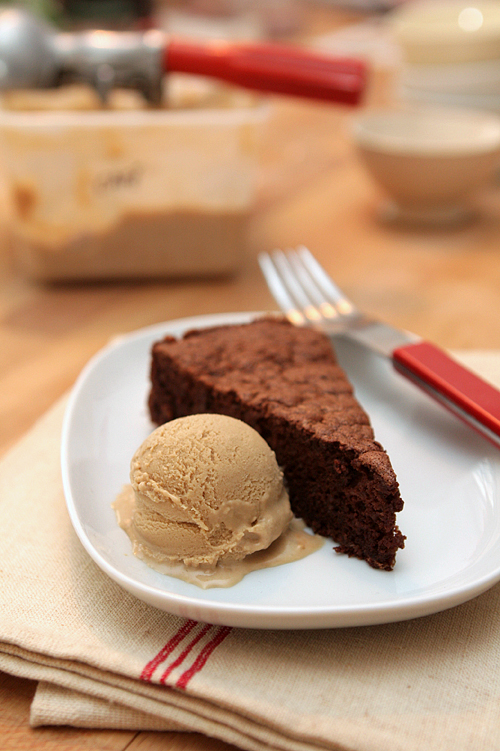 I had some friends coming over last night for drinks and dinner. And then, one by one, each cancelled because their kids had gotten the flu that's going around. So I was forced to eat all the lemons bars I'd made for dessert, which I didn't think would keep until the rescheduled night. (Actually, they probably would. But I knew it would be hard to keep looking at that pan of untouched lemon bars for a full three days.)
So I was flipping through Small Plates and Sweet Treats from Aran Goyoaga, and the section on "Winter Sweet Treats", which is full of her trademark light-filled pictures just like her blog, cannelle et vanille, with plates of gorgeous produce, and landed on a cake with buckwheat and chocolate melded together. And decided that would be the replacement for the now-gone lemon bars. Aran's recipes are all gluten-free, and even though I modified her recipe a bit, I did keep it gluten-free just because I saw no reason to go otherwise. And really, isn't buckwheat in anything reason enough to make a recipe, whether you're gluten-free or not?
Because it was cold out and I didn't want to risk the same fate as my friend's children, I didn't want to make the trek to the store for almond meal (also called almond powder, or almond flour), I made my own using some sliced almonds I had on hand. I ground them up with the buckwheat, which I always have on hand. And I used unrefined sugar, which I agree with Aran, seems to deepen the taste of the chocolate. But I don't see any reason why you can't use regular sugar if that's what you have, or doing half white and half light-brown sugar in its place. If the math perplexes you, pick one or the other.
Chocolate-Buckwheat Cake
Eight to twelve servings


Adapted from Small Plates and Sweet Treats from Aran Goyoaga of cannelle et vanille



This is a simple cake, one that the French would consider a "snack cake", meaning one that is meant to be consumed in the afternoon perhaps. However it can be dressed up with chocolate sauce and a scoop of ice cream. I had some coffee ice cream (from The Perfect Scoop) which was all ready to be used, but you can pick another flavor.

Aran used hazelnuts which have a particularly good affinity with buckwheat, so if you have them, use them. (She also folded a handful of toasted, chopped hazelnuts in the batter after the egg whites.) Like most chocolate cakes, this one benefits from being soft, so keep an eye on it in the oven and take it out when it still feels rather soft in the center.





6 ounces (170g) bittersweet or semisweet chocolate, chopped

1/2 cup

(115g)

unsalted butter

, cubed
4 large eggs, separated
1/2 cup (100g) unrefined or granulated sugar
1/3 cup (80ml) plain whole-milk yogurt
1 teaspoon vanilla extract
1/2 teaspoon salt
3/4 cup (75g) almond or hazelnut flour (see Note, below)
1/4 cup (35g) buckwheat flour





1. Preheat the oven to 350ºF (180ºC.) Butter an 8-inch (20cm) cake pan and line the bottom with a round of parchment paper.

2. In a large, heatproof bowl set over a pan of simmering water, melt the chocolate and butter until smooth, then remove from the heat and let cool slightly.

3. In a medium bowl, whisk together the egg yolks, half of the sugar, yogurt, vanilla, and salt, the whisk them into the melted chocolate. Stir in the almond or hazelnut flour, and the buckwheat flour.

4. In the bowl of a stand mixer, or by hand, whip the egg whites until they form soft peaks. Gradually whip in the other half of the sugar until the whites are in firm peaks. Fold one-third of the whipped egg whites into the chocolate mixture to lighten it, then fold in the remaining chocolate mixture just until it's completely combined.

5. Scrape the batter into the pan, level the top, then bake for 25 to
Related Links and Recipes
Buckwheat 101 (Washington Post)
Buckwheat Ice Cream (LA Times)
White Chocolate and Cherry Scones