You probably don't like looking at that picture above. And I hear ya. But that's what some of the streets look like in Paris. It's something that's become such a problem that the mayor of Paris has decided to try to tackle the issue, and I share his concerns, although progress is evidentially slow-going. But what confounds me, as well as others, is why do so many people in Paris smoke? And why is the number of smokers increasing in France, when the US and other countries are seeing a decline?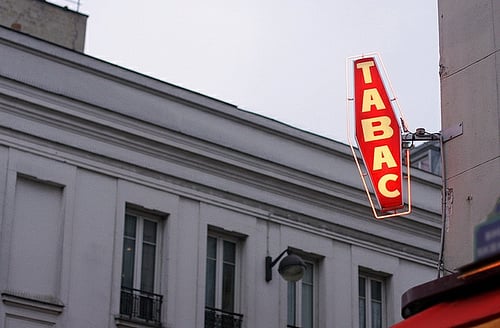 Not everyone does smoke in Paris, but walking around the city, it's hard not to think that everyone does when seemingly a good number of people on the street, or sitting at outdoor café tables, either appears to be lighting something up, or flicking something out. Go to the movies and before the credits roll, folks have already put an unlit cigarette in their mouths with the lighters poised and ready so they can flame up the minute they step outside. Ditto with the métro exits and outside the airport. And walk by any office, or school in mid-afternoon, and the workers and students are lined up on the sidewalk, puffing away.
Due to the stresses of living in city, it's natural that people in Paris will be heavier smokers than the rest of the country, but on the whole, cigarette smoking enjoys great popularity in France. It's estimated that one-third of the people in France smoke and that figure jumps when you talk about the 38% of kids aged 15-16 years old who've smoked a cigarette recently (10% more than other European countries), and I've heard estimates that 50% of teenage girls smoke in France, a number which is on the rise.
Smoking in France is not stigmatized, and reasons why people smoke so much in France – more than most other European countries – aren't exactly clear. Like in other places, many teenage boys and girls smoke because of the "cool" factor for sure, but there is also a desire to not gain weight, especially amongst women (and not eat) hence the typical café tableau amongst friends of cell phones, cigarettes, and Coca-Zero (diet Coke) on café tables. (And I'm not the arbiter of "cool", but I'm not sure how cool it is to support multinational tobacco and soft drink companies.)
But like the mayor noted, it's not cool to look down the street and notice the residue of smokers which blight this beautiful city: there are literally billions of cigarette butts scattered on the street, which take 12 years to decompose. It's estimated that there are 30 billion mégots (cigarette butts) on the streets of Paris, which the mayor of Paris has vowed to tackle with a proposed €68 fine per infraction. It's not quite clear who is going to be issuing those tickets, and it'd be interesting to see some statistics on how many were handed out.
(Talk about bringing in some much-needed revenue – 30 billion x €68 =_________ !)
In an effort to at least get people to stub out their cigarettes and throw them in garbage cans, the city of Paris has installed 10,000 "ashtrays" attached to the public garbage cans. But if people can't even be bothered to stamp out their smoldering cigarette when tossing the mégots (butts) on the ground, are they going to walk 10 meters (32 feet) to extinguish their cigarette? I've not seen anyone use one but perhaps they will just take some getting used to and people will, indeed, begin to stub their cigarettes out on them, and throw the butts in the plastic garbage bags, attached.
Personally, I don't have anything against smoking. (I smoked for a while as well.) We live in a society where we tolerate a number of behaviors that aren't healthy and/or infringe on others, which include wearing perfume or Axe for Men, driving cars, overpopulating, talking loudly on cell phones, and drinking alcohol. Those are things that, for the most part, we just have to accept about each other. And some people want to smoke, and I am fully supportive of that and that we, as a society, have to accept that we all have our vices. It's just when things become excessive – the loud drunk, the table of chain-smokers, riding the métro next to a jeune homme wearing Axe, or being seated next to someone in a restaurant wearing too much perfume – then, it becomes a concern.
The two arguments I've heard most often are, 1) "Well, we're all going to die sometime!", and 2) "Ne fume pas? C'est très américain.." ("No smoking? That's so American..")
The problem with those two arguments is that, number-one, most of the people saying the first phrase are young and healthy. They haven't seen people dying of cancer and other smoking-related illnesses, which I have seen, and let me tell you, they are awful, horrible, excruciating ways to die. And the second, that no-smoking is somehow "American" doesn't cut it because I remember when people smoked in movie theatres and on airplanes in America. And it was during my lifetime that I've seen a gradual shift from smoking to non-smoking. People were flipping out when they banned smoking on airplanes in America and now it's just part of our normal lives not to allow it, similar to many other countries.
(And with 46.6 million smokers in America, I don't think that non-smoking is exactly très américain.)
Then there is the trait of 'doing the opposite' of what you're told, or doing whatever is bad for you just because, well – c'est comme ça. I don't know how smoking affects health care costs in France (on the other hand, cigarettes are heavily taxed and cigarette sales augment the tax coffers), but with 66,000 to 73,000 people a year dying in France, it's likely a fairly substantial burden on the excellent French health care system and social structure.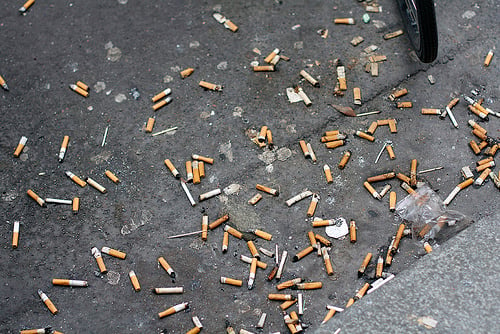 A new law is being considered which will make all cigarette packs plain white, with no logo on them, and increasing the price of cigarettes in France a few euros per pack. Right now, one pack of cigarettes costs approximately €7 (the minimum price is €6,1), so if you smoke a pack a day, that's about €2500 annually. Since the average salary in France is $27,789, or €20,080, that's more than 10% of someone's salary just for cigarettes. Personally, I'm not sure how people can afford to spend more than ten-percent of their pre-tax income on cigarettes.
There are days I walk around, watching everyone smoke, and think about all the trash and cigarette butts littering our beautiful streets and boulevards that folks have worked so hard to build and maintain. Sure, Paris isn't a postcard; it's a real city with all that comes with it. And I accept that. I just wish there was a bit more civic pride when it came to discarding cigarette butts, and I wonder why there isn't a groundswell of concern at how many billion of cigarette butts are simply tossed adn left on the street.
It's easy to wave it off with a chuckle, saying "Oh, that's just the French…" and smile. But I'm not sure that's helpful in curbing smoking-related illnesses, confronting the pollution and toxic runoff from the cigarette butts going into the environment, and marring the look of what is one of the most beautiful cities in the world.
So what will be the future of smoking in France? Will smoking rates for young people continue to escalate? Or at some point, will smoking be stigmatized, like it has been in other countries and that number will decrease? And can the mayor's initiative persuade people not to throw their cigarette butts on the ground, and reduce the amount of pollution on the streets? With the health care system running at a deficit, is there some way they can curb smoking-related illness to keep costs down and reduce the deficit? I don't have the answer to any of these, but I've asking myself these questions lately. I don't know why it's been so prevalent in my thoughts lately. Perhaps I should just stop thinking about it, and just step over them, and keep walking.


Related Links and Posts
In Paris, a Hunt for Those Who Dodge Dog Duties (NPR)
Managing Paris Expectations (Lost in Cheeseland)
15 Things I'd Miss in Paris If I Moved Away
France: An Ambivalent War Against Smoking (The Atlantic)

Paris Installs Snuffers on Trash Bins (NYT)