Black & White Cookies
If I had to name my top three desserts, in that too-brief list would be Black & White Cookies. I can't visit New York without having at least one per day, although it's getting tougher and tougher to find a decent one there. On my last trip I found a lot of shrink-wrapped cookies, but there's nothing like biting into a jumbo-sized fluffy disk of cake that's been twice-smeared with chocolate and vanilla icing, left naked and exposed to the world, so the icing gets crispy. And when you bite in, the dry outside crackles a bit but the inside is still soft and the icing is just a touch gooey.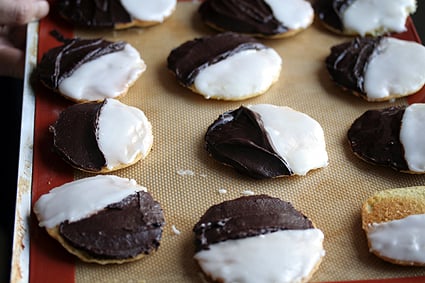 But trying to explain all that to a Parisian ain't easy. Some things just don't translate.

So this weekend, to inaugurate the new oven I had to buy (more about that later…I'm still recovering from the 3-day trauma…) I made Black & White Cookies. Enlisting the help of a native Parisian, I had to explain the importance of the chocolate and vanilla icings to be in exactly equal proportions—or the whole cookie just doesn't work.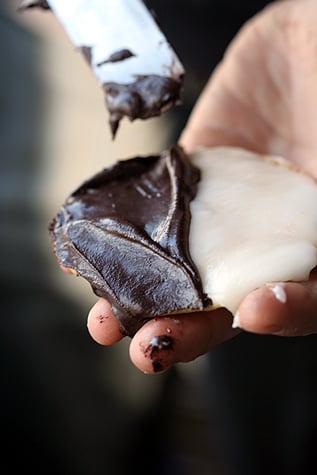 I was working on a recipe* that I hoped to share with you. But I'm still futzing with all the new dials and buttons on my oven. So don't blame me.
Like, can someone explain the logic of putting the temperature settings below the knobs so you have to get down on your hands and knees to check the temperature?
Or why around here they have not just 'standard' and 'Phillips head' screws, but 'l'etoile' as well?
So for the time being, until I can muster up the energy to face the hardware department at the BHV again, the lid of my new stovetop is being held up and open with a bungee cord wrapped around a nearby window. And it snapped across my face when I pulled the first batch of cookies out of the oven, almost causing me to have a crise cardiaque. But at least I saved the cookies.
While they weren't the neatest looking pastries in Paris, I'd say they were the best I've had in a long time. And although my Parisian friends thought they were a bit sweet, they didn't seem to have any trouble gobbling them up as quickly as I did.
So who knows? Maybe this is the start of the trend around here. That first batch disappeared pretty quickly. I'd say it's safe to say it will continue.
Except if you start seeing them in some of the pastry shops around here, depending on your point of view, you can either blame me. Or give thanks.
I know which side I'd be on.
*UPDATE: If you're looking for my recipe for Black & White Cookies, you'll find it in Ready for Dessert.