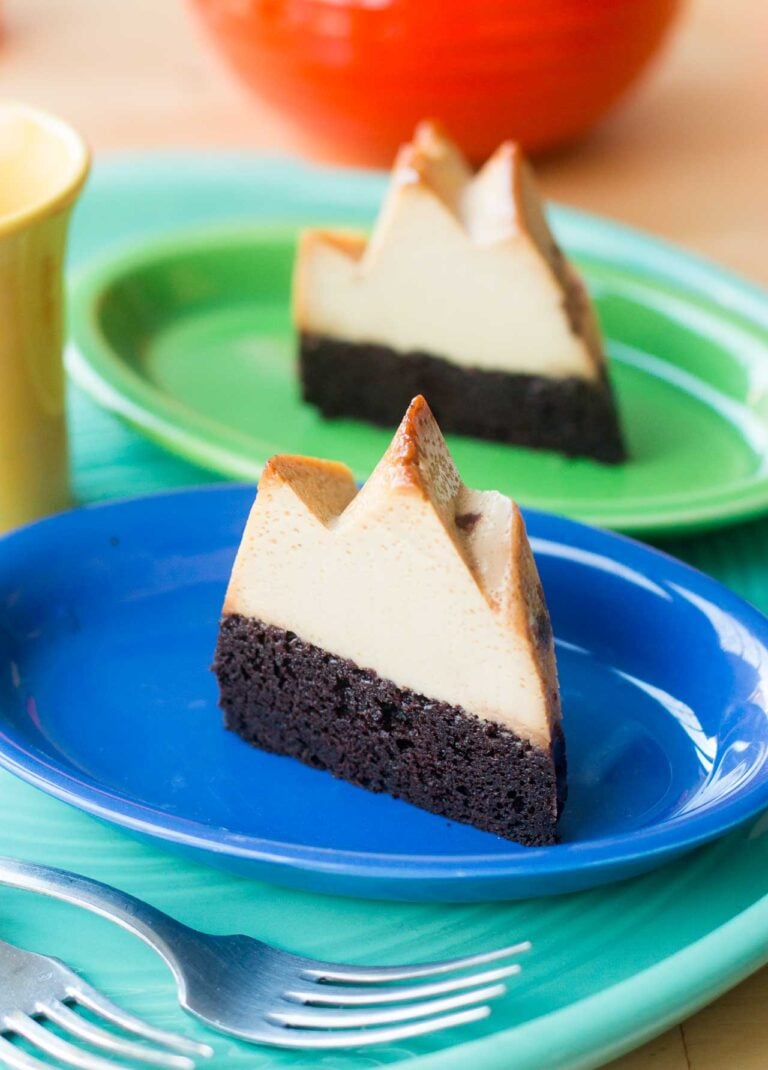 A few desserts on this blog stick with me, often because I posted them a while back, but discovering that I'd like to tweak them a little to reflect my current tastes. As anyone who cooks or bakes knows, things change over time. New ingredients get introduced (such as bean-to-bar chocolates) and we learn better or faster ways to do things the more we make our favorite recipes.
Chocoflan has always fascinated me and over eleven years ago, I posted this recipe, based on one by my friend Fany Gerson in her terrific book My Sweet Mexico. When I got her book, I was wowed by it immediately. I was so taken with her book that I asked the same photographer, Ed Anderson, to shoot my next book, which was My Paris Kitchen. I'm happy the pastries of Mexico have been adequately explored in a whole book, with recipes from a notable pastry chef to boot.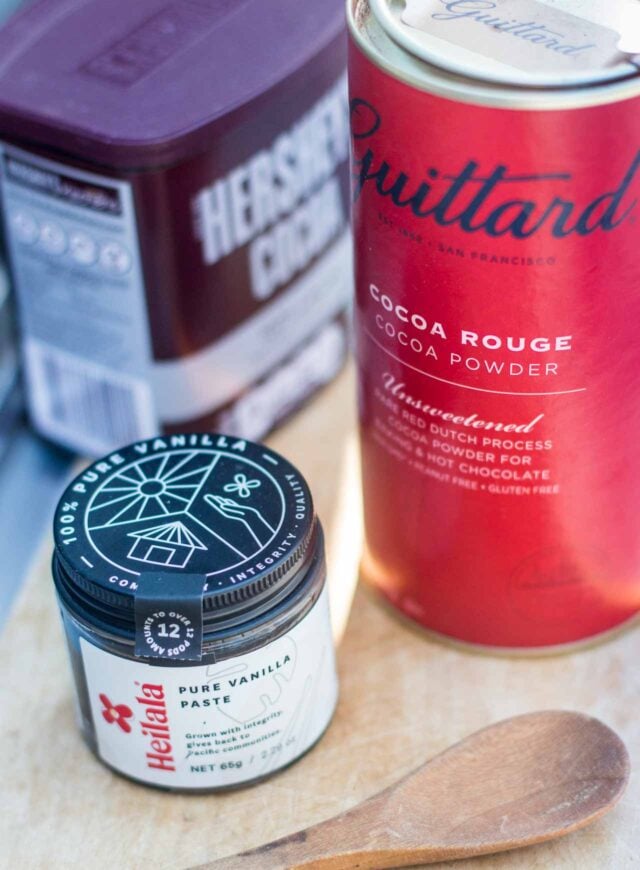 When I posted the recipe I remarked that I thought I'd like a larger layer of chocolate and vowed up give it a few goes, trying it out again, which I did this week making four Chocoflans (!)
I tried out a few other recipes I saw online, I read some comments on social media (which is always 'at your own risk') when I posted a picture of one Chocoflan that wasn't quite right, and toggled the ingredients in each, adding more cocoa powder, checking out if cream cheese was a good enough addition to the flan to ask you to buy that. I dialed down the sugar in one, and to be honest, custard that doesn't have enough sugar is bland.
I also tried using my salted butter caramel sauce in place of the dulce de leche or cajeta. (And wondered if I'd get called out for mentioning one but not the other.) And because I'm such a sport, I made it in a round cake pan, for those of you who don't have a bundt or tube pan so I could confidently answer, "Yes, it works!"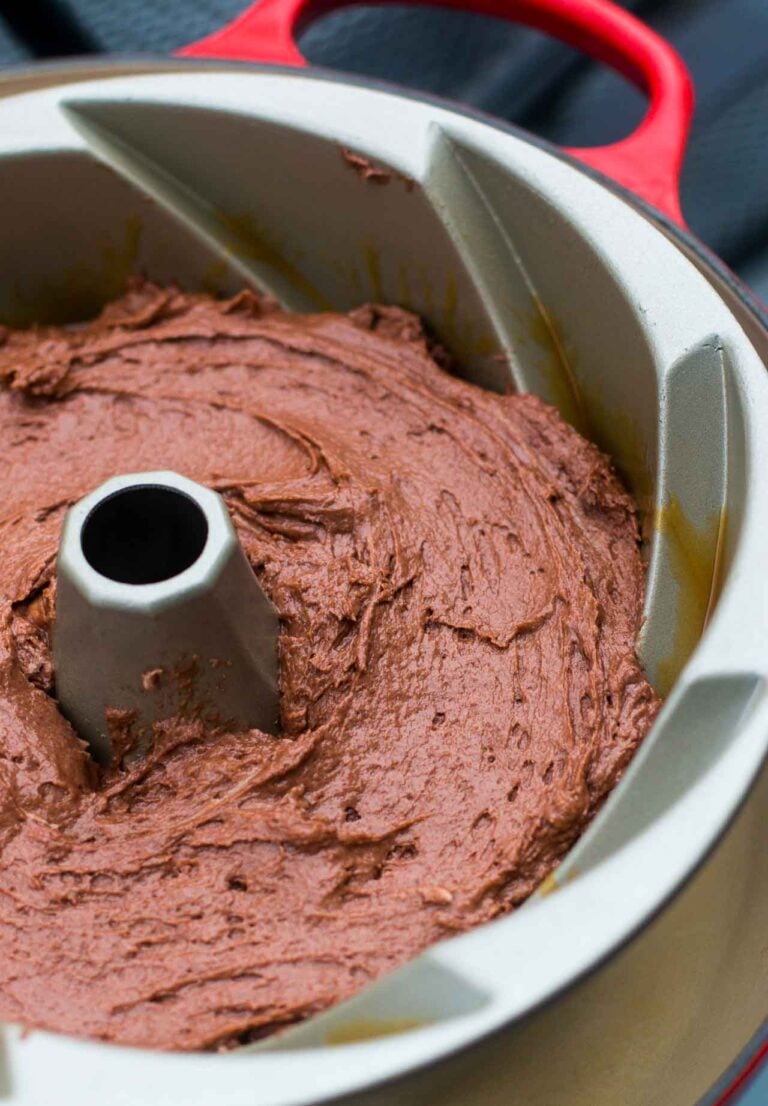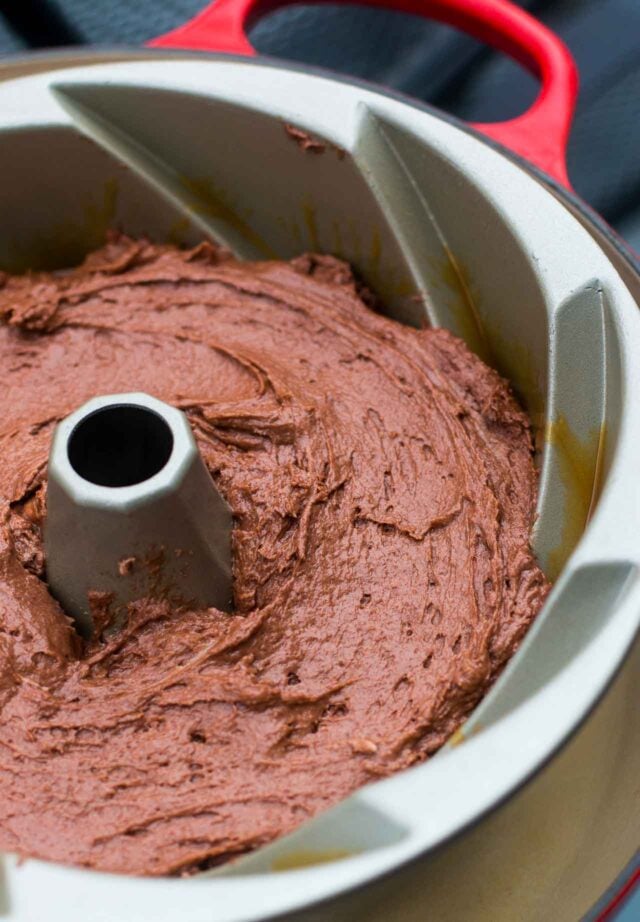 Speaking of the nomenclature issue, there is a difference between cajeta and dulce de leche. Cajeta is made with goat milk – which I love – but is very difficult to come by. If you're fortunate to have access to fresh goat milk, I have a recipe in The Perfect Scoop for homemade cajeta. But it's a challenge to find cajeta (or non-ultra-pasteurized goat milk) in Paris. But I've also had a hard time finding it, and dulce de leche, in multicultural shops in New York, San Francisco, and even Texas. (But you can find it online.) In France, there's confiture de lait, which is the French version of dulce de leche, and it's just as glorious.
So here it is, the revised Chocoflan, also called Flan Imposible because it seems impossible when you're putting it together that the thick cake batter on the bottom will somehow float through the custard while it's cooking, to create a chocolaty layer of moist cake that becomes the bottom again when you flip it out of the pan. Got that?
But somehow, it works beautifully. I did end up liking the cream cheese in the custard so included that, although you can leave it out. I decided that vanilla bean paste was a lot more interesting, and richer-tasting, than vanilla extract, but you can use either. And my hunch about wanting a bigger layer of chocolate cake paid off. That's non-negotiable.
Chocolate-Dulce de Leche Flan
Adapted from
My Sweet Mexico
(Ten Speed) by Fany Gerson I used natural cocoa powder here, which is what you generally use in recipes that call for baking soda, but you could use Dutch-process cocoa. More info on cocoa powder can be found at my
Cocoa Powder FAQs here
. The better the brand, the better the flavor.
Vanilla paste
gives the flan a deeper flavor but vanilla extract can stand in, in its place. If you don't have buttermilk you can make a mix of half yogurt and half milk, preferably using whole milk products. In France, dulce de leche is called confiture de lait (milk jam), which you can buy or
make it yourself
. I've also used my
salted butter caramel
in place of it in the recipe and it works just fine. If you use a standard round cake pan for this, the dulce de leche will absorb unevenly so you may want to have a little extra dulce de leche on hand to drizzle over the top of the finished Chocoflan.
For the cake layer:
1

cup (140g)

flour

1/2

cup (50g)

unsweetened cocoa powder

3/4

teaspoon

baking soda

1/4

teaspoon

baking powder

pinch

of salt

1

cup (200g)

sugar

3/4

cup (180ml)

buttermilk

1/4

cup (60ml)

neutral-tasting vegetable oil

2

eggs

,

at room temperature

1

teaspoon

vanilla extract
For the flan layer:
1

can (12 ounces, 340g)

evaporated milk

1

can (14 ounces, 395g)

sweetened condensed milk

4

ounces (115g)

cream cheese

4

eggs

,

at room temperature

2

teaspoons

vanilla paste or extract

1/2

teaspoon

salt
Preheat the oven to 350ºF (180ºC.) Spray a bundt cake pan with a 10 cup/2,5l capacity with nonstick spray or lightly butter it, making sure if using butter you get in all the creases. (You can also use a 9-inch/23cm cake pan with 2 1/2-inch/6cm sides, but not a springform pan, which can leak.)

Dribble the dulce de leche in and around the bottom and up the sides of the cake pan. Place the mold or cake pan in a larger roasting pan, which you'll use as a double boiler for baking. Some dulce de leches are very thick and some aren't. As it sits it may sink to the bottom, which is fine. Don't worry about it.

To make the cake layer, sift together the flour, cocoa powder, baking soda, baking powder, and salt in a large bowl. Mix in the sugar.

In a small bowl, whisk together the buttermilk, vegetable oil, 2 eggs, and vanilla.

Use a spatula to stir the wet ingredients into the dry ingredients, mixing just until combined. Give the pan with the dulce de leche in it a swirl if it's very liquid, then scrape the batter in the mold over the dulce de leche. (Okay if the dulce de leche has sunk back down to the bottom. It'll end up fine.)

Make the flan layer by blending together, with an immersion or standard blender, the evaporated and condensed milk, cream cheese, 4 eggs, vanilla, and salt, until smooth.

Pour the flan mixture over the back of a large spoon or spatula over the cake layer, using the spoon to diffuse the custard as you pour so it doesn't disrupt the cake batter too much*.

Spray a sheet of foil with nonstick spray. Cover the mold or cake pan loosely with the foil, fill the roasting pan with very hot water so it reaches halfway up the side of the mold, and bake until the center of the cake layer feels done, about 1 hour and 15 minutes, or until a toothpick inserted into the center comes out relatively clean.

Remove the cake from the water bath and set it on a wire rack to cool for about an hour. As it's cooling, run a utensil (use a silicone one if so you don't ruin the finish of your cake pan, depending on what it's made of) around the rim of the cake to loosen it from the pan. Refrigerate the Chocoflan until well-chilled, which will take several hours or overnight.

To remove the cake from the pan, place a large dinner or serving plate over the top of the cake, with the "public" side of the plate (as Julia Child once said) facing down over the cake pan. Grasping both the cake pan and plate, flip them both over. You may need to jiggle and shake the flan a little under you feel it slide out of the mold.
Notes
Serving: I like to serve the Chocoflan chilled.
Storage: The flan can be kept for up to three days in the refrigerator.
*You'll notice in the picture in my post, I'm pouring the custard right over the cake without pouring it over a spoon. I only have two hands, so wasn't able to do that while taking the photo, but I recommend doing it.
Related Recipes & Links
Why you should use aluminum-free baking powder
What is the difference between evaporated and sweetened condensed milk? (Home Cooking)