Chocolate Mint Brownies
I know I'm just starting here, but before you and I go any further, I just have to say one thing about these brownies: They're pretty insane. I made these brownies about fifteen years ago and found it patiently waiting in the back of my recipe files. And giving it a read-through, it all came flooding back to me and I was struck with the urge to make them again.
One of the things I remember most about these brownies is how massive they were and how heavy the pan was. The pan is so heavy that I can't imagine most people would be able to heft it with one hand. In fact, I was going to weight the pan just to prove it to you but my baking scale didn't go that high. Yowza.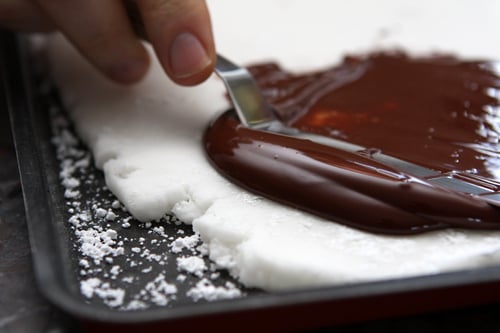 I've come to the conclusion that chocolate brownies almost always taste better after they've been frozen. I've known this for a while now, but am finally admitting it after pulling a few of these Maida Heatter's Barrons Brownies out of my freezer.
It doesn't matter if you eat them nearly ice-cold, or let them come to room temperature; there's something about freezing brownies that makes them fudgier, denser, and just seems to take them to another level. Most brownies you can bite into right from the icebox, but these are so dense, and so rich, you'll probably need to let them sit out just a bit if they're frozen. Although most brownies I have no trouble sinking my teeth into right from the ice box.
(In fact, I learned this by having too many brownies on hand after doing some recipe testing and decided to freeze them individually. Which actually became counterproductive because they were really easy to grab one-by-one, and I discovered they were even better frozen. Well, so much for that bright idea, David.)
Since it's hard to find thin mints in Europe (you can use After Eights), I made my own, using the recipe in The Perfect Scoop, which I tripled. Making them myself meant that I could make them in a big slab and break them apart to fit into the pan. (It also meant I could coat them with a thicker layer of chocolate than the ones you buy.) But if you use the round ones, fit them into the pan, then break a few apart to fill in the blanks.
Maida Heatter was famous for carrying precisely-wrapped brownies in her purse and handing them out. In fact, Alec Lobrano who worked as an editorial assistant at the publishing house in New York that produced her books, said she always came into the office, telling them, "It's a disgrace how little they pay you kids when you're living in such a big expensive city." Then she proceeded to reach into her handbag and dole out individually wrapped chocolate brownies to the young staff members.
I can't really do anything about the pay or the housing prices in Paris, but I could probably carry brownies around with me. Except I'm not sure I want to lug a freezer around town. So I'll keep them here, in my home freezer instead.
| | |
| --- | --- |
| Chocolate Mint Brownies | Print Recipe |
Adapted from Maida Heatter's Brand-New Book of Great Cookies by Maida Heatter Do be careful not to overbake these brownies. It's normal for the edges to get quite dark, nearly burnt but the inside should be very moist in the middle and if you insert a toothpick into the center, it should come out with soft, almost-liquid batter still attached. (It should not come out clean.) If it's getting too dark on top, you can drape a sheet of foil over the top to finish baking. The best way to cut these brownies into neat rectangles is to use a long sharp bread knife or a chef's knife. Maida says some people consider the burnt edges the best parts. Nevertheless, you are welcome to trim those off and do what you wish with them.
8
ounces (225g)
unsweetened chocolate
(see Note)
8
ounces (225g)
unsalted butter
5
large eggs,
at room temperature
2
teaspoons
vanilla extract
1
tablespoon
instant coffee or espresso
1 2/3
cup (170g)
sifted flour
2
pounds (900g)
chocolate-covered thin mints
(peppermint patties)
Optional: 1 1/2
cups (150g)
walnuts,
pecans, or almonds, toasted and coarsely chopped
1. Preheat the oven to 425ºF (218ºC).
2. Line a 9 x 13-inch baking pan with foil, shiny side down. Smooth the foil then butter it lightly or coat it with nonstick spray.
3. Chop the chocolate and cut the butter into cubes, then warm them together in a medium bowl set over a pan of barely simmering water, stirring occasionally. Remove from heat as soon as both are melted and smooth.
4. In the bowl of a stand mixer fitted with the whisk attachment or by hand, whip the eggs, vanilla, salt, instant coffee, and sugar on high speed for about ten minutes until foamy and stiff.
5. By hand, stir in the chocolate mixture, then the flour followed by the nuts, if using.
6. Smooth half of the batter into the pan. Place a layer of thin mints over the chocolate, breaking the mints into pieces to fill in any large gaps.
7. Pour the rest of the batter over the mints and smooth the top.
8. Bake the brownies for 35 minutes, rotating the brownies midway during baking.
When the brownies are done, they will have a firm crust on top but a toothpick inserted into the center should come out wet. Do not overbake the brownies.
9. Let the brownies cool completely, then lift them out of the pan and slice into rectangles.
Storage: The brownies will keep at room temperature for up to three days. They can be frozen, well-wrapped, for up to two months.
Notes: Unsweetened chocolate is readily available in the United States but not so common elsewhere. It's sometimes called "baking chocolate." If unsure, check the ingredient list: it should list no sugar and be 100% cocoa solids or chocolate liquor.
In France, it's called 100% cacao and I buy it at G. Detou. Some chocolate shops sell smaller tablets, too. I haven't tried these using all bittersweet or semisweet chocolate so can't advise if they will work with those, but you'll likely need to make adjustments with the butter and sugar.
A few commenters inquired as to what are chocolate-covered thin mints. You can see what they look like at CandyBlog.
To locate unsweetened chocolate in your area: How to Find Ingredients Mentioned on the Site.
For information about substituting ingredients: Baking Ingredients and Substitutions.
Related Posts and Recipes
Chocolate-Dulce de Leche Brownies
American Baking Ingredients in Paris