Since it's the end of the week, or depending on when you're reading this, it's the beginning of the week, I thought I'd finish up with some of my last images and thoughts from my time hosted by Illy coffee in Trieste.
Without a doubt the most popular person in Trieste is the barista at Illy's coffee bar for the employees. From the moment we arrived first thing in the morning to the time we left at the end of the afternoon (with several visits in between), this woman was pumping out espressos (espressi) for the entire staff. For those who worked in the roasting plant, there were machines down there, as well as on each floor of the office building too.
She worked with grace under pressure, and without a tip jar, as swarms of people would come in and line up at the bar, order a quick shot, then head back to work with a quick ciao before departing. As you might imagine, after lunch is particularly busy and although the counter was stacked with used cups and saucers, she calmly worked through the rush. She is a true craftsperson and barista and my dream is to work alongside her one day, although I don't think I could possibly keep up. Mama mia, does this woman work hard!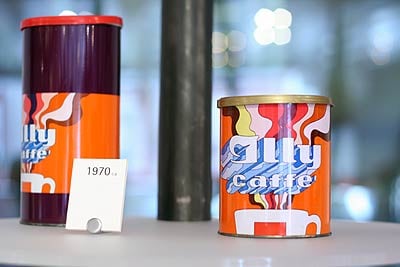 I loved the displays of vintage Illy memorabilia they had everywhere. Since I have a soft spot for anything from the 1950's-70's, these cans in particular caught my eye. With an obvious nod to Peter Max, I suggested they re-issue coffee in these cans, as well as some of the older ones. I think they'd be pretty popular today, don't you think? I know I'd want one.
Unfortunately they didn't take my not-so-subtle hints.
Although I'm not a big fan of milk-based coffee drinks, if you do order a cappuchino in Trieste, you'll be served a small, clear glass with a bit of steamed milk on top, which is called a 'Trieste Cappuchino'. It reminds me of the café cortado one enjoys in Spain. We also had a lesson in frothing milk, since some Belgian journalists who'd arrived weren't as fond of pounding-down multiple shots of espresso like I was.
Michele Pauletic, the barista for my class, demonstrated how to make designs with steamed milk. Many baristas, especially in America, prefer to use low-fat milk for their foam. Not necessarily for dietary reasons but because of the protein solids. But Michele said he preferred whole milk simply because of the taste. And as you can see (above left) he didn't have any problems making lovely patterns. His trick was to sprinkle the top of the espresso first with a bit of powdered chocolate to get the foam to 'stick' and with a bit of razzle-dazzle, he produced some lovely designs.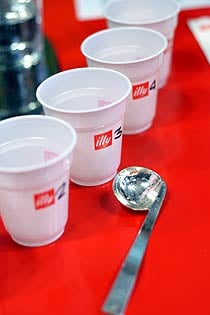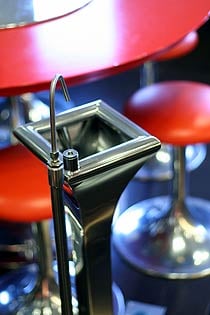 I'd never seen a coffee spittoon (above right), but you probably haven't either. So that's what one looks like…and now neither one of us can say that anymore. We did several coffee and 'flavor' tastings, using an official coffee-tasting spoon, made of heavy-duty stainless steel with a deep well that you fill just halfway up before you slurp up a taste.
Various liquids and coffees were lined up and we learned to discern flavors that were found in coffee: Bitter, sweet, sour, and neutral nuances. Salty was also added as well. I didn't use the spittoon, but like the rest of the room, it was sure pretty impressive. Those Italians are the masters at designing things with great aplomb. Even if it's for the purpose of something rather undecorative.
When I left, with my own personal coffee-tasting spoon in hand (and a few cans of coffee to stash in my suitcase as well), I was impressed by what I had seen and how much I'd learned about coffee during my time in Trieste. I'm not planning a career change yet to become a barista, but each cup of espresso I've extracted at home ever since has been a lesson and a revelation to me.
One tiny cup exuding so much rich, intense flavor has become my afternoon ritual around here. And hopefully some of you have become more interested and enlightened along with me as well.
Ciao…
Useful Web Addresses
Some of my Coffee-Lovers Picks are where you can a few suggestions for my favorite tools for coffee and espresso preparation.
Illy A Casa: Home coffee and espresso delivery which includes substantial discount on a Francis!Francis! espresso maker.
A good guide to coffee preparation, customized towards your particular coffee-maker. And I've found TheShot to be a particularly good source of advice too.
University of Coffee: Illy's school for coffee connoisseurs and barista training.
You can visit an Espressamente shop in many European cities, including the one in Paris at 13, rue Auber, adjacent to the Opéra Garnier.