French Chocolate Cake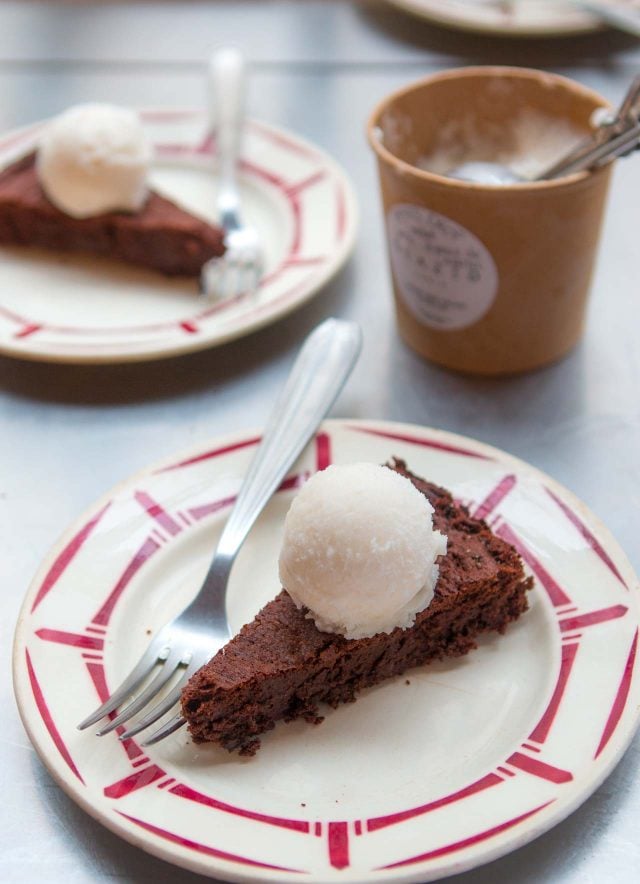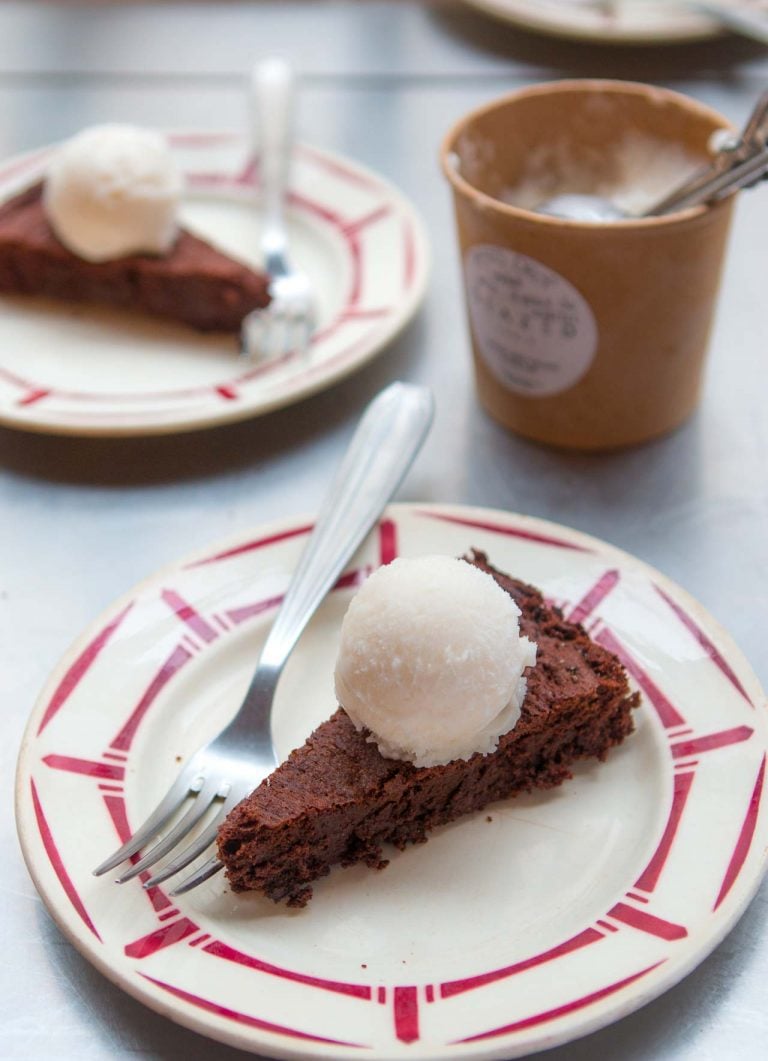 I remember when the flourless chocolate cake craze hit and all anyone could talk about were flourless chocolate cakes. Chocolate guru Alice Medrich said something along the lines of, "It's one of the few desserts that's famous for what's not in it, than for what is in it." This was a number years ago, before flour became an ingredient for some to avoid.
Back then, I never understood the fervor over a few omitted tablespoons of flour, in spite of how much I liked flourless chocolate cakes. That was before the internet, when you could have conflicting opinions and not lose sleep over it at night.
France has its share of cake conflicts too, and no one would be surprised to know there is a wide variety of chocolate cakes in France, some made with almond flour, others with farine de sarrasin (buckwheat). And even chocolate mousse cakes made with no flour at all. I think there's room for them all, including this one.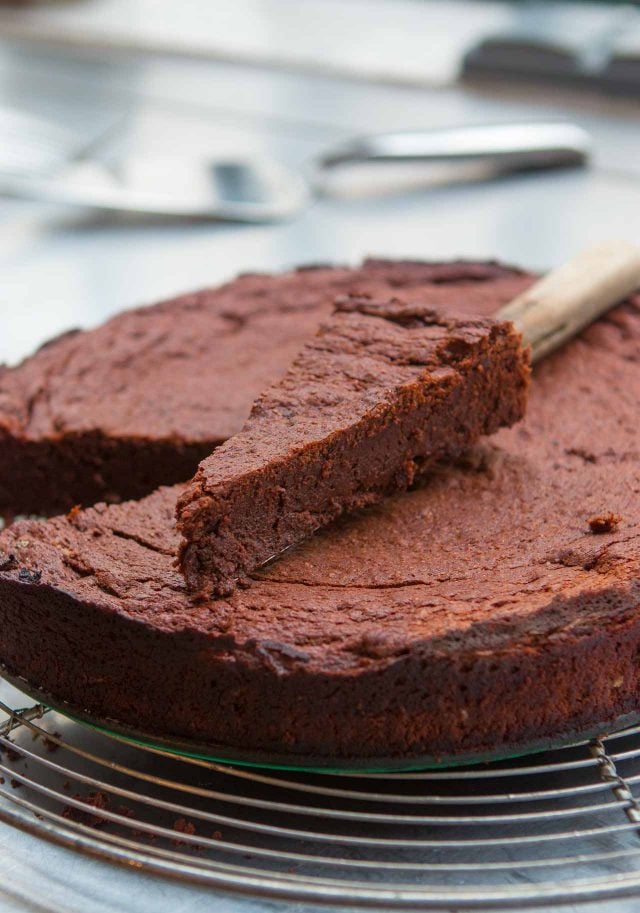 I wanted to make a very dark chocolate cake, keeping it as pure as possible, with just a little flour or whatever, to give it more structure, so it could be cleanly sliced. Well, as cleanly as I could. Life isn't always clean and neither is a good chocolate cake. I've made and sliced a lot of chocolate cakes and if there aren't a few crumbs and smears, it's probably not a good, moist chocolate cake. (I'll always take moist and chocolatey over picture-perfect slices.)
I tested this one first with almond flour, then made one with all-purpose flour, to see the difference. The cake made with ground almonds had a slightly rougher texture and took a few minutes more to bake. When I cut into it after it cooled, it was still runny: almond flour doesn't absorb moisture as expeditiously as flour.
Both were enjoyed by friends and family…and a visiting photographer and his assistant, who were taking some pictures for a magazine, who had as much trouble as I did at not sneaking a bite of this chocolate cake whenever possible. When I asked if anyone if they thought it needed more chocolate, or less butter, or more (or less) sugar, they all looked at me, and said, "Non, it's perfect."
The photographer did like watching me sneak a bite of cake, so we had to do several takes and retakes of me taking a bite. While I ate bite after bite, I was thinking of all those people in movies and on tv who pretend to take a bite, and as soon as the camera is off, they get rid of it. I'm not one of those people.
A frequent, frequently asked question (and I use "frequent frequently" twice since I get asked it a lot – maybe it should be a "very frequently asked question"?) is about getting a chocolate cake like this cleanly out of a springform pan. I always answer with the same response: Use a glass-bottom springform pan. You can bake this in any springform pan you'd like, but the glass-bottom ones don't have the funny lip around the edge of the base that is tricky to work a knife or cake server around. Investing in a glass-bottom springform pan isn't necessary, but it's something to consider, as is adding this chocolate cake to your repertoire.
| | |
| --- | --- |
| French Chocolate Cake | Print Recipe |
Use a mid-range bittersweet or semisweet chocolate for this recipe. I use one with 70% or fewer cacao solids; extra-bittersweet chocolates above that percentage can lead to dry cakes. You can either almond flour (or another nut flour) or regular flour in this recipe. You'll want to bake the cake a little longer if using almond flour since the ground nuts don't absorb moisture as readily as wheat flour. It's usually best to err on the side of underbaked with chocolate cakes like this, as they'll continue to cook when removed from the oven. Someone pointed out the crack in the top of the cake when I posted a picture online while testing the recipe. Cakes made with beaten egg whites will rise a bit and form a crust on top during baking, but will sigh and settle just a bit, and crackle a little across the top. C'est normale. Lastly, springform pans vary in size. If yours isn't exactly 9 inches/23cm, you can use a slightly larger one. If so, the cake will probably take a few minutes less to bake. For more information on ingredients, check out my posts on almond flour, chocolate FAQs, and cocoa powder FAQs.
12
ounces (340g)
bittersweet or semisweet chocolate,
coarsely chopped
5
ounces (140g)
unsalted butter,
cubed, plus additional butter for preparing the pan
2/3
cup (130g)
sugar,
divided
5
large
eggs,
separated, at room temperature
5
tablespoons (45g)
all-purpose flour,
or 4 tablespoons (30g) almond flour
1
teaspoon
pure vanilla extract
unsweetened cocoa powder,
for preparing the pan
1. Butter a 9-inch (23cm) springform pan. Dust the inside with cocoa powder and tap out any excess. Preheat the oven to 350ºF (180ºC).
2. In a large, heatproof bowl set over a saucepan of barely simmering water, melt the chocolate and butter, stirring occasionally, until smooth. Remove from heat and whisk in 1/3 cup (65g) of sugar, then the egg yolks, all-purpose flour or almond flour, and vanilla.
3. In the bowl of stand mixer fitted with the whip attachment, or in a large bowl using a whisk, begin whipping the egg whites at medium speed. When they start to get frothy, increase the speed to high, add the salt, and whip until the egg whites start to hold their shape. Continue to whip, gradually add the remaining 1/3 cup (65g) of sugar, until the whites are firm enough to hold their shape, but not too stiff or dry.
4. Using a spatula, fold one-third of the egg whites in the chocolate mixture, then fold in the remaining egg whites, just until there are no visible streaks of egg whites. Scrape the batter into the prepared pan, smooth the top, and bake until the center of the cake feels almost set, but not quite, about 20 to 25 minutes. (If using almond meal, it may take up to 30 minutes.) A toothpick inserted into the center should come out with just a few moist crumbs attached.
5. Remove the cake from the oven and let cool. Once cool, run a knife around the outside of the cake to loosen it from the edges of the pan, then remove the outside of the springform pan.
Serving: Serve the cake on its own, with lightly sweetened whipped cream, or with ice cream, and perhaps a drizzle of chocolate sauce.
Storage: The cake will keep at room temperature for up to three days but will not be as moist or soft and creamy after the first day. It can be frozen for up to two months.