Fresh Ginger Lemonade
I once got into a Scrabble tiff when I was challenged for using the word "ade." I've played Scrabble in English, and in French, and I've determined that it's impossible to win if facing French players due to the astounding selection of verb conjugations they have at their disposal. Except for this guy, who doesn't even speak French, but memorized French words in the dictionary.
Fortunately, I don't have a competitive streak, although I did dig my heels over ade, when I was playing Scrabble with some fellow anglophones who refused to concede that ade was an actual word. There was a dictionary on hand in the summer house we were staying at, that confirmed that it is a drink made with fruit. (Oddly, I tried to look it up now, but couldn't find it in Webster's. Don't tell my friends, though, who may want a rematch.)
Whether it's a noun or a suffix, I'll leave all that stuff to the nerds. I used my time to do some squeezing, so I could refresh myself with this pepped up lemonade, with the zing of fresh ginger. It's the double word score of lemonade.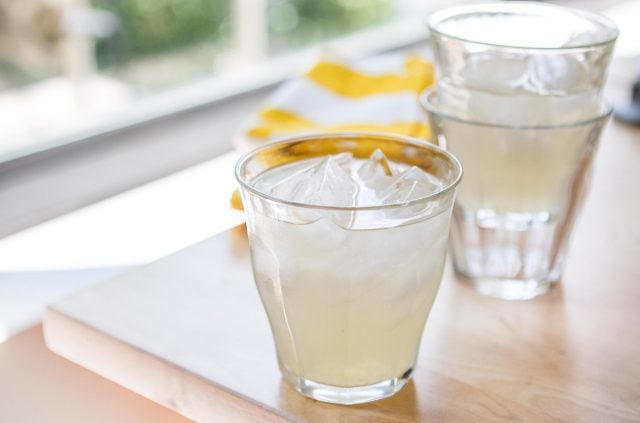 With temperatures soaring this time of year, I was tempted to drink it all by myself – and I did! Poured over glasses of crackly ice, the tart lemon isn't tempered by the ginger, but the two work together to make something a little spicy, a little tangy, and a whole lot of refreshing.
| | |
| --- | --- |
| Fresh Ginger Lemonade | Print Recipe |
1
quart (1l), about 4 servings
I like mine with lots of ginger so I use the larger amount indicated, but feel free to use either. If you think you'd like it less-sweet (although I don't find this too sweet), you could reduce the sugar to 1/3 cup (65g). If you wish to use a liquid sweetener, such as maple syrup, honey, or agave nectar in place of the sugar, I'd try starting off using 1/3 cup then tasting it, adding more if you wish.
2 to 3
ounces (55-85g)
fresh ginger,
unpeeled
1
cup (250ml)
lemon juice,
freshly squeezed
1. Cut the ginger into thin slices (no need to peel). In a small saucepan, bring the water, sugar, and ginger slices to a boil.
2. Remove from heat and cover. Steep for 30 minutes to 1 hour.
3. Strain the ginger pieces from the sugar syrup and mix the ginger-infused syrup with the fresh lemon juice in a pitcher. Chill thoroughly. Serve with plenty of ice.