France has been creeping (or bursting, in some cases) out of lockdown. As of May 11th, people can come and go without carrying a written permission slip. The outdoor markets, hairdressers, and other types of shops have reopened, under the advisement of the health ministry, who is encouraging people to wear masks and practice social distancing, keeping 1 meter (3-feet) apart from others. Some stores (and people) have been strict about this, while others remain cavalier.
No one quite knows where this is going, with many proclaiming "It's over!" while I'm remaining prudent. But on June 2nd, restaurants and cafés may be allowed to reopen.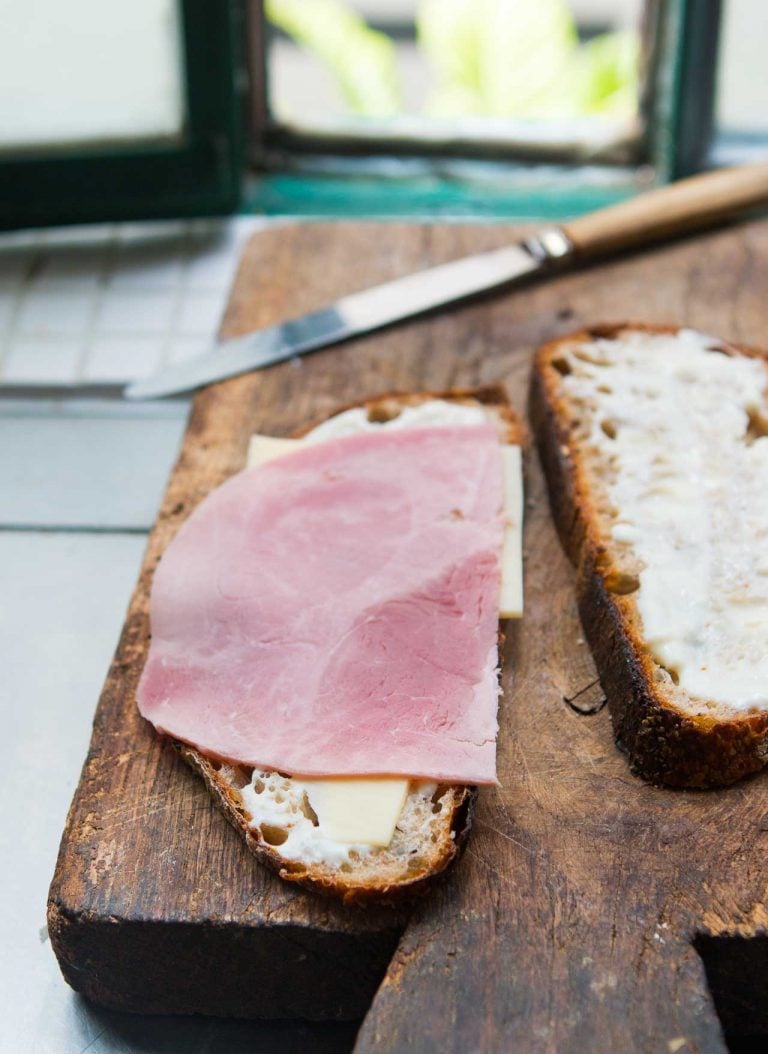 While everyone waits, some restaurants in Paris have started serving food-to-go, either to pick up sur place, or be delivered. We've had food delivery services for a number of years, which are popular, but their offerings lean heavily on burgers, poke bowls, and bagel sandwiches, which aren't very inspiring to me. In response to the virus, better-quality restaurants have gotten on the bandwagon and even my local French bistro is serving la cuisine française for pick-up…although bringing home a Steak-frites and Frisée salad in a box isn't quite the same as sitting inside with a carafe of vin rouge.
For the record, I would love it if restaurants were allowed to put tables on the sidewalks and squares, distanced apart, which clients from any of the nearby restaurants would be allowed to use. (And while we're at it, and since it's my fantasy, let's make the tables no-smoking, too.) Diners could still interact and remain "together," as if they were inside, but if restaurants can only operate at half-capacity, most dining rooms are just too small and the profit margins are just too tight to make a go if it if they can only fill half of those seats.
In other news, I know a lot of you out there have been making your own bread. And I can't think of a better use for it than to make yourself a Croque monsieur.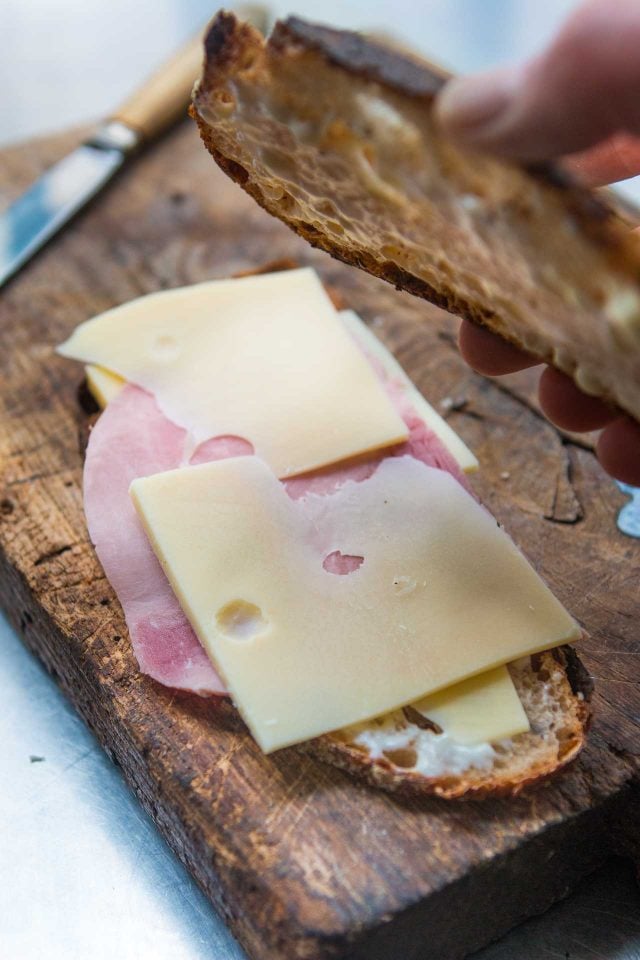 In recent interviews and Q+As, invariably people ask me what's the first thing I'm going to eat when restaurants and cafés reopen. Having a Croque monsieur was at the top of that list, until I decided to just take matters into my own hands. I don't make my own bread, since Ten Belles can do it better than I can, just like I don't cure my own ham or make my own cheese.
Although I admire and applaud those who do.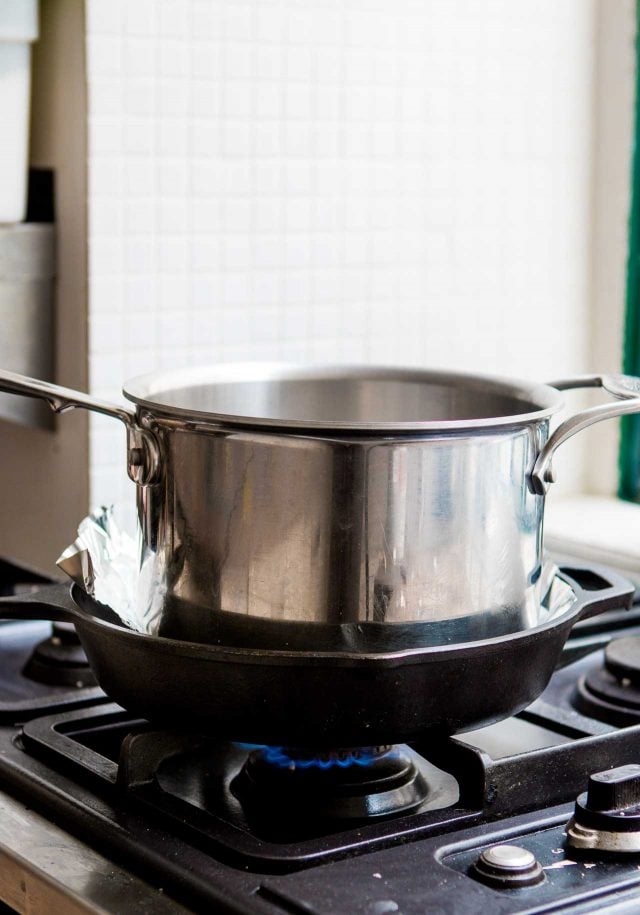 Also in my opinion: The best Croque monsieurs start with good bread. I don't order a Croque monsieur in a café unless it's on pain au levain (sourdough), which some places mention on the menu. A few may let you know if it's on pain Poilâne, or if the breads is from another good-quality bakery, while others will make the sandwich with grocery store-style pain de mie; dull squares of white bread, which aren't my preference.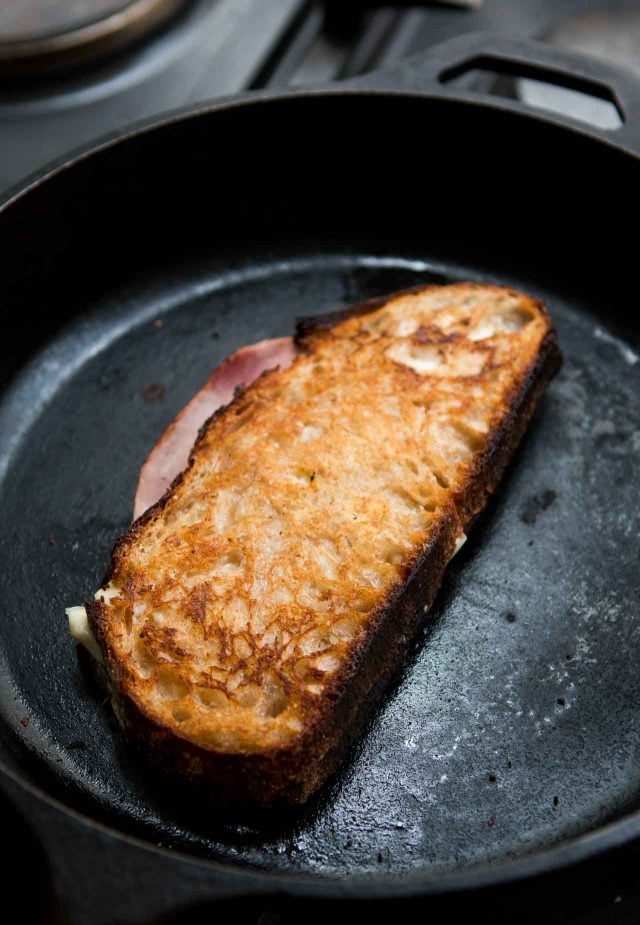 I sometimes use a dry-cured jambon, similar to prosciutto, so you can use that or another country-style ham, as they are sometimes called. Or you can use regular ol' boiled ham, known as Jambon de Paris in France. There's only one real Jambon de Paris left that's made in Paris, and their Le Prince de Paris ham is particularly excellent. You have to go to a better charcuterie to find it, such as La Grande Épicierie, Caractère de Cochon, Terroirs d'Avenir, or a good butcher or épicerie (specialty shop), since it costs a little more than standard boiled ham, but I like it enough to make a special trip to get it when I can.
On the flip side of that, while the outdoor markets were closed, I had ordered some Emmenthal cheese from the grocery delivery service that I've been using. Emmenthal normally melts fine, but this one didn't. (I prefer Comté or Gruyère.) It even resisted the charms, and flames, of my trusty blowtorch I hauled out when the broiler wasn't having much impact on the cheese. It didn't get all gooey and browned, as it usually does, while I watched the minutes ticked by, but it tasted just fine when I cut it in half and dove in. I panicked a little because I know readers like precise baking times, temperatures, etc., and I was going to give it another go, but Romain told me to drop it and just post the recipe.
So I recommend using your favorite cheese for melting (like one you'd use for a grilled cheese sandwich or fondue), and keeping an eye on it when you put it under the broiler in the final step, cooking it until the cheese is runny and melted, and browned to perfection.
Croque monsieur
Adapted from
My Paris Kitchen
(Ten Speed Press) I usually just add two slices of cheese to my sandwiches but since I was feeling lavish this time around, I used four. But generally, two is enough : )
For the béchamel
1

tablespoon

butter

,

salted or unsalted

1

tablespoon

flour

3/4

cup (180ml)

whole milk

pinch

salt

pinch

cayenne pepper
For the sandwich
4

slices

sturdy sourdough or levain bread

,

(although you can use sturdy white bread, like pain de mie)

4

slices

dry-cured ham (such as prosciutto) or 2 slices boiled ham

2

(or 4) thin

slices of melting cheese

,

such as Comté, Gruyère or Cheddar, plus 3/4 cup (60g) grated

4

tablespoons (55g)

melted butter

,

salted or unsalted
To make the béchamel
In a small saucepan, melt the butter over medium heat then stir in the flour. When the mixture starts to bubble, cook, stirring constantly, for 1 minute. Whisk in a third of the milk, breaking up any lumps, then add the rest of the milk. When the milk comes to a boil, reduce the heat so it's still simmering, and cook (whisking constantly) until it the texture resembles runny mayonnaise, about 1 minute. Remove from heat, add salt and cayenne, and set aside.
To make the sandwiches
Lay the four slices of bread on a counter or cutting board. Spread the béchamel over all four slices of bread. Lay the ham and cheese slices on two of the slices of bread. Put the other slices of bread on top, with the béchamel facing down toward the ham and cheese, so it's inside. Brush the outsides (and both sides) of the sandwiches lavishly with the melted butter.

Turn on the broiler, place the oven rack in the upper third of the oven, and heat a skillet that will hold both sandwiches over medium-high heat on the stovetop. (Be sure to use a pan with a heatproof handle, since you'll be putting it under the broiler.) Place the sandwiches in the skillet and drape foil over the top. Rest a heavy object with the flat bottom of top, such as another pot or pan, and cook until the bottoms of the sandwiches are well-browned. Flip the sandwiches, and the cook them on the other side the same way, until they're also browned.

Remove the pot or pan and foil and sprinkle the grated cheese over the top of the sandwiches. Broil the sandwiches until the cheese melts and is browned.
Notes
Do-ahead: You can make the béchamel sauce a few days ahead and store it in the refrigerator. Serving: It's traditional to serve the Croque monsieur with a green salad.