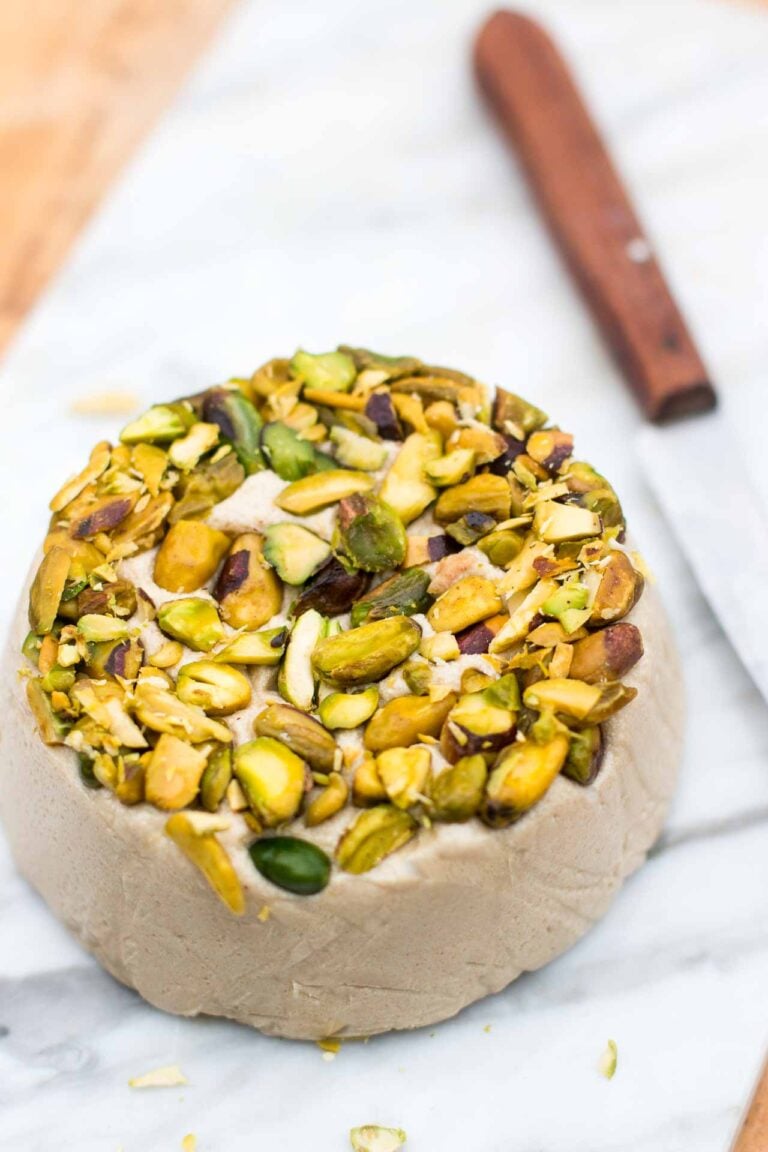 A few years ago, tahini took its place in the spotlight. People discovered the sesame paste, usually used in hummus, could be used in cookies, cakes, salad dressings, sauces as well as in other places. Soon halvah also had its day, becoming a star ingredient in tart doughs and rugelach. But halvah is a wonderful treat on its own.
During my childhood, I'd only been exposed to halvah sold in bars by the cash register in delis, but when I went to Jerusalem, I was wowed at the market to see towering rounds of halvah at places like Halvah Kingdom, which were topped (and studded or swirled) with various ingredients like dried fruit, nuts, rose petals, cocoa, coffee beans, and chocolate amongst the reported one hundred varieties that they make. The halvah was like nothing I'd ever put in my mouth; you could taste the quality of the sesame seeds used in every crumbly bite. (If you want a taste of outstanding halvah in the U.S., check out Seed & Mill.)
In the past decade or so, foods of the 'Middle East' have taken off. Yotam Ottolenghi and Sami Tamimi opened the door to show how dishes from those regions of the world cross borders and cultures, incorporating new ingredients into the dishes, which happens when immigrants move and adapt ingredients available where they are, to their traditional foods. (Italians who immigrated to the U.S. discovered canned tomatoes, which were cheap and plentiful, and nowadays tomatoes figure so heavily into some of their cooking that Italian-American restaurants are often referred to as "red-sauce joints.")
However the words 'Middle East' also tend to compress the various cultures under a single moniker, which is where Reem Kassis steps in with her bold new book The Arabesque Table. I wish I could summarize her words in the introduction of the book, which delves into everything from terminology, to who makes what and from where, and why. The introduction is so well-written, and well-focused, that it's worth hearing it from her, and reading it on your own.
Over the years people have pleaded with me for a halvah recipe. Frankly, the real deal isn't easy to make. For one thing, halvah is made with soapwort, which gives it that characteristic chewy/foamy/moist-chalky texture that is so unique and special. Here are some video clips of when I went to a halvah factory to watch it being made and as you can see, the process takes some elbow grease – and skill – to get it to just the right consistency.
So I was anxious to try the halvah recipe in The Arabesque Table: Contemporary Recipes from the Arab World. Like most good food, good halvah begins with good sesame seeds, or in this case, sesame seed paste. If you're going to make it, a good one is worth tracking down. Soom and Seed & Mill tahinis are excellent, available in the U.S. (La Boite, a great spice merchant in New York sells tahini too, but I've not tried it.) Ottolenghi sells Al Arz tahini in the UK (Amazon sells it in America), and in Paris, Yafo sells the tahini that they use in their kitchen. Al Wadi is a popular Lebanese brand that's available internationally and tahini has become so ubiquitous that even Whole Foods has its own brand. Those are just some suggestions.
When you shell out for premium tahini you want to make sure the recipe will turn out well. And I know Reem, who also wrote the award-winning The Palestinian Table, would only publish something that worked. Even though I bookmarked the recipes for Lamb and Halloumi Pasta Bake, Eggplant Maqluba (baked, molded rice with roasted chicken, almonds, and eggplant), and Sudanese-inspired Mutabal (eggplant dip) with peanut butter, the Halaweh (halvah) was the recipe I was most anxious to start with.
(As an aside, Reem became a friend of mine after I reached out to her regarding a thought-provoking article she'd written [possible paywall] and even though I stood her up on our first meet-up, she has forgiven me and even invited me into her home to make me dinner, which I am hoping to take her up on one day.)
In the meantime, this halvah was a hit and couldn't be easier. It only has three primary ingredients and the key to this recipe is dried whole milk powder, and the only work you need to do is to knead the few ingredients until they come together in an almost smooth ball, with a few craggy tears here and there. It's not pie dough, but should sort of feel and look like that when it's done.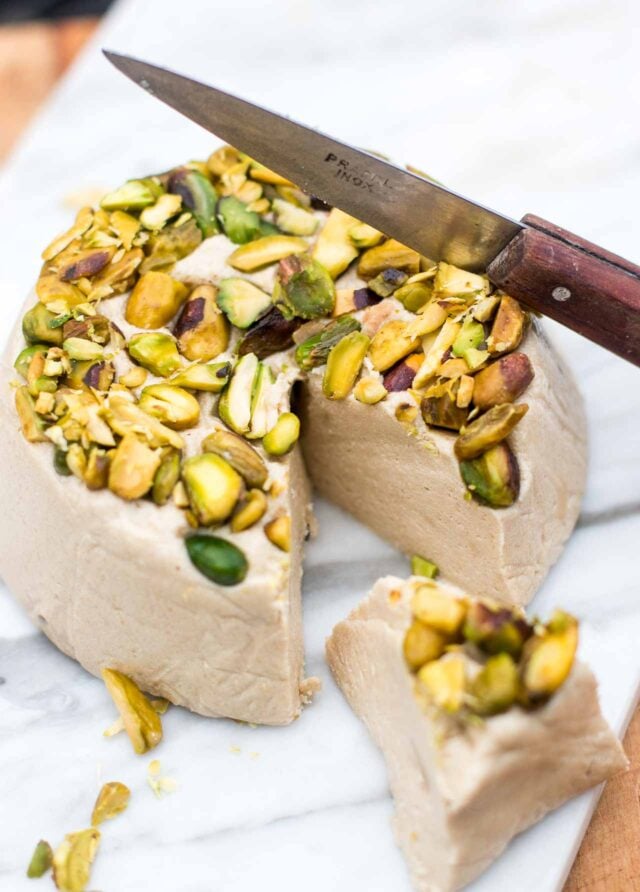 Just a note: I'll be chatting live with Reem Kassis about her book The Arabesque Table online on April 17th at 2pm ET. It's free and you read more about it here, and register here.
Halvah
Adapted from The Arabesque Table: Contemporary Recipes from the Arab World by Reem Kassis
You can customize this halvah with various toppings, swapping out the pistachios with roasted peanuts or cashews, rose petals, sesame seeds, chocolate chips or roasted cocoa nibs, coffee beans, sesame or pumpkin seeds, or whatever and wherever your imagination takes you. Reem offers a few other suggestions in the book, such as adding cocoa powder, cardamom and other flavors to the mix.
I've suggested a few very good brands of tahini in the post if looking for recommendations but a trip to a shop that specializes in ingredients for Arabic cooking should yield a few other options.
Traditional halvah is made with soapwort, and with laborious stirring, So although the texture of this halvah is a bit softer than store-bought halvah, but it's still sliceable and very enjoyable.
1

cup (120g)

powdered sugar

1

cup plus 2 tablespoons (120g)

whole milk powder

3/4

cup (200g)

tahini

,

well-stirred before using

1

teaspoon

vanilla extract

2 1/2

tablespoons (25g)

very coarsely chopped pistachios

,

(see headnote for other suggestions)
In a medium bowl, stir together the powdered sugar and milk powder. Add the tahini and vanilla and continue to stir until the mixture starts clumping together. Use your clean hands to knead the mixture until it comes together into a smooth, dough-like round that's not sticky. (As shown in the post.) Reem advised me to avoid adding more tahini unless it absolutely won't come together because adding the more tahini you add the softer it will be. (And you don't want it too soft.) If it feels too wet or sticky, add a bit more powdered milk.

Line a 3 cup (700ml) glass or plastic container of any shape with a sheet of plastic wrap that goes inside the mold and up and over the edges. Smooth out any wrinkles as best you can and put the pistachios in an even layer on the bottom. Press the halvah mixture into the mold and smooth the top. Rap the container a few times gently on a folded kitchen towel on the countertop to encourage the mixture to pack snugly in the mold. Cover with the plastic wrap overhang and refrigerate for at least 4 hours or overnight.
Notes
Serving: To serve, unmold the halvah onto a plate or cutting board and serve for dessert with tea, if desired.