Many times I've been with friends and family in Paris and we'll go into a food shop. Now I'm not picking on anyone in particular, so if you think I'm talking about you, I'm not. Think of this as a composite of lots and lots of people.
And I'm sure I'm guilty too, so I'll toss myself in that mix.
I'll show people something, say…the display of jams made by Alsatian Christine Ferber. She makes lots of different flavors from all sorts of fruits and they're supposed to be wonderful; the best in the world some say.

Me?
I make my own jam, and I make a lot of it. I go to the market near the end of the day and buy a case of whatever is in season, and very ripe, and will spend the rest of the day making jam.
Two of the four shelves in my refrigerator are stocked with jam.
I have a lot of jam.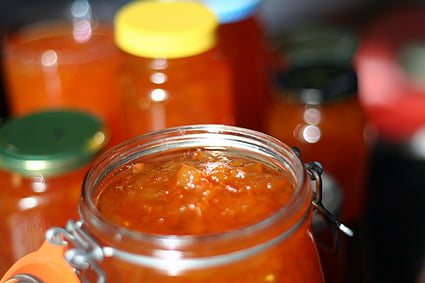 Mine's pretty good (if I do say so myself…) and although the Ferber jams are supposed to be very good as well, I don't feel the need to spend 6.5€ on a jar of it. Sorry. I'm not being cheap, but it's like paying for someone to brush my teeth for me. I'm pretty capable of doing the task myself—although twice a year I do let my dentist do it. And he is, like…schwing!…so I don't mind.
But I digress.
Premptively, I always…always….tell people, when showing them the jams, "I haven't bought any, but people tell me they're excellent."
And I also mention a lovely woman I met who bought a jar, got back to the states, and loved it so much she asked someone to ship her some. (They're not available in the US, and I don't ship…so don't even think about asking…) I say it to provide additional incentive to try it, if they want.
One fine morning I told someone that I hadn't tasted them, so they bought me a nice jar as a gift. If I may be so bold (again) and digress, I will often go to a restaurant or try something just because I know someone is going to ask me if I've been there or tasted it. It's a pre-emptive strike. I went to a three-star restaurant that turned out to be lousy; the fixed-price menu cost 405€ ($583) per person, without wine. Now I can hold my head up proudly, albeit with a lighter wallet, and say I didn't like it—I paid the price for that privilege.
But I can't taste twenty or so flavors of jam, which change with the season, making that task nearly impossible. (And let's see…23 x 6.5€=….ça fait…)
Finally I opened that jar of jam, made from griottes or sour cherries, and it was indeed good. Very good, in fact. And I'm delighted to report my findings on that particular flavor of jam.
But what's jamming me up is even though I explain I've only had one jar, folks still ask, "Which one is the best?"
I don't know.
A variation and even more challenging question is, "Which one will I like?"
I don't know.
I don't know what to do when people ask. I want to be nice and helpful and above all, charming, but I can't tell them. I just stand there, grasping for words to say, waiting for something profound to drop out of my mouth.
But there's nothing to say.
Is there a way out of this jam?