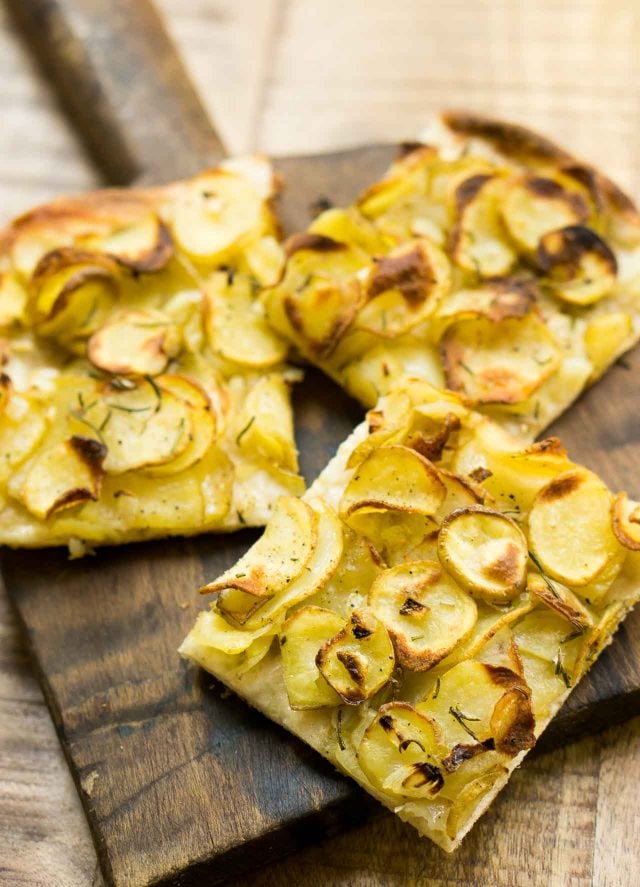 Potato pizza sounds a bit odd, until you try it. The first time I had it was in Rome at Pizzarium, which I still remember almost fifteen years later. My memory isn't what it used to be (as people insist on pointing out…), but I think I also had it at the Forno Campo de Fiori as well, and couldn't get enough of it. I wondered what took me so long to discover this great topping for pizza, and why wasn't it more well known?
A couple of years back, the no-knead bread sensation swept across the planet, or at least across the internet. I first heard about breads that don't require kneading in No Need to Knead by Suzanne Dunaway, then by Jim Lahey in his book My Bread. Before those two, Charles Van Over surprised the baking world with bread that could be made in the food processor in The Best Bread Ever, which won both a James Beard award and the IACP Julie Child award. And Zoë François is doing the same, with holiday breads and more.
What all this means is that one of the obstacles have been removed from making bread, as well as pizza, at home. So it's easy to give it a go, which I did.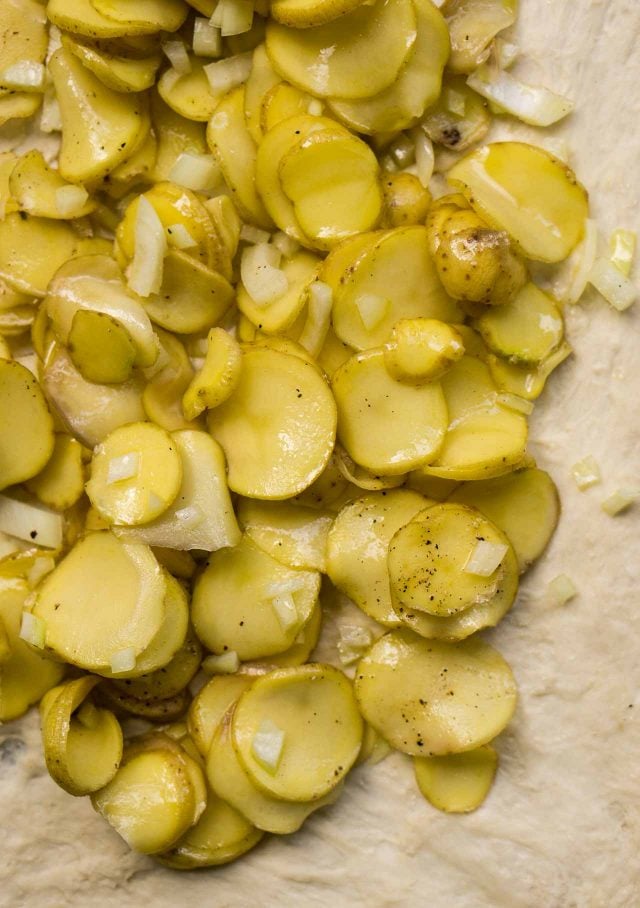 If you've ever had a Neapolitan pizza, you know that pizza doesn't have to have an extra-crispy crust. I thought that a potato pizza would benefit from one, and used a baking steel, which works great for free-form pizzas and flatbreads, but I found it made the bottom of my first one way too crispy. (Which is probably why the recipe didn't say to use one.)
So we don't always need to go to find the "ultimate" whatever when you're baking, and I tried it a second time without the steel, and recommend that you skip the steel or pizza stone on this one.
I didn't follow the instructions again (oops!) and didn't peel the potatoes. The slices are so thin, however, I didn't think it necessary. Yukon Golds are recommended, but if you live somewhere where they aren't available, a small, golden-yellow, firm, and good-tasting potato will work. In France, pommes de terre grenailles fit that bill, and I've used the interestingly-named Monalisa potatoes in place of Yukon Golds. You can peel them, or not.
I also don't have a mandoline. A departing friend gave one to me when she moved from Paris, which I used a couple of time, before giving it away. But if you were smart enough to hold onto one, wondering if you'd ever use it after the first few times that you did (before you banished it to the back of a kitchen cabinet), now is the time to unearth it. If your food processor has a very thin slicing disk, you could use that as well.
As for me, I used a regular chef's knife and cut the potatoes as thinly as I could. Even if you use Monalisa potatoes, you're not creating a work of art. You're making a pizza. So don't worry too much about potato perfection.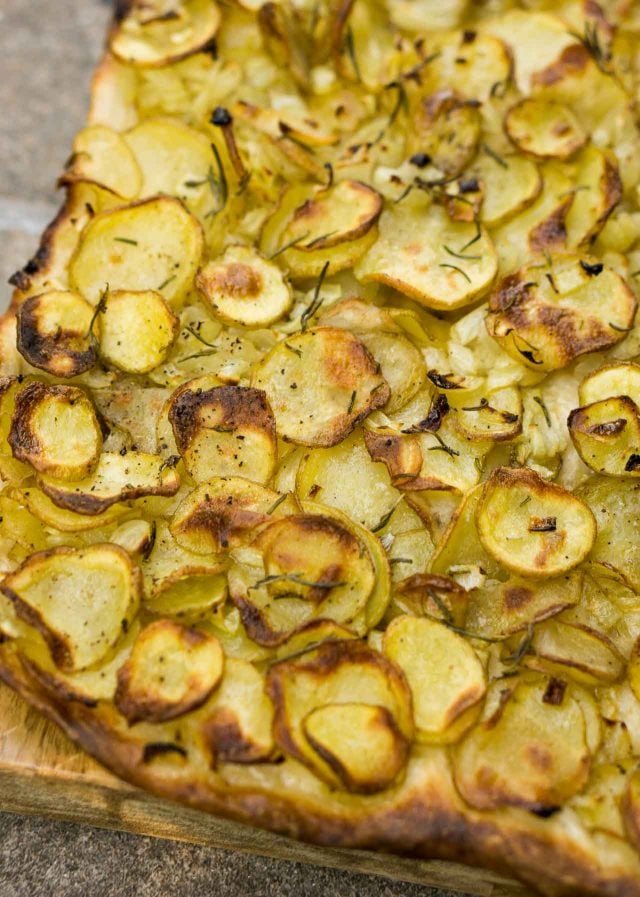 I ended up with one generous pizza, large enough for dinner, with leftovers, although this type of pizza is best when freshly made. It's a fun pizza to try and different from the usual tomato sauce+mozzarella slices…and there's nothing wrong with them, but this potato-topped pizza fills the bill (and my appetite for pizza) another way.
Potato Pizza
Adapted from
My Bread: The Revolutionary No-Work, No-Knead Method
by Jim Lahey with Rick Flaste I didn't try this with all-purpose flour but
King Arthur Flour
company did a comparison between the two in baking projects, and their answer is "Yes...in a pinch." Frankly, the dough is so easy that you'll probably be making other pizzas with this dough, so it's worth getting a bag of bread flour. (It's called
farine à pain
, in France, or you can use T65 flour and add a teaspoon of
vital wheat gluten
per cup/140g, which you can find in natural food stores.) I did try baking this on a pizza steel which is amazing for baking regular free-form round pizzas directly on it, but here, you don't necessarily want a very crisp cracker-like crust, so I found I preferred it baked not on a baking steel. It could be fun to try this with adding crumbled blue cheese (maybe) midway during baking, or even diced bacon. If you do, let us know in the comments how they work out. You'll note that I gave the dough recipe in weights, which is easier to multiply if you decide to make enough dough for two pizzas. According to Jim Lahey, the dough can be stored overnight in the refrigerator in a lightly oiled freezer bag, or frozen for up to 1 month. So you can make a double batch of the dough at the same time, and save one for later if you wish.
For the no-knead crust
250

grams (1 3/4 cups, plus 2 tablespoons)

bread flour

5

grams (1 1/4 teaspoons)

instant or active dry yeast

2.5

grams (scant 1/2 teaspoon)

salt

1.5

grams (1/2 teaspoon)

sugar

150

grams (2/3 cup)

tepid water

,

plus about 1 tablespoon more, if necessary
For the pizza
1

quart (1l)

tepid water

4

teaspoons (25g)

salt

2

pounds (900g)

Yukon gold potatoes

,

(about 6 to 8 potatoes, depending on size)

1

medium

onion, peeled and diced

freshly ground black pepper

1/3

cup (80ml)

extra-virgin olive oil

1

tablespoon

fresh rosemary leaves
Mix the flour, yeast, salt, and sugar in a medium bowl. Add 2/3 cup/150g of tepid water and stir until smooth. If the dough feels very dry and isn't coming together smoothly, mix in a scant tablespoon of water. Cover the bowl with a kitchen towel and let rise until doubled in volume, about 2 hours.

To prepare the potatoes, mix the 1 quart of tepid water with the salt in a large bowl, stirring to dissolve the salt. Use a mandoline or a chef's knife to slice them as thinly as possible. As you cut them, put them into the salted water so they don't discolor. Let soak for at least an hour at room temperature. (They can be done up to 12 hours in advance, and refrigerated.)

When ready to bake the pizza, preheat the oven to 475º or 500ºF (245º - 260ºC), depending on how high your oven will go. Put the rack in the center of the oven. Lightly oil a baking sheet that's approximately 13- by 18 inches (33 x 46cm.)

On a lightly-floured countertop, roll the dough into a ball. Cover with a damp towel and let rest 30 minutes.

Put the pizza dough on the center of the baking sheet, floured side up, and stretch it lengthwise down the center of the baking sheet, using your hands to coax it in both directions. Then use your hands to stretch the dough towards the edges of the pan. If the dough is too stretchy and elastic, let it rest for 5 minutes, and continue. The dough will likely tear in places; simply pinch those parts back together and continue. Stretch the dough until it's about 1 inch (3cm) away from the edges of the pan. (You'll notice that in the picture of the post, I stretched the first one that I tested all the way to the edges but found I liked the dough a little thicker, so the second time, I didn't stretch it as far.)

Drain the potatoes well and squeeze out as much water as you can without breaking the slices. Put the slices in a bowl and mix them with the diced onion, plenty of freshly ground black pepper, and the olive oil.

Spread the potato mixture over the top of the pizza dough, making the layer of potatoes closer to the edges a little thicker. Sprinkle the rosemary on top and bake the pizza until the potatoes start to brown and the crust is golden brown, about 25 to 30 minutes, depending on the heat of your oven. But check before the recommended baking times as this pizza is best if it's not overly crisp.