Potato and Blue Cheese Pizza
One of my biggest, deepest-darkest secrets is that a few times a year, I buy a frozen pizza. I used to do it on the sly, but lately I've even got so brazen that I'll go out and do it in broad daylight. I am sure after my goings on about the popularity of frozen foods in France that I was going to get busted one day standing in line, clutching an icy box containing a pizza jambon speck, roquette, mozarella at the frozen foods store. Yet so far I've escaped detection.
But it's not the fin du monde and everyone has the right to enjoy a frozen pizza once in a while, right? I used to make homemade pizza a lot more when I lived in California since it's a simple thing to make, and you can turn out a couple at a time and eat the leftovers later. They reheat so nicely but for those of us who are impatient, it's nice to know that cold pizza makes a great breakfast, too. (And we used to take home leftover pizza dough at the end of the night when I worked in the restaurant, so it was especially easy to roll and bake a pizza on your day off.)
I just got a copy of Serve Yourself by Joe Yonan, a nifty book full of recipes for cooking for one. Joe came to Paris a few years ago and like everyone who meets him, I was charmed by his graceful intelligence and instant friendliness, and we ended up sharing a couple of meals together.
I'd seen an advance copy because I wrote a quote for the back, and liked the idea of tacos, frittatas, and individual meatloaves rather than the salmon filets and boneless, skinless chicken breasts that are often the staples of "cooking for one" recipes. (Okay, another one of my secrets is that I actually like boneless, skinless chicken breasts.) In addition the book has a few individual pizza recipes in it, all using a no-knead dough.
Everyone loves the no-knead bread and even though I've tried it a few times and have a few qualms with the flavor (and suffered the wrath because of it…) it's the recipe that Joe uses in the book and I've used it here because I'm always willing to give something another chance. It is very easy to make – you just stir everything together and let it sit all day. And because it's quite soft, it's completely easy to shape into circles with your hands and very forgiving. So for those of you that don't have access to leftover pizza dough from a restaurant, don't worry – this shouldn't intimidate anyone.
There's a few other combinations for pizza in the book, but I went rogue since my all-time favorite pizza includes potatoes. I'm a big fan of starches, and when crumbled bits of salty-tangy blue cheese melt over a crispy crust covered with rounds of pre-roasted potatoes, I'll gladly give up my place in line at any frozen foods store.
For those who don't have wood-fired pizza ovens in their houses, or even pizza stones, Joe came up with a great technique using the back of a cast iron skillet for baking off the individual pizzas.
I was kind of surprised how well it worked and even though I often grab my green non-stick pan instead of my cast iron skillet, I think I'll be pulling out my heavy pan and upending it in my oven a little more frequently since learning this technique.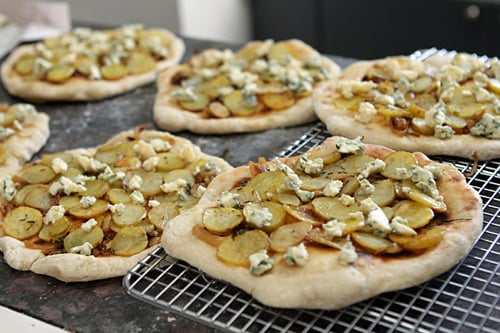 Sure, you could top each with a tangle of arugula or even an egg, and let it bake during the final minutes of cooking. Each are customizable and these individual pizzas make a perfect dinner for one. Extras can be frozen for future use and good to have on hand, so you'll never have to suffer the humiliation of waiting in line at the supermarket – hoping you don't run get busted by one of your readers ; )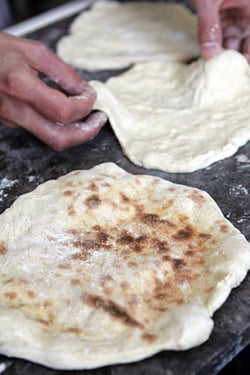 Potato and Blue Cheese Pizza
No-knead dough recipe adapted from
Serve Yourself
by Joe Yonan, from an original recipe by
Jim Lahey
. The main thing to remember when making these individual pizzas is that the skillet is very, very hot. I've actually written down on a notepad "HOT PAN" in large block letters, and kept it next to my work area to remind me so I don't touch something that's hot that doesn't look it. When making a lot of pizzas at once, especially if I have guests, I pre-bake the dough slightly (as I did here) so I'm not struggling with it and making a mess when friends arrive. If you're having company, you can also have the dough rounds topped with the potatoes and cheese, then just bake them off right before serving, since they only take a few minutes under the broiler to finish. Because potatoes star in these pizzas, try to find flavorful varieties. Often greenmarkets have farmers who grow specialty potatoes and those are worth seeking out since they're a lot tastier than commercial varieties.
For the pizza dough:
4

cups (560g)

bread flour

2

teaspoons

sea salt

1/4

teaspoon

active dry yeast

,

(see Notes)

1 1/2

cup (375ml)

water

,

at room temperature
For the topping:
2

medium onions

,

peeled

1

pound (450g)

small, firm potatoes

,

such as Yukon golds or fingerling

1

teaspoon

minced fresh thyme

, plus a handful of thyme branches

6 to 8

ounces (170g-225g)

blue cheese
Garlic oil:
1

clove

garlic

,

minced

2

tablespoons

olive oil
Additional ingredients you'll need:
Olive oil

Sea salt

Freshly ground black pepper
To make the dough:
In a large bowl, mix together the flour, 2 teaspoons salt, and yeast.

Stir in the water until well-blended, then cover the bowl with plastic wrap or a dishtowel and let sit at room temperature for 8 to 12 hours.
To make the pizza toppings:
Preheat the oven to 400ºF (200ºC).

Sauté the onions in a large skillet, stirring frequently over moderate heat, seasoned with salt and pepper, until soft and translucent. They will take about eight minutes. During the last few minutes of cooking, add the fresh thyme leaves. Let stand at room temperature until ready to use.

Slice the potatoes in a little larger than 1/8-inch (.30cm) slices and toss them with a just enough olive oil to lightly cover them, a few teaspoons, along with salt and pepper and sprigs of fresh thyme.

Spread the potatoes on a baking sheet in a single layer and bake for 15 minutes or until the potatoes are cooked through.
To bake the pizzas:
Heat the broiler in the oven and set the oven rack so it's 5-inches (12cm) from the heating element.

Set a cast iron skillet on the stove top over high heat and let it get very hot.

Shape the dough into 8-inch (20cm) rounds on a lightly floured surface, then working one-by-one, overturn the cast-iron skillet and carefully put a round of dough on the upturned bottom of the skillet, using your fingers to nudge the dough to the edges and being careful to avoid touching the very hot skillet.

Bake each round of dough individually under the broiler until each is lightly browned and "set" – they will only take a minute or two, so watch them carefully. As they come out of the oven, pry the dough off the pan (you may need to use a spatula if they stick a bit) and set each one on a wire cooling rack.

(You can also put the toppings on the raw dough, right before step #4, and bake the pizzas off to finish them.)

Brush each round of dough in the center with garlic oil, making sure to get some of the minced garlic on each round. Divide the onions over each round of dough, leaving a border, then top with potatoes and crumble blue cheese in large pieces over each pizza.

Run each pizza one-by-one under the broiler, on the overturned cast-iron skillet, then serve immediately.
-I use regular yeast (also called "Active dry" yeast) rather than instant yeast, which the original recipe calls for. Some people feel that you should proof active dry yeast, but with the long fermentation and the wet nature of this dough, the yeast will be activated during the long fermentation process without proofing in advance. If you're not sure if your yeast is good, sprinkle it over some of the warm water (100º – 110ºF, 38ºC – 43ºC) and let it stand for ten minutes. If it starts to bubble, it's fine to use.
If you wish to use fresh (cake) yeast, according to Fleischmann's yeast website, 2 1/4 teaspoons of active dry yeast = 1 cake (0.6 ounce) of fresh yeast.
-As mentioned, I'm outvoted on the no-knead dough question, and prefer a traditional dough enriched with olive oil. But you can certainly swap out your favorite pizza dough and use this topping.
-Bread flour is available in most supermarkets. In France, it's called farine boulangère à pain of farine pour pain.
-Possible variations would be to add cooked bacon pieces to the pizzas, along with the potatoes, or omitting the bleu cheese and drizzling the finished pizzas with crème fraîche and chopped chives right before serving. Another cheese, like Comté, Gruyère, or mozzarella could be used. One last idea to toss some fresh arugula in a bit of the garlic oil and put a tangle on top of each pizza right before serving.
-I did try baking the pizzas on the wire oven rack with the toppings but found the bottoms didn't get as crispy as I liked. If you have a pizza stone, you could likely adapt this recipe to use that rather than a cast-iron skillet. Read the instructions to make sure it will stand up to broiling.
-The potatoes and the onions, as well as the rounds of dough, can be pre-cooked up to eight hours ahead.
-If you want to freeze the pizzas, once cool, stack them in a layer with a sheet of parchment paper in between each pizza, then freeze in a zip-top bag.
Related Links and Recipes
Joe Yonan (Website)
Gluten-Free Pizza Crust (Gluten-free Goddess)
Jim Lahey's Potato Pizza (Smitten Kitchen)
Chile Relleno Pizza (Awake at the Whisk)
Potato and Goat Cheese Pizza (What's Gaby Cooking?)
Healthy Homemade Whole Wheat Pizza Dough (Eating Rules)
An American Blogger in Paris (Joe Yonan)
Really Easy Potato Pizza (Chewswise)
Choosing Flour for Baking (Fine Cooking)
Frying Pan Pizza (Perfect Pantry)