I just realized that I haven't used the word "astonishing" in a while. I'm not jaded or anything. I still walk around the streets of Paris sometimes and think, "Wow, this place is pretty spectacular." And on my travels, including a recent trip to Chicago, I was wowed by everything from terrific Mexican food to a wonderful bakery.
But sometimes adjectives aren't enough, and every so often you drop into a place and your jaw just kind of drops as well. Le Bonbon au Palais is such a place.
The owner of this boutique, Georges, has built a dedicated collection of candies from across France. On the wall to the right, when you walk in, are souvenirs of his enfance; candies that French kids would remember fondly, including "Bacon and Peas." I was surprised to find Cacahuete de Morangis, peanut-dusted pralines. Peanuts? You don't run across many candies with peanuts in them in France.
(One chocolatier said to me, once…semi-jokingly, "We are not selling les Snickers here.")
One thing not in the kids aisle were Les crottes d'Isards. When I raised an eyebrow (if you remember, crottes are animal "droppings", in French), he said they were a candy from Lourdes that were made by rolling together ground nuts, dipping them in chocolate, then rolling each one in cocoa powder so it resembles a small pellet.
He offered me a taste and while the name didn't exactly inspire me to chew it, I did. And I can say with complete honesty – they were the best crottes I've ever tasted.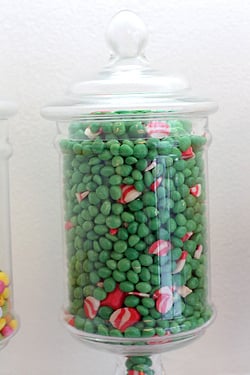 In the shop are at least fifty apothecary jars, each holding something sweet, curious, and wonderful. I poked around and found bonbons made with pine honey, Quernons d'Ardois (a favorite of mine made of crunchy, nutty nougatine, meant to resemble slate – ardois – paving stones). There was Le Négus, soft caramels cloaked in crispy caramel, marshmallows in a farandole of colors, with a large variety made with fish gelatin for those on certain diets. Les Tridents de Camargue were candies that had a trifecta of flavors and textures, which you discovered after you popped one in your mouth and started chewing it, making your way through the three layers.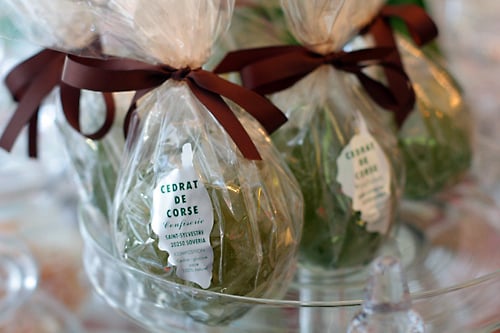 I expected to see plenty of candied fruits, but was surprised to see gorgeous whole candied citrons from Corsica, individually wrapper up like gifts. But the thing I was most curious about in the shop were the candied chili peppers from Guadaloupe.
Georges told me that the process to make them was very long; they were cooked in fifteen different pots of sugar syrup, with three days of drying between each cooking. Since the French aren't known as being big fans of spicy things, I inquired further and he told me that they were actually quite doux (sweet), but that when you bit into the little seeds as you chewed, they provided a slightly spicy afterbite. Recipe, please!
(Oh, wait. He told me how they were made. Never mind.)
Another curiosity that I loved were the Tommes de Chambéry. Resembling coin-sized wheels of tomme, a form of cheese, the tiny disks made of wild blueberry ganache enrobed in dark chocolate were undeniably cute stacked up in the jar. I wanted to stick my hand in and grab them all, but there were several signs requesting that patrons let Georges serve them.
I am a sucker for anything gummy. If it's jelled, I'll eat it. Chuckles (not the black ones), Boston Fruit Slices (not the green or blue ones), and the monochromatic Orange Jells, for me were—and are, my downfall. (Don't even get me started on marshmallows…) When I was in cooking school at Ecole Lenôtre, I took a week-long class in candy making and one day, my task was to cut up all the pâtes de fruits that we'd made into squares, using a guitar; a slicer with wires that allowed you to cut perfect squares from the larger blobs of fruit jelly that we'd made earlier.
As I sliced and made perfect parallelograms, naturally, there were plenty of odd bits and ends, which I gobbled up like there was no tomorrow. However by the end of class, I was feeling a little queasy, and to this day, as much as I admire them in Parisian pastry shops, I rarely eat them anymore, proving there is too much of a good thing.
However. Jellies with bergamots? Count me in. I had him fill me up a big bag of these jellied buttons, mixing-and-matching to add a few other jellies from the Lorraine, which mixed bergamots with mirabelles, tiny yellow plums.
With my little bags of candy in tow, I headed home and laid out my loot on the counter, like a kid arriving home from Halloween. (Although one who really scored that year.) So, yes, I was astonished as well as delighted to visit this shop. Open since 2009, Georges told me that 70% of his clients are French, and the rest from elsewhere. It's nice to see that the French are such avid candy-eaters—in addition to one American amongst them.


Le Bonbon au Palais
19, rue Monge (5th)
Tél: 01 78 56 15 72
Open Tuesday through Saturday, 11am to 7:30pm


Other Candy Shops in Paris and Related Links
Salted Butter Caramels from Henri Le Roux
Candied Habaneros (Flickr/Recipe)
Pierre Marcolini's Chocolate-Covered Marshmallows
10 Insanely Delicious Things You Shouldn't Miss in Paris