[Update: Vivant closed, then changed owners and is now a completely different restaurant.]
If you have a lot of food concerns – if you need to know how something is cooked, or what vegetables are included in les légumes – although they're happy to answer, at Vivant you should just let your experience of the restaurant be guided by slipping out of the mode of being in control, and putting yourself in the capable hands of the staff of the restaurant. Some of the wines, which are unapologetically natural, are a leap of faith. And you might find yourself being surprised and delighted, or dubious and perplexed. It's part of the experience.
Pierre Jancou was the former owner of Racines, an excellent restaurant which featured market-fresh food. Like so many other places in Paris and elsewhere, many say they do cuisine du marché, but a majority aren't sourcing from the producers themselves and are still getting ingredients from market middlemen.
Pierre is someone who does know where everything is from, and he can tell you the provenance of every piece of fish, wine, herb, vegetable, and sausage served at Vivant. After letting go of Racines, he left Paris for a while but is back in a small, personal location in the middle of the 10th, in a colorfully tiled space that was formerly a shop that sold birds. After passing by streets filled with African hairdressing shops and the youthful crowds drinking on the newly-hip rue du Faubourg Saint Denis, when I stepped inside, I was happy that I had pointed myself in the direction of Vivant.
It was nice to see Pierre and his friendly staff behind the bar, as well as racing back to the kitchen to check a pasta, or taking orders from a table in the small dining room. Because I'm always punctual, I had a quick glass of wine at the bar while I waited for my friends Barbra, Meg, and Alec, although this is not a wine bar so guests should reserve a table for lunch or dinner.
(Because of local laws, this isn't officially a wine bar, so stopping in just for a glass of wine isn't possible.)
Vivant is funky and fun. But eating here made me realize how different dining is in France than in the states. The chalkboard listing for Poularde indicates that it's chicken, but there's no mention of how it's cooked or which vegetables were going to be the légumes listed alongside. In the states, each vegetable would have to be note on the menu and guests would want to know what cut of chicken it was, how it was going to be cooked, and what kind of sauce it was going to come with. At Vivant, it's best to put yourself in the hands of the staff and let them do what they do best.
So leave all the stuff outside the door. When my friends arrived, I chose the Lieu de ligne (line-caught pollack from the Basque region) served on a pile of lightly sautéed spinach.
I don't normally order sausage in restaurants because the portions are always so huge. And sometimes the sausages can be so rich, it's hard to digest afterward. But the wonderful cast iron cocotte of vegetables lightly cooked in butter – radishes, turnips with their greens attached, and broccoli – were just the right accompaniment to the meaty andouillette, which French friends that I subsequently dined with, raved over.
And I'm a big fan of their pasta dishes, which are often deceptively simple. A bowl of wide tubes of pasta bathed in a tomato and eggplant sauce came with a scoop of herbed ricotta, that melted into the flavorful noodles. I didn't want to share!
Since we had nearly three-quarters of a bottle of wine left after dinner (and it wasn't our first), we did decide to share a plate of Italian cheeses; a wonderfully salty, crumbly pecorino, and a milky wedge of Tallegio, a cheese I haven't had in a long time. The dessert menu changes daily but there is often Gâteau Zoe, a chocolate cake named after Pierre's daughter, and you might find a Ricotta Tart with rhubarb compote, or chocolate ganache with salted butter caramel and a crunchy meringue resting on top.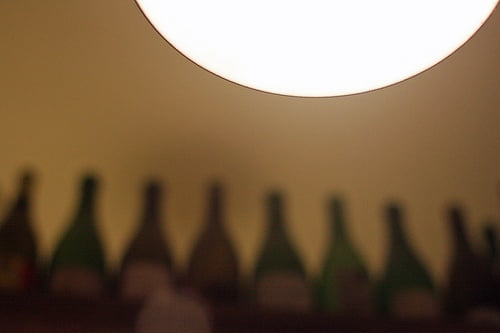 Places like Vivant have replaced the old bistros, many of which have resigned themselves to serving dishes merely reminiscent of their glory days, rarely sourcing fresh ingredients, and disappointing diners that are hoping to get a taste of good French cooking. This is honest food, and very good cooking, and what people in Paris – and elsewhere – should be eating today.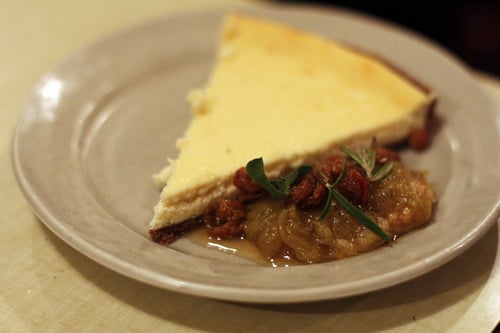 Happily, a younger generation is moving forward and places like Le Garde Robe and Spring, Frenchie, and Les Fines Gueules are part of this movement.
Like a lot of the new places serving good, fresh food, in Paris, Vivant is small, intimate – and busy. So there's no need to panic, but realize that the owners and chefs sometimes find themselves overwhelmed and are often working half in the kitchen and half in the dining room…and also juggling the reservations line.
On a whim, I unexpectedly picked up the phone shortly after my first meal here and made a reservation. My two French friends hadn't dined there, and we had a great night, beginning with three glasses of (natural) sparkling white wine, then moving on to a plate of tissue-thin lardo served with nothing but flaky sea salt and cracked black pepper. Burrata, from the nearby Italian Coopérativa Latte Cisternino was amazing, doused in very good olive oil, which we devoured before we moved to our main course. If it's on the menu, be sure to order it. Although it's hard to go wrong with anything here.
Vivant
43, rue des Petites Ecuries (10th)
Tél: 01 42 46 43 55
Closed Saturday and Sunday
NOTES: I updated this post with pictures from a more recent dinner, so the descriptions in the article are from my first meal there. The pictures shown include browned white asparagus, cured pork belly with freshly ground black pepper, and an excellent pasta with eggplant and ricotta.
As of January 2014, Pierre Jancou is no longer the owner of the restaurant and there will likely be some changes to the concept. There is still the wine bar next door, Vivant Cave, that features small plates and does not take reservations.
Other Reviews of Vivant
Table à découverte (in French)
Ptipois (in French)