I've had a swirl of visitors lately, and every morning it seems like I open my Inbox to find more "We're Coming to Paris!!!" in subject lines. I'm not complaining because I love seeing my friends, especially those I don't see often enough, but the joke about needing a social secretary has become a reality for me – just so I can get my other stuff done. I could probably also use a personal trainer at this point as I'm in the midst of 3-days of non-stop eating out. (Sunday is a day off, then Monday, it's back out there to eat some more.)
In addition to having a great time catching up with friends from afar is that I get to try restaurants in Paris that I've been meaning to go to, but haven't had the time to. Of course, everyone wants me to pick a restaurant and telephoning for reservations is another task for my yet-unnamed social secretary. I had suggested to my other-half to do it, but judging from the look he gave me, I don't think he's the right person for the job.
Taking a breather from eating copious amount of food, yesterday I had lunch at Le Richer with a friend from Nice, and decided to share it with you. It's in that "happening" little area in the 9th, clustered around other new and interesting places that have popped up in recent years, such as Vivant and L'Office, the latter owned by the same team that owns Le Richer. And yes, that was me having dinner at L'Office last night, just after having lunch at Le Richer, right across the street — see? I wasn't kidding..
Le Richer doesn't take reservations so we arrived just after the noon hour, and got a lovely seat by the window. The friendly staff gave us menus and a wine list, and left us to decide. At the beginning of the carte de vins, instead of a list of specific wines by the glass, it just says "Verre de vin blanc" – so all you do is decide if you want white, red, or rosé, then the waiter comes over with a few bottles for you to choose from, after explaining a little about each. We both had Chablis as we agreed that we were tiring of red wine, which seems to be a trend, I think. (At least in my mind.) Don't get me wrong, I like a good red. But most just seem too filling and full-bodied for me these days, so I've been sticking to whites lately, which seem to agree with me more.
With our wine, we had the Œuf 63º, crème de butternut et brioche à la chataîgne, an egg cooked for 63 minutes sous-vide, enveloped in a silky butternut squash puree with a strip of toasted chestnut brioche. A little black pepper from the grinder on the table added a bit of zip, although a pinch of piment d'espelette (Basque red pepper powder) would have been the spot-on touch, a zesty contrast to the naturally sweet puree and runny egg.
Beautifully presented was Tartare de bœuf, huîtres, granny smith, radis et sesame (raw beef with oysters, Granny Smith apples, radishes and sesame), with a familiar nod to Japanese cuisine, which many of the young chefs in Paris are intrigued by. (Curiously, Vietnam, Thailand, and China don't seem to hold the same interest.) In spite of there being things together on the same plate that may not seem to go together, the dish worked. However I had wished that green sauce on the side had a bit of chopped seaweed; that distinct iodine flavor would have been the perfect liaison for all those disparate elements.
Since my friend probably has a social secretary at home working on her schedule for her, she was able to treat herself to a second glass of wine, while I gazed at her (and her glass) longingly. But since we'd ordered the same main courses, I didn't have to be envious when they brought out two plates of Canard rôti/confit, purée de choux-fleur, shitake confit et figue.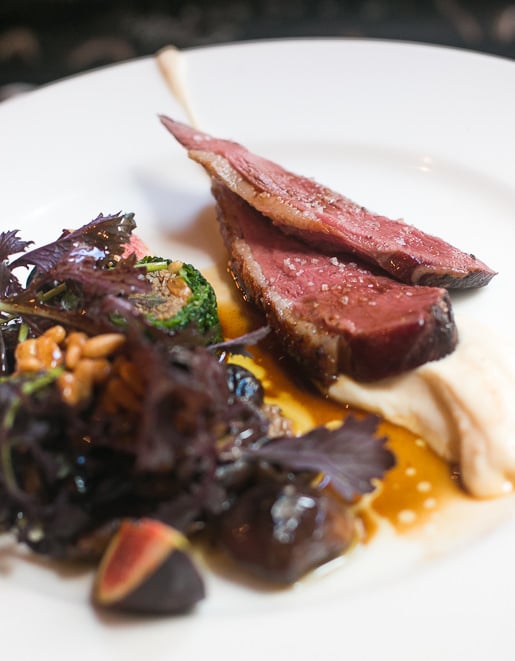 There was a nice Japanese-inspired maki-like roll of shredded duck confit wrapped in a piece of Savoy cabbage that we both loved, along with slices of duck breast, lovely shiitake mushrooms, and fresh figs that weren't quite ripe. (Fresh figs should either be cracking on the sides or oozing juice from the bottom, and nearly falling apart when served. Otherwise, they taste milky and crunchy, not jammy sweet, which fresh figs taste like when they are at their peak of flavor. Roasting figs helps bring out the flavor of figs that aren't at their peak, and that would have dialed the dish to the top.) One things I've noticed about Americans (…or maybe it's just me — again), is that our tastes tend to favor brightness and some "zing" – bits of spice, sharpness, acidity, and heavy searing of meats, are things we tend to favor in our cooking – or at least mine, which tend to be finishing touches like a flurry of salt, grinds of pepper, a few extra moments on the heat, or some lemon juice or vinegar swirled in at the last minute.
For dessert, we went with the crème brûlée of milk chocolate with passion fruit ice cream and croquant noisette, which was nice, although I'm a fan of dark chocolate whenever possible. And when adding milk to creamy things, like custard, it tends to dilute the flavor of the chocolate. Still, it was well-made and I appreciated the heavy ratio of sugar topping to the thin custard underneath. That one was gone in a flash.
Prunes rouges, or poached plums, were served with a few tiny white jellied squares flavored with peach and lime, topped with tumble of bugnes, deep-fried pastry strips, and glace au foin (hay ice cream) which is another tendance (trend) popular with the young chefs of Paris. I haven't munched on a lot of hay, but I find the flavor when used in ice cream to be a bit elusive, especially when paired with something as strong as poached plums. A touch of cornmeal or rosemary in the bugnes would have given them a little more of a textural difference, or some contrast of flavor, with the beautiful plums.
The dining room staff was exceptionally nice, one waiter even feeling comfortable enough to make fun of me for making the "we want the check" gesture with my left hand, which I agreed, was kind of weird the way I was doing it. (I joked back that I was ringing an imaginary bell.) We both finished up with two cafés express, which were made from micro-bathed Guatemalan coffee beans, provided to Le Richer by a specialty roaster. The server told us that they didn't serve sugar with their coffee because of the specialness of the coffee bean, and the coffee was best appreciated without sugar. But my friend was making a face, enough of a clue for them to appear with a ramekin of sugar moments later. From the looks of the sugar bowl, others had requested sugar as well. (Hard to change those local habits.) But when we left, we were very happy to have dined well on food prepared with care and good ingredients, in pleasant, modern surroundings that weren't trying to hard to be hip or edgy. Just comfortable and unobtrusive.
At lunch, first courses were €9 and €10, mains were €17 and €18, with desserts at €8. Our check for two, with three glasses of wine and two coffees was €88. Le Richer is open every day, from breakfast through dinner (8am to 1am) and doesn't take reservations. (And in case anyone thinks that the French don't work hard, I noticed our waiter at lunch was also waiting tables at dinner.) When I passed by at 9:30pm on the way to dinner at L'Office, there were people waiting around the sidewalk, waiting for tables. So if you go, plan accordingly. But you might not want to plan two meals on the same day, if you can help it.
Le Richer
2, rue Richer (9th)
Métro: Bonne Nouvelle, Cadet, or Poissonière)