Le Violon d'Ingres
Christian Constant has a mini-empire of restaurants in the 7th arrondissement, taking over an entire side of a city block. On one corner is the Café Constant, bookended by his upscale bistro, Le Fables de la Fontaine. Violon d'Ingres was his high-end joint in the middle until he decided to go 'downmarket' and turn it into a more everyday dining experience. With linen table runners replacing the starched tablecloths and waiters shucking their Hugo Boss togs (which the menu duly noted), the food is some of the best in town and now it's more accessible to many more diners.
I had a terrific roasted Guinea fowl braised in a casserole, and learned an obscure new French word; "luttée", which I thought meant 'fight' (lutte), although here it meant a luting paste.

They'd given us both English and French menus, and the morel mushrooms with my Guinea fowl were just noted as 'mushrooms' on the English menu and the little crinkly fellas I got were much better than les champignons de Paris, white button mushrooms: an anglophone might have dissed this and ordered something else, which is yet another reason to learn French. Or English.
(I'm still working on both…)
After the waiter scraped off the luting paste (in spite of my grammatical errors and typos, see how educational this blog is?), lifting the lid off the casserole, my lunch was carefully, and generously, spooned on to my plate. Our server was extremely charming and handsome—even without his Hugo Boss outfit—in addition to teaching me that there's no such thing in France as a 'fighting casserole'. Studded in the sauce he spooned over my pintadeau were little cublets of tender foie gras. A superb dish.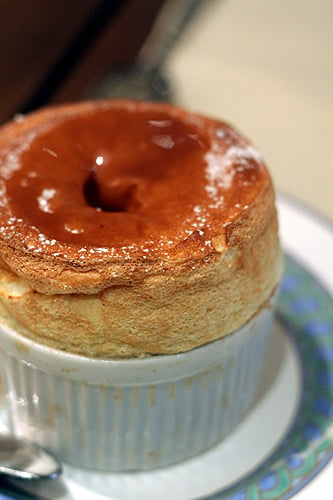 My friend ordered correctly-cooked slices of rare duck breast with star anise that she pronounce "excellent." Since I don't do the vexing "everyone take a bite, and pass the plates around the table" thing (fyi, in case you ever dine with me: I don't pass my plate, I don't want a bite of food off your plate, and I don't want people grabbing food off my plate while I'm eating), I took her word for it.
Call me crazy—or whatever, but I do believe in sharing desserts.
So we ended by splitting a sky-high, billowy Vanilla Soufflé, served with a warm pitcher of salted butter caramel sauce. The soufflé tasted a bit too much of vanilla "aroma", in addition to the bean, which is common to use in Europe, although I prefer extract. But it was such a gorgeous dessert, I had to show it to you—twice. (To make it up to you for no pics of the waiter, who did eventually confess that he was wearing Hugo Boss socks.) And with the warm sauce, we were fighting for the last bits at the bottom. Aversion to sharing be damned.
Moderately-priced, you can choose 3 courses from a rather varied menu, to create your own menu. Which, I should warn you, is a lot of food.
So go hungry, or go à la carte.
Le Violon d'Ingres
(Menu.)
135, rue Saint-Dominique (7th)
Tél: 01 45 55 15 05
(Just next door, is owner Christian Constant's restaurant Les Cocottes, a bustling spot where Alsatian-style casseroles are served either at the long counter, or at high tables, at very reasonable prices. Almost like a Parisian sushi bar, but with French cooking.)