I realized that a little while back I posted some pictures about my visit to Les Crayères, a Michelin-starred restaurant in the Champagne region, about an hour from Paris. But I never wrote about the meal or my experience. Since I've been planning another trip back—hopefully soon, it prompted me to share my lunch, at last.
Perhaps some people coming to Paris want to take a day trip out of the city. Or for those of use who live here, it's a nice break away from the hectic city life and away from the stress of it all. (Especially after tangling with those Monoprix cashiers.) If you fall into either of those categories, a swift, new TGV train will whisk you from the Gare de l'Est and right into the heart of Champagne country in less than an hour. And before you know it, you'll be sipping sparkling wine in high-style, surrounded by trees and servers waiting on you dressed in sharp suits, with a bottle of bubbly always ready and waiting.
Let's just get this out of the way right now: I love Champagne. When I worked at a well-known restaurant, we had a rule (which, admittedly, we made up on the spot one evening), that every night that we did over a hundred diners, we'd open a bottle of Champagne from the cellar for us.
Of course, the restaurant was always booked. So we did, indeed, indulge in a bottle (or two) nightly. And we were sure to treat ourselves to the good stuff, as it was one of the owners idea to initiate the 'rule' in the first place. Let's hear it for understanding bosses.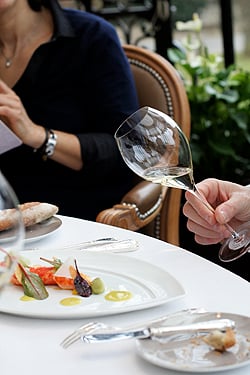 Yet I never spent much time in Champagne. I think I went like once, about twenty years ago, and don't remember much (so it must've been a good trip!), and did most of my imbibing in Berkeley. (And in Paris.) So I was excited to be invited to Les Crayères with a small group that included my favorite dining pal, Alec Lobrano, author of Hungry for Paris, to lunch on the cuisine of young chef Philippe Mille.
I've said it before, but it bears repeating: the only time you get butter with bread in restaurants in France is either if you order oysters (which come with rye bread and butter), or if you go to an upscale or Michelin-starred restaurant. And if bread dishes aren't offered, you just keep your bread on the table. Of course, here they we had them, which was a good thing because the bread (and butter) was so good that I made a major mess with it.
Les Crayères has two Michelin stars, so I guess that merits offering two different butters; demi-sel (salted) and doux (unsalted). I only eat salted butter now, because the salted butter in France is always amazing. And who doesn't love salt? Flecked with little crackly-crystals of salt, when you bite into French salted butter (called beurre demi-sel aux cristaux de sel), the little sparks of salt explode in your mouth, gently, and I find unsalted butter too dull nowadays in comparison. So I was in heaven when I tasted their extraordinary salted butter, which, if that was all we had for lunch—with a glass of icy-cold Champagne, I would've been quite content.
Everyone was a bit triste that the weather was so gray outside, but I thought it perfect for dining indoors when the room has expansive panes of glass, overlooking trees and grass. I love being indoors and hearing the rain on my roof, one of the benefits of a rooftop apartment. And when you're in a sumptuous dining room (unlike my less-than sumptuous apartment), protected from the elements in such splendor, it's hard not to feel coddled.
The two standout dishes I had were, surprisingly, the simplest, and the most rustic. The chicken breast with a zig-zag of black truffle purée was fine, but the pasta alongside of it was absolutely amazing. Soaking in a thin, but flavorful reduction of pan juices, the earthy swirls of pasta and generous shavings of black truffle made me sit up and take notice. If the French had doggie bags, I would've ordered an extra helping, snuck it home, and reheated it that night for dinner.
Right before dessert, the waiter wheeled out a modest cheese cart. He explained that instead of offering a huge cart of various cheeses (many which can't be reused, which I'm sure makes the waiters and kitchen crew happy during staff meal, if they can't have Champagne), they offer a carefully edited selection of cheeses from famed Alsatian affineur (a fromager who specializes in ripening cheeses), and Alec let out a slight gasp, whose power could be felt across the wide expanse of the linen-topped table. He is always right on the money, and I knew we were in for a treat.
A Comté cheese that's been cave-aged for 48 months from Bernard Antony, in Alsace, was carefully sliced by the waiter. The cheese was on the verge of being too crumbly to make perfect portions, which the waiter adeptly handled, and when I took my first bite, I returned Alec's gasp: it was one of those life-changing things that I've eaten and I'll likely never have such an exemplary cheese again. When I went home, I changed my will and left everything to Monsieur Antony in exchange for presenting us with this magnificent cheese.
(Okay, I didn't really. Instead, I left him my blog. So in case you see a sudden uptick in high-quality cheese postings, you'll know something happened to me.)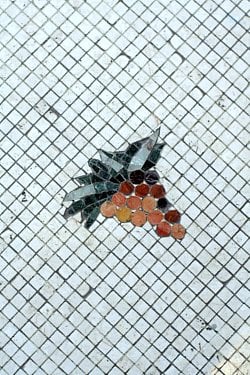 Before we hit dessert—or perhaps it was after; we'd sampled a lot of Champagne, so excuse me for the oversight. But it was at this moment that the sommelier carefully brought out a bottle of Port and a pair of nearly red-hot tongs. I waved my hand over it because, like when I was a waiter and I'd tell guests the plates were hot, they always wanted to touch it for some reason, too. (What is up with that? Perhaps they wanted to see if I was lying?) And everyone started flipping out that I was going to touch the tongs.
No, I ain't stupid, but I was curious as to what was up, and the sommelier explained that he was going to use the hot tongs to remove the neck of the bottle of Port, before serving it to us. I wanted to ask "Why?", but I've learned after living in France for a number of years, that it's often the process—not the result, that's important. And I spend a lot of time on a lot of les processus, let me tell you.
Apparently using port tongs are the preferred method of opening bottles of vintage port when there's a fear that the cork might crumble when it's extracted. Also it allows the bottle to be opened without disturbing any sediment at the bottom. And it's also used to scare the wits out of French restaurateurs into thinking a misbehaving American fellow is going to burn the crap out of his hand in their fancy dining rooms.
The bottle broke cleanly and the port was filtered into a bulbous carafe, which allowed it to breathe a little after all that drama. Plates were cleared, some petits fours were dispatched to the table—tiny lemon meringue tartlets, puffy-squat macarons, coconut marshmallows, and a dab of chocolate mousse ganache resting on a neat square of dark chocolate ganache.
Of course, no one had room for the chocolate palets d'or. Except for me, of course. And I ate as many as I could without looking like I was eating more than my share. But people were begging off the food at this point, and we retired to the salon for cups of café express. Then it was back to Paris, on the express train. Bien sûr.
Les Crayères
64, boulevard Henry Vasnier
Reims, France
Tél: 03 26 24 90 00
The Michelin-starred main restaurant at Les Crayères is Le Parc, which offers à la carte and fixed gastronomic menus. At lunch, there is a "Menu Gourmand" for €65. (Subject to change.) Of course, adding Champagne adds a bit to the bill. But you don't come to Champagne to drink water, do you? There is also a more casual brasserie, Le Jardin, located in the gardens of Les Crayères.
Related Posts and Links
Les Crayères (Hungry for Paris)
10 Common Ordering Mistakes People Make in Paris
10 Insanely Delicious Things You Shouldn't Miss in Paris
French Menu Translation, Made Easy
French Menu Translation Made Easy