Little Africa Paris Crowdfunding Project with Live Cooking Demonstration & French Cooking Class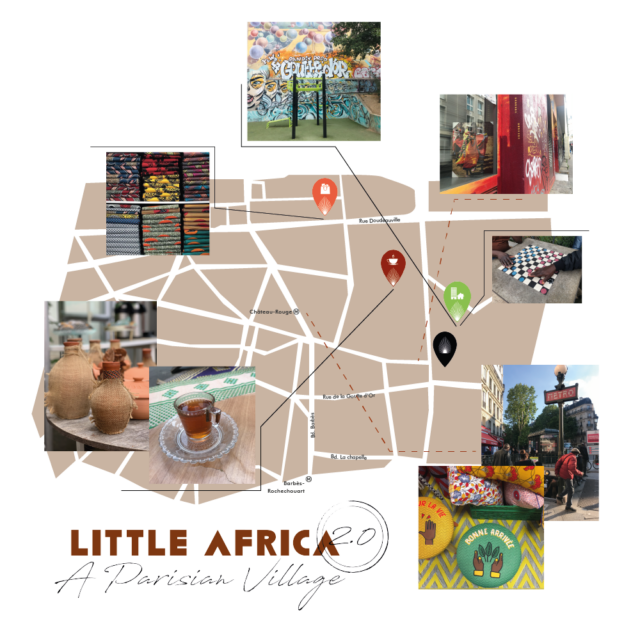 I was surprised the first time I met Jacqueline Ngo Ppii, who by sheer coincidence, I'd contacted a few weeks earlier when I learned about her company, Little Africa Paris. I wanted to sign up for one of their culinary tours of the African neighborhoods and markets of Paris. I've visited some of them a few times on my own, but I wanted to learn more about the foods, ingredients, and preparations from someone with close knowledge of them. The owner wrote back that they started culinary tours yet, and I'd be notified when they did. But I was surprised when I was at a book event and found myself seated right next to her!
We exchanged books and kept in touch. I later found out that Little Africa Paris was looking to move into its own dedicated space in the Goutte d'Or neighborhood, considered the heart of the African community in Paris. The idea is to create Little Africa: A Parisian Village, a place that will host art and cultural events, as well as being a permanent space dedicated to educational tourism, and a venue to highlight Afro-entrepreneurs and artisans. Another goal of her project is to create conversions about race and identity in France, which aren't often discussed. Jacqueline and I had a wonderful conversation about that on Instagram Live. (And I'm still completely floored by the lovely words she wrote about me on her Little Africa Travel Instagram post.)
Jacqueline has launched a crowdfunding campaign to take Little Africa Paris to the next level, to create Little Africa 2.0: A Parisian Village. Right now she's three-quarters of the way towards her goal, and to help bring her to reach the final mark of funding, a new perk was created at THE CHEFS level. For those who'd like to participate, this package will include a Live Cooking demonstration with me and Jacqueline on Zoom, from La Cuisine cooking school in Paris. The tentative date is November 7th*. (See below for more on the date.) If you'd like to participate at a different level, other perks start at €10.
In addition, La Cuisine is offering a choice of any of their online French cooking classes with one of their chef instructors, which will be sent to you, so you can make baguettes, soufflés, éclairs, croissants, and macarons, at home – wherever you are!

Oh…and Jacqueline promised to take me to the tailor who made the fabulous blue and white dress she's wearing, to make me a pair of pants in the same material. (Or maybe I should get an entire suit?) If so, I'll post pictures of me in my new pantalones as a bonus. If you'd like to participate in this campaign to make Little Africa 2.0: A Paris Village a reality, click here to join us!
---
IMPORTANT NOTE: My Live Cooking demo will be recorded and if we need to change the date due to changing travel and other restrictions around the Covid crisis, the demo will be sent to you if you can't make it. If you do choose to participate in the Indiegogo campaign at the CHEF level, which includes my Zoom Live class, you do so with the understanding that the date is subject to change and if you're not available you'll receive the cooking demo sent to you afterward.