Macarons et Chocolat
A while back it was cannelés.
Those little eggy pastries baked with a cracky-crust, that everyone was going ga-ga over and just had to bring home the copper molds to make. (Hands up, folks. How many of you have ever used them?)
Then everyone moved on to macarons, dainty little "sandwiches", made from two crispy almond meringues, with a layer of buttercream or jam in the middle.
So when I heard that pastry chef Arnaud Lahrer, who's won the award for the best macaron in Paris, opened a shop devoted solely to macarons and chocolate, I put on my reporter hat and caught the métro up to the 18th arrondissement to taste them.
Of course, I couldn't do it by myself, so I enlisted my friend Heather to come and help with this daunting task.
After I put away the crowbar that I used to pry Heather away from the pyramids of macarons in the window, the largest boasting 250 cookies (and costing 275€), we surveyed the small, but well-focused boutique.
(This was after we stopped at Arnaud Delmontel next door for a caramelized kouign amann first, to fortify us and get us going. The poor dear never had a kouign amann before, a situation I was anxious to remedy.)
Our sweet-teeth primed and ready, I realized that I'd left my Moleskine notebook at home and couldn't take any notes. I did have my camera, though, so I'll let the photos do most of the talking here.
Having just opened, there weren't many chocolates on display so we zeroed in on the cookie department. Of course, the caramel macarons with fleur de sel caught our eyes first. Each mounded disk had a layer of gooey salted caramel oozing out. Those went in our bag first, although from the looks of the large pile, they were obviously ready for the crowds.
I tend to avoid macarons made with any goofy flavors & colors, and stick with the classics. I mean, is there anything you can do to improve on a chocolat macaron fixed with a dab of bittersweet chocolate ganache in the middle? If so, I've yet to try it. Some of the odd flavors I've had, like Lily-of-the-Valley, black pepper, licorice, and basil just didn't do it for me. In fact, I'm feeling a bit quesy just thinking about them again.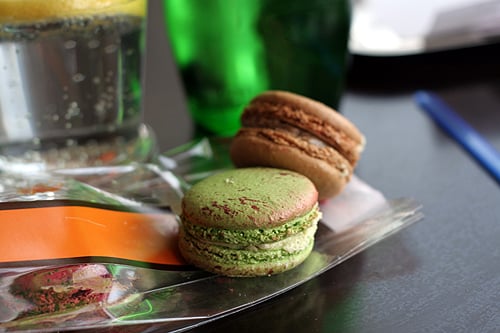 So we skipped the oddities like green tea and the blue ones on the end (which I forgot what they were since I'm a bad journalist and wasn't prepared with a notebook), and topped off our purchase with pistachio-griotte, a nutty macaron with a puckery candied sour cherry embedded in the center.
Each macaron was systematically polished off at the corner café, at the suggestion of the salesclerk and the other customer in the shop, who was even more excited than were we at the prospect of being in the midst of so many delicious decisions.
And for those of you who don't know this neighborhood, it's behind Montmarte and not an area where visitors tend to go. But the street is chock-a-block with great food shops, bakeries, a handsome wine cave, and a well-edited fromagerie, and is really worth exploring.
Oh, and the macarons—and Kouign Amann—are a couple of other good reasons, too.
Macarons et Chocolat
57, rue Damrémont (18th)
Tél: 01 42 57 68 08
Map
Closed Mondays
Related entries:
Cannelés (Recipe)
Kouign Amann (Recipe)
The Birthplace of Kouign Amann
French Chocolate Macarons (Recipe)
Sweet & Stinky: Pierre Hermé's white truffle macaron