I was told by my somewhat better half that I wasn't allowed to bring the construction crew – that is, the guys who are working on my apartment – any more treats until they picked up the pace. I don't think the expression "No more monsieur nice guy" exists in French, but that seemed to be the tone of the sentiment expressed.
However being American, I can't help being a soft touch and have been sneaking the guys treats over there. They've had everything from Date Bars to Panforte. Meanwhile back at home, as I am packing up my kitchen cabinets and boxing everything up for my move, I found a jar of marshmallow cream that I brought back from the states a while back, presumably to make some sort of cupcake frosting that I never got around to.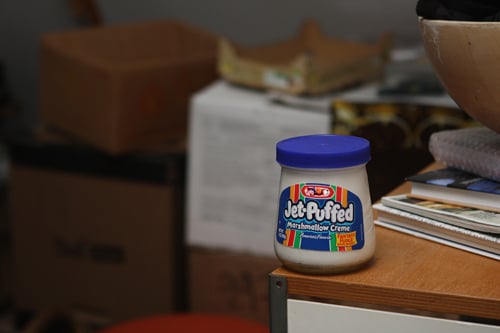 So I decided that a little marshmallow fudge never hurt anyone. And in fact, a little sugar is known to speed up the pace of things. Here's hoping…
Marshmallow Cream Fudge
I altered the classic recipe slightly by using some unsweetened (bitter) chocolate. If you can't get that, use 4 ounces bittersweet or semisweet chocolate. Of course, you can swap out any nuts that you like – or omit them altogether. A number of us DIY-types might inquire if
regular homemade marshmallows
could be substituted for the marshmallow cream. I haven't tried it, but if you do, let us know in the comments how they work out.
2/3

cup (160ml)

evaporated milk

,

not sweetened condensed milk

6

ounces (170g)

salted butter

,

cubed

3

cups (600g)

sugar

8

ounces (225g)

bittersweet or semisweet chocolate

,

chopped

4

ounces (115g)

unsweetened chocolate

,

chopped

7

ounces (200g)

marshmallow cream*

1

cup 120g)

roasted peanuts

,

coarsely chopped
Line an 8-inch (20cm) square pan with foil, leaving an overhang on at least two sides. Smooth out any wrinkles or creases.

Put the evaporated milk in a 4-quart (4l) saucepan and fix a candy thermometer to the side.

Add the evaporated milk, butter, and sugar to the pan, and heat – stirring frequently so it doesn't burn – until the temperature reaches 234ºF (112ºC).

Remove the pan from the heat and stir in the bittersweet or semisweet chocolate, as well as the unsweetened chocolate and marshmallow cream.

Stir in the peanuts, then scrape the mixture into the foil-lined pan. Let cool for at least four hours.

Once cool, lift the fudge from the pan, and cut into cubes.
Related Links and Recipes
Vegan Fantasy-ish Fudge (101 Cookbooks)
Making Your Own Evaporated Milk (She Simmers)
Evaporated Milk (Wikipedia)
White Chocolate Rice Krispie Treats with Candied Peanuts
Organic Ricemellow Cream (Suzanne's Specialities)
*I realize that marshmallow cream has some dubious ingredients in it. But desperate times call for desperate measures and it really seemed to speed things up. And lo and behold, I went over to the apartment this morning and the plumbing in my kitchen is nearly completed, they're installing a wc, and there is a hot water heater firmly in place. So please excuse any lapse in judgement, but I really need my kitchen done. (There's an all-natural alternative in the links above.)