Meeting the Producers and Cooks in Paris
An anonymous SMS (text) popped up on the screen of my phone late Saturday afternoon, letting me know that there was a journée de rencontre les producteurs on the rue du Nil in Paris, where there would be wine and food, and a chance to meet the producteurs (producers). There was no name attached to it — someday, I will figure out how to sync my iPhone with my contact list so that it doesn't lose contacts. But I presumed it wasn't a trap (albeit a tasty one…) or anything. And since the street is known for great food shops that carefully source their ingredients, and good places to eat, I arranged to meet some friends, including Sara, visiting from Italy, to see what was up.
After figuring out who had sent me the message (whew, it wasn't some loony-toon, but the chef at Frenchie), we started off with some wine and cheese at Frenchie Wine Bar, which is normally packed solid from the moment the door swings open in the evening. But this afternoon, we just walked in and sat down at one of the many empty tables. (Which didn't last long.) There were three kinds of cheese: Roquefort, Brie de Meaux, and Saint-Nectaire, a favorite of French people, although it's not the one that I normally dive into first.
A great hostess in Paris confided in me once that the secret of a great party is to only serve three things. Basta. And it was, indeed, nice to have an edited selection of fromages to taste, rather than having to pick though dozens of varieties. Which start looking pretty funky once a bunch of people have attacked them from all angles.
I had a nice slab of pungently creamy Roquefort, a coarse slice of country bread, and butter. (French people often smear butter on bread before eating blue cheese or Roquefort, which sounds kind of crazy, but actually works.) It was hard to leave that table, but after we finished our wine and cheese, we headed back out to the street to see what was up. At this point, our seats had become a valuable commodity. Although unlike at other food events, people were very calm and friendly.
(I tend to avoid food events because people get carried away and it becomes a feeding frenzy. And I don't particularly enjoying standing in a mob of jostling people, fighting for a postage stamp-size taste of something. I'm fine buying a bite, then sitting down and eating something in a civilized fashion.)
Over at Terroirs d'Avenir, at the butcher shop, someone outside was cutting thin slices of Pierre Matayron's outstanding le noir de Bigorre ham. Unless you have the ability to cut ham like as whisper-thin as this, it's best to let the expert do it. And he was cutting slices so fast, and so expertly, I could barely snap a photo of him doing it.
I always wish I lived closer to this shop, because everything they sell is top-notch, including smoked jambon de Paris, boudin noir, and aged beef (called maturé or rassis), which removes much of the humidity, but tenderizes the beef and adds flavor.
Inside the butcher shop, I asked one of the jovial butchers what people do with the ventrèche of pork (pork belly), produced in the Basque country.
He said that people like to fry it up in a pan. When I pointed out the obvious – that it's 98.3% fat, and would melt into a puddle – he agreed, and said that people scrambled their eggs in it, and that it was delicious. I'm sure it is!
Also from the same producer of the Bigorre ham they were slicing was aged/dried pork loin, filet sechée noir, with a slightly higher meat-to-fat ratio.
Even higher up on the meat ratio was bœuf cuit, a compact loaf made from long-braised beef, packed into a terrine, and unmolded when cool. I love these kinds of terrines (imagine diving into a wall of solid pot roast or brisket, and you get the drift), and this looked meaty and delicious. They weren't open for business that day, but I did make a note to go back tomorrow, when I have what I hope is the last – and final – dentist appointment of the winter. (I'm an over-active flosser. So much so that a crown went flying out of my mouth and landed in the cuvette in my bathroom, and had to be extracted with a pair of kitchen tongs. It's like those people who drop their phones in, hold their breath, and reach in and get them out. You do it, and I did it, because that little white crown was about the price of a new iPhone. Fortunately my cuvette was très propre, or "clean was a whistle".)
As much as I like my dentist, I like horseradish with boiled beef even better, which is a tough root to find in Paris. But there are plenty of other roots and "forgotten" vegetables, as they're sometimes called in France, at the produce store of Terroirs d'Avenir, just across the street.
The small shop had become pretty packed but while everyone was clustered around the tables where wine tastings were offered, I was mesmerized by the fruits and vegetables. Oddities like bergamots and citrons often show up here – even Meyer lemons.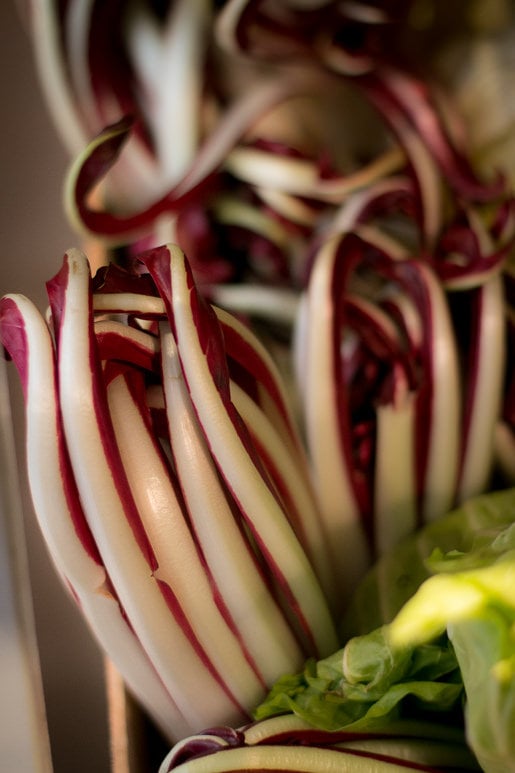 But I was just as interested in all the gnarly root vegetables, curvy squash, and bitter winter lettuces.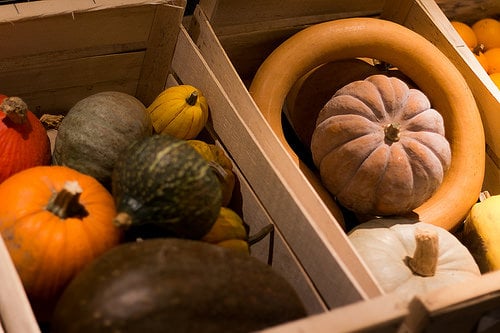 Since I was with a friend from Italy, who'd been in Paris for the weekend, I figured she could probably use a good cup of coffee. So we went and had a couple of cups of dark espresso at L'Arbre à Café.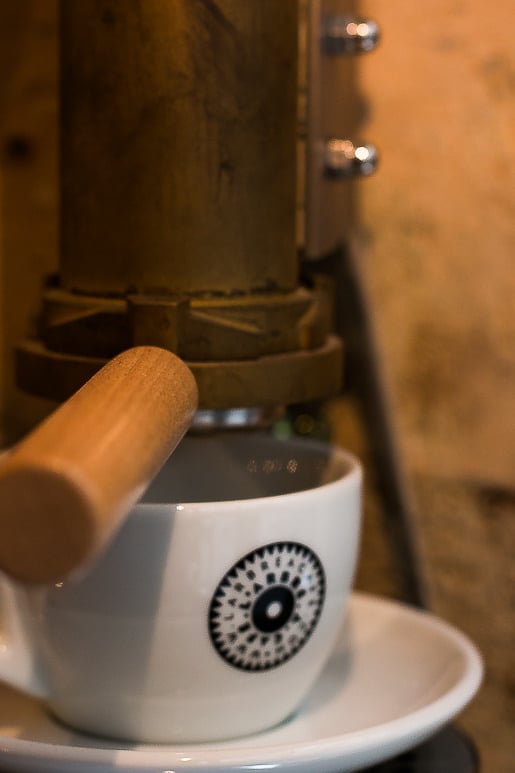 I asked if they had an example of the way they harvest the jacu bird coffee, to show my friends. And the barista produced a dried crotte (turd) on a plate, with coffee beans embedded in it. It wasn't as appetizing as the pulled pork sandwiches from Frenchie to Go they were passing out. I was pretty stuffed from gorging myself on cheese (and butter), and ham, so I passed on the giant sandwiches. But my friends dug in.
However I didn't pass up an oyster that someone from the coffee shop handed me, a lone bivalve that was resting in a puddle of Japanese whisky. I quickly slurped it down, all to myself, because you can't share oysters. And my friends had their hands full with sandwiches anyways, so I wasn't being rude. The whisky/oyster combo was an interesting duo, with some merit. But it maybe need a shot of something salty to tie the two together.
Even though I'd only had one glass of wine, since it was Sunday afternoon, a day of rest in Paris, I was feeling a little woozy and my friend had a plane to catch home. So we both parted ways, feeling satisfied with our tastes, courtesy of some kind French producteurs, and a no-longer anonymous source.
---
For information about food and wine events in Paris, check out Paris by Mouth (in English) and Paris Salon d'Agriculture (my story/visit here) – English, and eVous, SortiraParis, Marchés des Producteurs de Pays (my story/visit here), Salon de Saveurs, Yelp Paris, Fête de la Gastronomie, and Paris Bouge – in French. To shop locally from producers in Paris, check out the list of stands at the outdoor markets Paris Paysanne and other sources at Shopping Local in Paris.