Mo' Men-Ho 3
Last time I checked, we were so close to the $30,000 mark, I couldn't stand it anymore, here at Menu For Hope III European-central. Frankly, the thought that there are some of you out there that haven't bid on anything was driving me nuts. So what are you waiting for? But even if you have already bid on something, let's double the amount we made last year, shall we?
Here's some of the European prizes, with some new additions…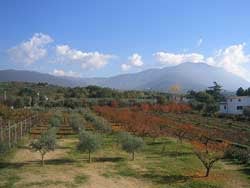 Choice of Italian Artigianale Products or Italian Cookbooks from Ms. Adventures in Italy
The basket is full of products you can't get outside of Italy, and when Sara at Ms. Adventures in Italy added 2 more jars to the package, I just had to tell you about them! One is Salsa Tartufata Estiva, Summer Truffle Sauce from Campania, and Condimento Cime di Rapa a traditional Pugliese pasta sauce be served with orecchiette, made from turnip greens. Included is also a jar of the world-famous Bronte Pistachio Paste, which I could spoon right from the jar into my mug.
If you miss out on this one, you're a knucklehead. (Prize EU15)
Professional Logo or Header Design & Complete Blog Makeover from Lobstersquad and Bluebird Blogs
Does your blog look like crap?
Well, does it? If so, this prize is for you.

A brand-new professional logo and web design for your blog can be yours. Say good bye to nasty comments and say hello to more link requests! Get your blog into shape for 2007. (Prize EU29)
Private Sunday Brunch Cooking Class from Eat Drink Talk Cooking School
As mentioned, I'm available if you need an extra guest if you're the winner of the private Sunday Brunch cooking class at Eat Drink Talk cooking school in London. The voucher is good for you and up to 7 friends (I can be your friend…really!) for your own private class. (Prize EU13)
Whoa…you don't want to cook?
What's the matter with you? Are you insane?
Then let Jeanne and Johanna cook up a Private Canapé Party in your own home— clothing optional!
Ok, just kidding about the clothing-optional part (although it never hurts to ask….) But you'll have the time of your life with these two. Not only will you be able to drink as much as you want, since you don't have to worry about serving or driving home, but I've been shoppping in London with these girls, and let me tell you, they know their stuff. You're in for a treat.
Clothed, of course. (Prize EU27)
Lunch & Tour at the Ecole Superieure de Cuisine Française from Movable Feast
Do you have any idea how hard it is to get a reservation here? Well, I do. I tried last year for a few months and gave up. It totally sucked. I really wanted to eat there, and all I got was busy signals and "Complet!", when I finally got through. I was really pissed-off. I mean, shouldn't I, of all people in Paris, get to eat there since I'm such a big promoter of French cuisine too?
But guess what? You don't have to put up with that outrageous behavior. You and a friend will be special guests for lunch restaurant of the prestigious culinary school in Paris, and you'll get a tour of the school from a real, toque-wearing French chef. (Prize EU14)
Wine & Dine in Munich from Food Vagabond
I love Bavaria.
It conjours up visits of salty pretzels, sudsy beer, getting drunk with Australians, tangy herring, leg hair-revealing Lederhosen, grainy bread, and Bavarian food blogs. If you want to try any of the above, except for the drunk Australians (the hairy legs are up to you), here's a chance to escape to a private home for a custom-cooked dinner party with Hande of Food Vagabond. (Prize EU16)
Swedish Tea Kit and Cookbook from A Cat In The Kitchen
I don't know where you live, but here in France it's getting really cold, and depressing. What was I thinking when I moved here? What I could use is a decent up of tea. And when I think of tea, I think of…where else?…Sweden! This fabulous Swedish Tea sampler is donated by Dagmar and is sure to warm you up. Although she's not including a hunky Swede to keep you warm, there's a cookbook that'll make you fire up that oven of desire. (Prize EU17)
But if tea's not your bag, then how about Ten Different Sweets and Chocolates from Kristina in Sweden? And if you bid high enough, I'll bleach my hair and come feed them to you and speak with a Scandinavian accent while we listen to ABBA. (Prize EU20)
Handmade Stoneware and Israeli Food from Mud Pies in Jaffa
Did you know I have an uncle that lives in Israel?
He dropped out of the family, sold the brand-new MG that my Grandfather bought for him (which really pissed him off), split for Canada during the Vietnam war, then ended up living in Israel making harps and lyres and giving up milk and instead making his own almond milk. Yes, really. And you know what? in spite of the 'How cool is he now?' factor, I've never visited him (even though he has a pool..and a beard of Biblical proportions.)
If you've never been to Israel either, a little bit of Shalom can come right to your little doorstop. This gift of Handmade Stoneware and Israeli Food from Mud Pies in Jaffa is really something you're not likely to see ever again, available delivered direct to your door.
(And if you ever want a good deal on a used lyre, let me know.) (Prize EU30)
Gastronomic Tour of Barcelona with Silly Disciple
Do you know what my favorite city in the world is? Barcelona!
It's big, it's fun, and there's a lot of great stuff to eat. The only problem is that it's HUGE! That's muy Grande, amigo!
(Which is about all I remember from my high-school Spanish, which is probably why I got a D+…but look at me now, speaking French all day long. And where, I ask you, are all those nerds that got A's in French? I don't see them haggling with vegetable vendors and bank tellers? Or running online auctions for charities on their blogs. Do you?)
So if you come to Barcelona, how you gonna know where to go? Where can you get those great Marcona almonds they sell for outrageous amounts of money at Whole Foods that everyone sticks their icky fingers in grabbing for a free sample? Where can you taste olive oil that will make you spit out that vile crud some people call 'pure' olive oil?
And how about a big, hunky, crisp, sweet block of turrone? Where can you get Marcona almonds that don't have flu germs all over them? Do you know where to get those? Of course not! I didn't think so. That's why you need a tour by a local for your trip to Barcelona. Bid on this today! Don't be muy stupido.
(Prize EU35)
Set of 8 Walking Tours and Custom Itinerary For Your Paris Vacation from Paris Trip Tips
Do you have any idea what a pain in the butt it is to plan a vacation to Paris? The web surfing, the checking for rates, the unanswered emails from hotels and the wondering of where you're going to eat day and night and not be cornered in some tourist joint surrounded by people who just got off the tour bus. Then let Lesley's Paris Walking Tours and Trip Planning take the guesswork out of your trip to Paris!
Don't risk your precious vacation by trusting online forums or the advice in food blogs written by American pastry chefs who used to live in San Francisco but then moved to Paris and started writing about it.
What are you nuts? Trust a professional. (Prize EU32)
And best sure to visit the other host blogs to check out prizes from around the globe!
US West Coast: Becks and Posh
US East Coast: Le Amateur Gourmet
US (the rest): Kalyn's Kitchen
Canada: Cardamom Addict
Asia Pacific: Grab Your Fork
Special wine bloggers' host: Vinography
List of globally-shippable prizes here.
(All European prizes can be shipped to most countries.)