Paris Chocolate Tour
We're mid-week into our Paris Chocolate Tour here and we're having a great time. Everyone's enjoying the unusually fine weather, and of course, the chocolate.
I wanted to post a few shots and notes in my spare seven minutes—it's 5:34am so forgive any typos or missed links. I'll catch 'em later…in my free time ; )
Cheerful, and the amazingly-talented, Jean-Charles Rochoux shows us a chocolate replica of his arm in his laboratory. He made it for a Halloween display at a Parisian department store. The scoop of passionfruit sorbet is from Le Bac à Glaces, an ice cream shop just a few blocks away, where we stopped to cool down.
At M. Rochoux's swanky boutique, his assistant Murielle, packs up a box of chocolate. Check out the sexy glove. Oh la la! I may need even more sorbet to cool down…
If you do stop in, be sure to get a tablet of his chocolate from Peru. This is one of my favorite chocolates in his shop, along with the tablets of caramelized hazelnuts from Piedmont enrobed in chocolate as well as his latest; a bar of chocolate with a unctuous layer of creamy caramel oozing out.
A light French salad: la salade parisienne. Yes, there is some lettuce tucked under that mountain of ham, but I was more focused on the yummy house-made fries at Le Nemrod that I dove on as soon as they landed. Unfortunately, being the consummate host, I did share a few with my table mates. But not before grabbing all the crispiest specimens. Since my salad was so light, my guests knew I needed the extra nourishment to make it through the afternoon.
Did I mention how light it was? Just checking…
Of course, it's not lunch in Paris without un peu de rosé. I had a little pitcher, which was just enough to carry me through the afternoon. Well, at least until dinner.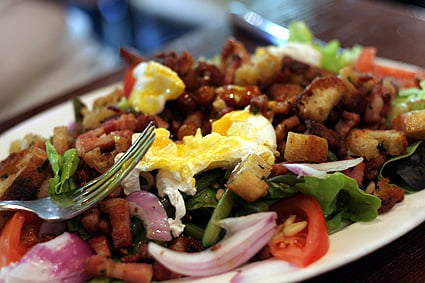 If the above salad looked too light for you, the salad with soft-cooked egg melting over a huge mound of crispy bacon and studly croutons, may be more suitable to carry someone through a week of tasting chocolates. They also make a letter-perfect croque monsieur (and madame), if you're in the neighborhood.
Speaking of chocolate tasting, Corinne over at Patrick Roger organized a tasting of her brother's fantastic chocolates. I like the feuillentine (which may be one of those aforementioned spelling mistakes), and the rhum raisin, topped by an oversized dried grape.
Speaking of which, why does 'dried plum' sound better to people than 'dried grape'? Just asking. At 5:52am, my coffee hasn't kicked in yet, but my mind thinks of those things anyways.
As usual, all the chocolates were delicious and if I had more time—and more stomach space—we would have tried them all.
Patrick Roger has quite the sense of humor, along with a fabulous sense of style. To commemorate the anniversary of the student uprisings in May of 1968, he designed a replica of a paving stone, similar to the ones the students through back in the day during the massive demonstrations. They're solid praline, enrobed in dark chocolate. Weighing in at 600 grams each, well over a pound, I wouldn't mind being clocked by one of them. Who wouldn't?
No one today would protest getting a box of his stunning chocolates. My favorite are the small, round blue caramels, called Cyclone filled with liquor de prunelle, an eau de vie the chocolatier's mother makes from tiny wild plums.
They're only available as part of an assortment. So to get them, you need to choose from one of the boxes of chocolates. But if you're anything like me, you wouldn't protest having to work your way through one of those either, now, would you?