Peanut Butter Cookie Recipe with Salted Peanut Caramel
I promised a bunch of holiday-friendly recipes this month, and this one is a doozy! Peanut butter cookies, filled with salted peanut caramel—do those sound as good to you as they do to me?
The recipe is from The Art and Soul of Baking by Cindy Mushet, who is one of America's best bakers. Her name might not be on the edge of your tongue, but she's been quietly rolling doughs, mixing up batters, and baking off custards in this book, which is an encyclopedic authority on baking that tips the scales in both the breadth of recipes, and the actual weight itself.
And I thought my soul was a bit weighty.
When I was asked a few months ago to write a quote for the book jacket, I rifled through the preview pages, bookmarking a slew of recipes I plan to make.

The classics, often with a tasty twist, are well-represented here; Chocolate Velvet Poundcake, Lemon Bars (which are next on my list), and Chocolate Toffee Scones, are just a few. When I got my copy last week, I loved that the more challenging recipes have plenty of full-color photos, showing making and draping feather-light tuiles, rolling out a buttery slab of puff pastry, and crystal-clear shots of what yeasted breads look like each step of the bubbly way.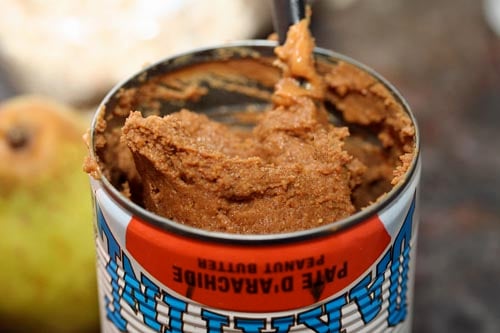 There's a misconception that you can't get peanut butter in Paris, which isn't quite true. Most ethnic stores carry certain brands and even the supermarkets, like my local Franprix, have started carrying jars of Skippy. The crunchy organic stuff, however, is still playing hard-to-get and it gets valuable real estate in my luggage on overseas trips. (Although I'm not a fan of excess plastic packaging, I appreciate those plastic jars and rest much better on the plane knowing that my clothing down in cargo won't arrive slathered in peanut butter. And believe me, thanks to my Yankee thrift, that plastic jar gets re-used over and over and over again.)
This recipe takes Peanut Butter Cookies to the next level, with a puddle of gooey peanuty caramel filling the cookies. I had some crème fraîche in my fridge, which I used. But for you 'substitutors' out there, it was a bit too tangy, even for my taste. So I recommend sticking right up close to the ingredients that she calls for, including using regular smooth peanut butter, rather than the natural stuff. Otherwise the batter and the cookies will be dry and crumbly. Which doesn't bother me in the least, since I can hoard my natural peanut butter for snack-time and not share it with anyone else.
So there.
Cindy advises that you'll likely have some of the filling leftover, and she was right; I had what looked like twice as much filling as necessary. So next time, I'm going to try making half a batch of the peanut caramel, although if you're anything like me, I don't think you'll have a hard time figuring out what to do with it. It would make a scrumptious sauce for pouring over ice cream or as a dynamite glaze for a banana cake or muffins. I would say one could just drink it up, but that would make me a glutton for salted peanut caramel punishment, wouldn't it? Which wouldn't be such a bad thing, come to think of it.
Peanut Butter Cookies with Peanut Caramel
Adapted from
The Art and Soul of Baking
by Cindy Mushet Instead of making the peanut caramel filling, you could fill the holes with chocolate ganache,
dulce de leche
, or even a spoonful of jam. Concord grape jelly would be especially fun, for the peanut butter & jelly effect. I also didn't have salted peanuts (really…I'm not just hoarding them, like my natural peanut butter), and used plain roasted peanuts and added a sprinkle of
fleur de sel
over the cookies, just after I filled them with the peanut caramel. Yum!
For the cookie dough
8

tablespoons (115g)

unsalted butter

,

at room temperature

1/2

cup (120g)

packed light brown sugar

1/2

cup (100g)

granulated sugar

1

large egg

,

at room temperature

1

teaspoon

vanilla extract

3/4

cup (200g)

creamy salted peanut butter

,

(see Note)

1 3/4

cups (250g)

flour

1/2

teaspoon

baking soda

1/4

teaspoon

salt
For the salted peanut caramel
1

cup (250l)

heavy cream

1/2

cup (125ml)

water

1

cup (200g)

granulated sugar

1

tablespoon

glucose or

, light corn syrup

1/8

teaspoon

coarse salt

3/4

cup (100g)

finely chopped roasted salted peanuts

optional:

4 ounces

bittersweetsemisweet, or milk chocolate

,

melted
Preheat the oven to 350F and line two baking sheets with parchment paper or silicone baking mats.

With an electric mixer, or by hand, make the cookie dough by beating the butter, brown and granulated sugar until smooth. Beat in the egg and vanilla until well blended. If using an electric mixer, scrape down the sides of the bowl.

Beat in the peanut butter.

In a separate bowl, whisk or sift together the flour, baking soda, and salt. Gradually add the dry ingredients to the peanut butter mixture and stir until there are no patches of flour.

5. Scoop up tablespoon-sized portions of the dough (Cindy, and I, recommend using a small ice cream or cookie scooper, to make it easier) and roll each piece between your hands so they're as smooth as possible so they don't crack at the edges when performing the next step.

Space them 1 1/2-inches (2 cm) apart on the baking sheets, then use the rounded end of a wooden spoon, or your thumb, to make a depression in each one. Don't worry much if the sides crack; push them back together.

Bake the cookies for 13-16 minutes, rotating the baking sheets midway during cooking, until they are light-golden brown and the edges barely start to darken. Remove from oven, and while they're warm, press in to reinforce each depression with the end of the wooden spoon. Let cool completely.

Make the salted peanut caramel by warming the cream in a saucepan or microwave, and setting it aside.

Cook the water, 1 cup sugar, corn syrup, and salt to a caramel, gently swirling the pan only if necessary (to ensure it melt and cooks evenly) until it turns a nice golden brown.

Remove from heat and immediately whisk in the hot cream in a slow, steady stream.

Cool until warm and pourable, then add the chopped peanuts. Spoon some of the caramel into each cookie, letting it set for about an hour, if you want to drizzle them with chocolate.
Notes
Storage: Cookies will keep in an airtight container, at room temperature, for 3 to 4 days. The unbaked dough can be rolled into rounds and stored in a heavy-duty freezer bag in the refrigerator or freezer, until ready to bake. Note: For best results, use regular smooth peanut butter, if available.