Whenever I go to San Francisco, I stay with a friend of mine who generously offers to put me up as long as I'm in town. It's fun, especially since she likes to hit the off-price shops and her kitchen is filled with lots and lots of kitchen tools.
Since she knows I live abroad, where many of them aren't available, if I express interest in something she'll invariably say, "Oh, go ahead and take it. I can get another one easily."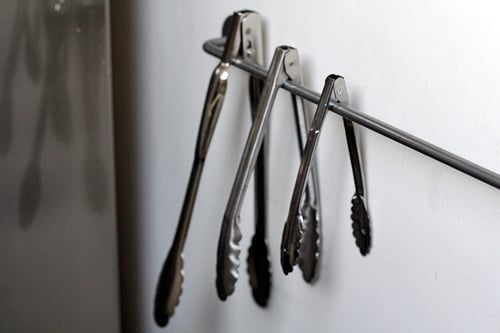 After a bit of obligatory mock-protesting on my part, I grudgingly accept it, and in it goes, right into the suitcase. On my last trip, I noticed she had a pair of mini-tongs in her drawer, which were not only adorable, but fit too-perfectly in my hand.
Americans are known for our use of kitchen tongs. You don't see them much in Europe, and most chefs use a turning fork to lift and serve food. You might recall that David Chang flipped out over a cook, who, preparing staff meal, had the audacity to use tongs to lift pieces of chicken. Mr. Chang said that tongs rip and tear food, which is an assessment that I can't say I agree with, since in my twenty-five years of cooking, I can't recall any food that I demolished by lifting with a pair of tongs.
Anyhow, when I told her how much I liked those tongs, I waited the usual response.
And waited.
And waited.
No response. She did offer up where she got them, though.
"Oh yes, I like them too. I bought them at a discount store in Hawaii. They sell them all over the place there."
Um…ok.
Dejected I went back to Paris, less one pair of seven-inch mini-tongs. I would've gone to Hawaii, but I would've had a heckuva time convincing the folks at United that it was an emergency and they needed to change my ticket so that I could head to Honolulu pick up a pair of tongs.
Most cooks are pretty particular about their tongs. Most favor plain tongs, without those annoying locking rings. (The first thing I do is pry them off.) Heavy metal ones are best and I can do without silicon tips or goofy features. Just plain, heavy-duty metal tongs, which act as an extension of my hand.
I usually get mine at restaurant supply shops, hefting them up and giving them a little test run by squeezing them a couple of times. I don't look for the cheapest or the most expensive; I look for the ones that feel just right in my grip.
So imagine my delight in coming across these devils at my local market, right here in Paris! On Thursdays, when the Bastille market is less-busy than Sunday, there's a stand that sells boxes of stuff, mostly crap, and everything is priced at €1. Rifling through as I usually do, I pushed aside the masking tape, emery boards, and toothpick holders (and a few little old ladies who had the nerve to get in my way), and there I saw it. A glistening flash of stainless steel in a sea of cellophane bags of moth balls and packets of three nylon scrunchies for a euro.
Verifying with a few open-and-closing movements that they were good-quality, and would last longer than one or two uses, I paid my one euro and brought them home, where they've been living amongst my other tongs, in happy harmony.