Restaurant Astier
What's not to like about a somewhat out-of-the-way bistrotière like Astier, serving examples of classic French cuisine, keeping the torch alive of a genre that's become harder to find done right?
The pre-fixe menu at Astier is a little gentler at €35, and you can choose from four of five selections in each category. There are more extensive selections on the à la carte side of the carte. (Traveler tip: Menu in French means a fixed series of dishes, often les plates du jour composed of various courses. A carte is the actual physical menu.) but we were thoroughly pleased with a chunky block of house-made foie gras sprinkled with fleur de sel, with toasted brioche and chutney alongside.
Warm brandade (whipped salted fish and potatoes) was a good rendition of the classic thankfully served in appetizer proportions, although I could have done without the diced roasted peppers on top which detracted from the taste. (I may also be a little biased, though because also can't stand roasted peppers.) My main course was a shallow bowl of slow-roasted, tender lamb shoulder with stubby baby carrots in a thick jus and exactly what I felt like eating sitting in a Parisian bistro.
The star of the show at Astier, which I hope they never take off the stage (I'm sure there would be a riot if they did, and I'd lead the pack) is the massive cheese plate. There's hardly room on the table for it – Another tip: hold on to your wine glasses when they set it down – then dive right in. We had to guide our stunned neighbors when it was their turn with the cheese board—Romain is especially good at taking charge and took control, slicing cheese for them and putting in on their plates. When it was our turn, he loaded me up with five superb specimens: Époisses (which was the best I've ever had), Salers, Brie de Meaux, a fine, ripe Camembert, and a tangy Basque sheep's milk cheese.
(Next time someone says the French practice portion control, they can remove Romain—and his damn 28-inch waist—from that equation.)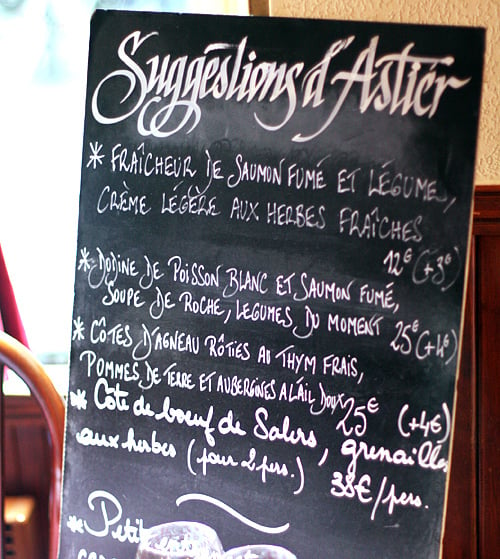 Needless to say, I could barely eat my rice pudding, which tasted fine with some poached fruits embedded in the top, but when the waiter set down a studly Baba au rhum in front of the man behind us, just about every head in the room turned, especially when the garçon split it open and doused both halves with nearly a quarter bottle of rum. His wife, who was being prudent forking up a warm chocolate cake, said to me "C'est le meilleur Baba au rhum à Paris!" And from the look on his face, she wasn't lying.
We had a bottle of Chenin blanc (€22) from the Touraine*, which was the first selection on the reasonable wine list, after we started off with two glasses of Champagne. (€11 each and kind of steep, but I really needed a glass that night and didn't think it'd be polite to drink one in front of a dinner companion without springing for one for him as well.) Dinner for two, with a few supplemental charges, because we veered a bit from the menu fixe, came in at €118. A few years back, a major food magazine was going to do an issue on Paris, but the editor told me she was concerned about the prices in Paris, especially with the exchange rate. But a four-course meal like this in any American city, with wine and two pre-dinner glasses of bubbly would cost about twice as much.
(I'd also like to give points to Astier for serving bottles of chilled filtered water, still or sparkling, at no extra cost. France is one of the largest consumers of bottled water in the world, and the tap water is perfectly safe to drink, and free. The waitress told me they were trying to reduce waste and the strain on the waiters, who were tired of carrying all those cases of bottles. It's a great initiative, one which I hope more restaurants worldwide would adopt.)
It's tricky these days to find an honest French meal in Paris, made with good ingredients by actual cooks rather than hired hands. And when I left, I took a peek in the sparkling kitchen where the cooks were staying busy plating up food for the other lucky diners. The waiters were hovering by the door and the owner was behind the bar polishing glasses, waiting to say goodbye as we left. I was a little sorry to go, but happy that there was a reasonably long walk home in front of me, because I needed it.
[UPDATE 2017/2018: The chef at the restaurant has changed and Astier is now serving more contemporary fare. There are still standards on the menu, such as the herring in olive oil and Baba au rhum (and the cheese board), but other dishes will likely be different than the one described in this post.]
Restaurant Astier
44, rue Jean-Pierre Timbaud (11th)
Tél: 01 43 57 16 35
Restaurant Astier is open seven days a week.
Related Posts and Links
Jeanne A. (Hungry for Paris)
Rue Jean-Pierre Timbaud (Secrets of Paris)
Jeanne A. in the 11th (John Talbott's Paris)
Paris Bistro Astier: For Old Times (and New) (Patricia Wells)
Fastidious French Get Free Sparkling Water Fountain (Good)
---
*I'm far from being an expert on wine, but I sure like it. And I used to come to France before I moved here and was usually timid about ordering it because of my inexpertise, so would limit myself to order bottles with familiar names, like Côte du Rhone and such. But I've been trying to learn more (by tasting, bien sûr) and as I started moving toward white wines, I found I was really enjoying wines from the Touraine, an area not far from Paris called the Loire.
The best white wine from that region is Sancerre, which is always priced a bit higher than the other white wines. (And usually merits it.) But other white wines from the Loire are Sauvignon blanc and Chemin blanc, and are often quite good and economical choices, if that's a concern. You don't have to pay a lot of money to drink decent wine in France.
Muscadet is another white wine produced in the same region, which has the unfortunate association (because the names are similar) with inexpensive sweet wine called Muscatel, which it doesn't resemble. Muscadets aren't always great wines, but some aren't bad and I'll take a glass at a bar during l'heure d'apéro, the pre-dinner drink.
So if you're in a restaurant and want to try something different, if you see the word "Touraine" listed after a bottle, and something bright and minerally appeals to you, you might want to give one a try. And if anyone gives you a hard time about it, tell them you're supporting the local wines.