Shakshuka
I've been meaning to get into the Shakshuka groove ever since I had it for breakfast at Nopi in London, and on my trip to Israel, where this North African dish wowed me – and my taste buds – every morning. Although various versions abound, the most widely known Shakshuka involves eggs softly cooked in a hot skillet of spiced tomato sauce. I've had plenty of spicy foods in my life, but the complex seasoning in the sauces that I've tasted in the ones I had lingered with me for months afterward, and I had no choice but to make it at home. (Or move to London – or North Africa.)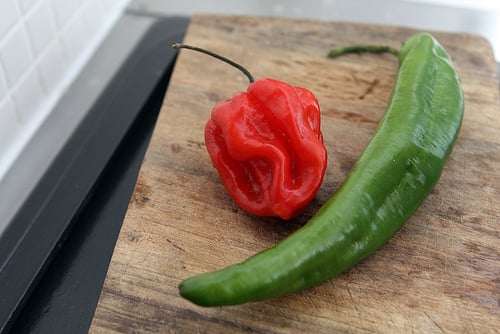 I went to the market in search of chile peppers, and I was happy to track down a couple. The long green ones aren't very piquante, so I was thrilled to come across a box of the pleated red ones, whose name no one knew, but the fellow warned me was "Très piquante, monsieur." Bring it on! I say. And when I got it home and chopped it up, I can't complain as I had been adequately warned.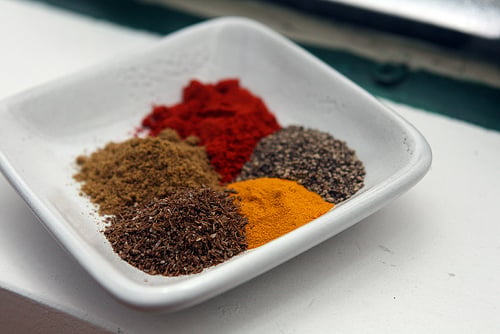 I was inspired by recipes in Secrets of the Best Chefs by Adam Roberts, and Jerusalem by Yotam Ottolenghi and Sami Tamimi, two terrific books that I've been diving into lately. Jerusalem is a city full of conflict, cultures, clashes, and contrasts. The authors of the book, Sami and Yotam, are Palestinian and Israeli (respectively), and the book has essays on the confusion and collusion in the various cuisines found in this complicated, yet fascinating, city.
Like the other books by Yotam Ottolenghi (and the first one, with Sami) Jerusalem is stunning and leafing through the book of pages awash with grilled vegetables, shimmering olive oil, toasty pine nuts, and plenty of fresh, green herbs strewn everywhere, it's hard not to bookmark every single page as something I want to make.
Many of you are likely familiar with Adam Roberts, author of Amateur Gourmet, and Secrets of the Best Chefs, where he visited the kitchens (and in the case of Alice Waters, gardens) of some of America's best chefs, including Daniel Patterson, Jonathan Waxman, Lidia Bastianich, José Andrés, and Nancy Silverton.
As a self-professed "amateur", with his typical chutzpah, Adam coaxed these chefs not just to share their recipes, but their secret kitchen tips. And he shares them all in this easy-to-use book with great photos of the in-kitchen action. And, of course, with recipes from the delicious results of his encounters with the chefs, all translated by Adam for home cooks.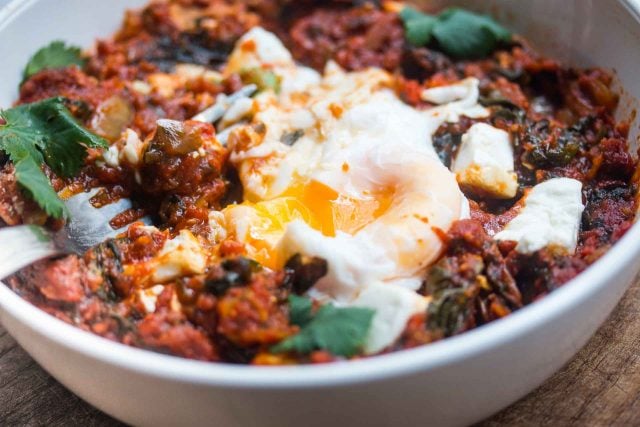 I took a cue from the experts, and the amateur, for this dish of fiery tomato sauce and gently cooked eggs, meant to be sopped up with hunks of crusty bread. Once you have the sauce, you can make dinner in a matter of minutes and when in Tel Aviv, folks I had breakfast with told me that they keep Shakshuka sauce frozen at all times so they can make this dish whenever they want, even at dinner.
So feel free to make extra sauce and keep it on hand when the mood hits. I have a few batches in my freezer right now, because that mood has been hitting me more and more these days. And I'm sure it will in the future, as well.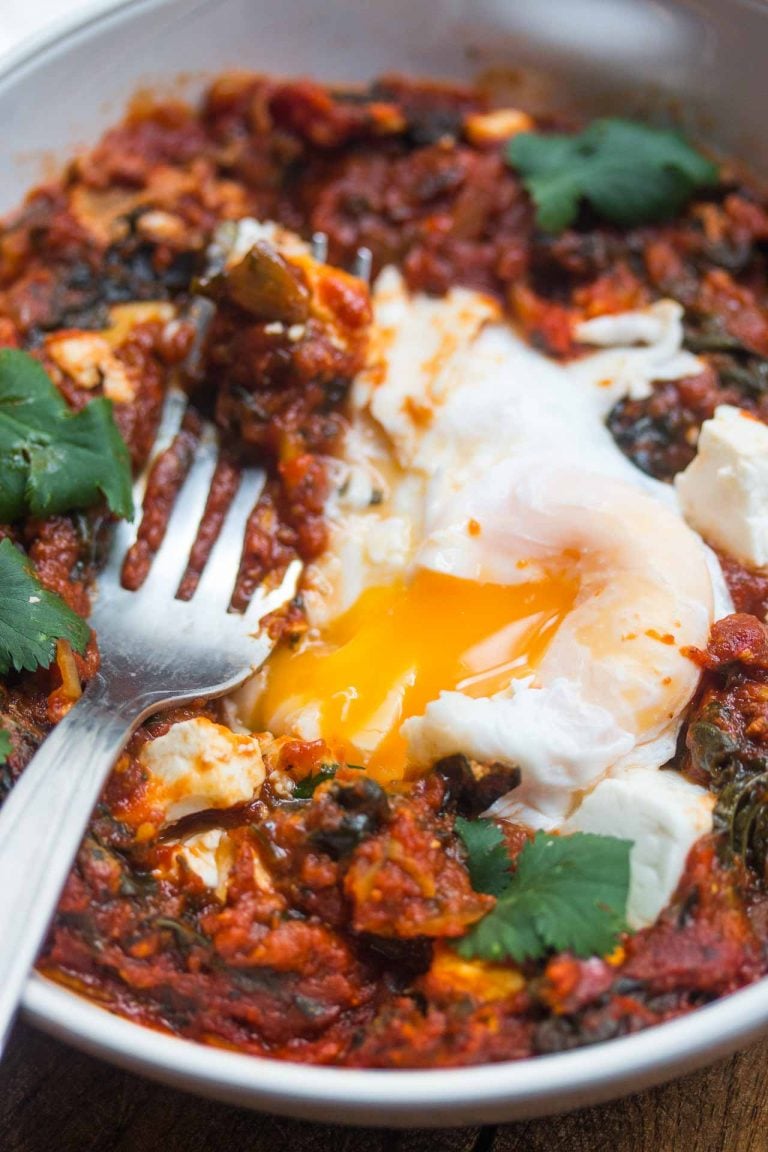 Adapted from Jerusalem by Yotam Ottolenghi and Sami Tamimi and Secrets of the Best Chefs by Adam Roberts. I've made Shakshuka a number of ways; in individual baking dishes, so everyone gets their own portion, to using a large skillet, so folks can eat communally. I've given indications for how to do both. Because everyone likes their eggs cooked differently (which is why when I was cooking in restaurants, I refused to work breakfast shifts – talk about stress!), keep an eye on the Shakshuka as its cooking and use the times indicated as guidelines; various factors can affect cooking times and it's hard to say precisely how long they will cook. When served, the eggs should be still runny so that the yolks mingle with the spicy sauce.
1
medium onion,
peeled and diced
3
cloves
garlic,
peeled and thinly sliced
1/2 – 1
chile pepper
(or to taste) stemmed, sliced in half and deseeded, finely diced/minced
1
teaspoon
freshly ground black pepper
1
teaspoon
paprika,
smoked or sweet
1
teaspoon
caraway seeds,
crushed
1
teaspoon
cumin seeds
crushed, or 3/4 teaspoon ground cumin
2
pounds (1kg)
ripe tomatoes,
cored and diced, or two 14-ounce cans of diced or crushed tomatoes
2
tablespoons
tomato paste
1
teaspoon
red wine or cider vinegar
1
cup (20g)
loosely packed greens,
such as radish greens, watercress, kale, Swiss chard, or spinach, coarsely chopped
4
ounces (about 1 cup, 115g)
feta cheese,
cut in generous, bite-sized cubes
1. In a wide skillet, heat the olive oil over medium high heat. Add the onions and the garlic and cook for 5 minutes, until soft and wilted. Add the chile pepper, the salt, pepper, and spices. Cook for a minute, stirring constantly, to release their fragrance.
2. Add the fresh or canned tomatoes, tomato paste, honey, and vinegar, reduce the heat to medium, and cook for 12 to 15 minutes, or until the sauce has thickened somewhat but is still loose enough so that when you shake the pan it sloshes around. (Fresh tomatoes may take a little longer to cook than canned.) Stir in the chopped greens.
3. If you want to finish the Shakshuka on the stovetop, turn off the heat and press the cubes of feta into the tomato sauce. With the back of a spoon, make 6 indentations in the sauce. Crack an egg into each indentation, then drag a spatula gently through the egg whites so it mingles a bit with the tomato sauce, being careful not to disturb the yolks.
Turn the heat back on so the sauce is at a gentle simmer, and cook for about 10 minutes, taking some of the tomato sauce and basting the egg whites from time-to-time. Cover, and cook 3 or 4, or up to 8 minutes, until the eggs are cooked to your liking.
4. To finish them individually, preheat the oven to 375ºF (180ºC.) Divide the sauce into 6 baking dishes and press the feta cubes into the sauce. Set the baking dishes on a baking sheet, make an indentation in each, and crack and egg into the center. Bake until the eggs are cooked to your liking, basting the whites with some of the sauce midway during baking, which will take anywhere from 10 to 15 minutes – but begin checking them sooner to get them just right. If the yolks begin to get a little firm on top before the whites are cooked, drape a sheet of foil over them, but avoid having it touch the yolks.
Serve with lots of crusty bread for scraping up the sauce. Garnish with chopped cilantro, if desired.