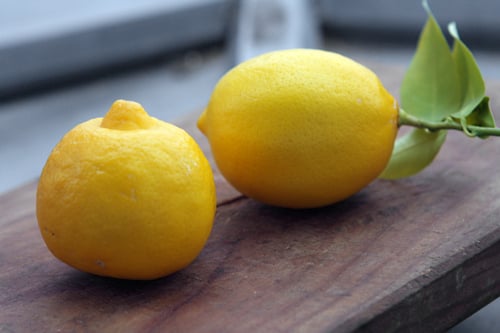 I've been having my own little festival of citrus around here, especially because I've become addicted to the produce aisle at my local natural food store. They always have an intriguing collection of citrus fruits, many of which just aren't available anywhere else. I went in to buy bergamots (above, left) and ending up finding not one, but four knobbly citrons. I was poking through the boxes and I almost had a crise cardiaque when I saw four enormous, lonely citrons lolling around all by themselves, being ignored, in a big wooden crate.
They were only €5 per kilo so I bought two, and left the other two for some other lucky American baker living in Paris looking to candy citron.
So I guess it shouldn't surprise me that when I went back a few days later, they had a big, bulging case of citrons. But when I went back yet a week later (OCD much?) they were all still there, each one unfortunately getting soft and spotted.
In addition to my colorful bounty of agrumes (citrus), I also had one Meyer lemon on hand that I gingerly carried back from Texas which was patiently waiting in the refrigerator, waiting to be used. Upon reflection, I don't know why I only brought one back since there's very few recipes that call for one single, solitary lemon. But then my brain honed in on lemon bars, which have a relatively thin, yet powerful filling, and I thought I would come up with a bar using just one lemon.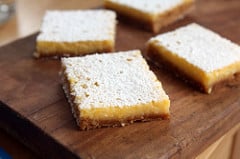 I also thought that it would be interesting to try a gingersnap crust. I don't know why. Maybe because it was 5:20am that morning and my brain wasn't fully functioning? But I had the idea in my head and crawled around on all fours looking through the cupboards for Speculoos—which I knew I had…somewhere…which are similar to American gingersnaps, until I located the stray package.
Yet when I tasted them, I didn't really like that the crust conflicted with the lemon flavor. And I'm sure my neighbors downstairs didn't appreciate me conflicting with their sleep pattern, either. I was disappointed, but then that's why God gave us humans the power of reason (although I wish he gave me a little more…) and I decided to keep trying.
So I went back to the drawing board (thankfully not to the cabinets, which I'm sure my downstairs neighbors were happy about) a few more times. But I still wasn't pleased because even though I loved biting down on the little chunky bites of lemon, the lemon bars lacked the tart zip of fresh lemons I always want from lemon bars. Curiously, the French tartes au citron that one finds in bakeries are usually on the sweet side. (Jacques Genin, whose tarte au citron is considered one of the best in Paris, told me he prefers to use fresh limes for that reason.)
I found the best balance using a regular lemon, and organic beauty which came to Paris all the way up from Provence, which I found at my trusty natural foods store. I'd blended one up, and added a few extra tablespoons of juice for more zing, and a little bit of butter just to smooth the way.
When I tasted batch number three, I was blown away at exactly right how they were. I think I even said "Wow" out loud when I cut off my first square and tasted it. By the second and third, I was still exclaiming out loud how good they were. I hope I didn't disturb the people downstairs.
Lemon Bars
Because you're using the whole lemon, use an unsprayed or organic lemon. Some grouse about the price of organic produce, but Paris is one of the most expensive cities in the world and my lemon was just 30 cents, and at the pricey health food store at that. I initially experimented with a Meyer lemon so this recipe would certainly work with one, although in the end I preferred the bars made with regular lemons. (If you try it with a Meyer lemon, it might want to reduce the sugar in the topping, but I used up my sole Meyer lemon so was unable to give it another go.) Lemons vary in size: mine was 6 ounces (175g), but getting it close is reasonable enough.
Crust
1

cup (140g)

flour

1/4

cup (50g)

sugar

1/4

teaspoon

salt

8

tablespoons (115g)

melted unsalted butter

1/2

teaspoon

vanilla extract
Lemon Topping
1

lemon

,

organic or unsprayed

1

cup (200g)

sugar

3

tablespoons (45ml)

freshly squeezed lemon juice

3

large eggs

,

room temperature

4

teaspoons

corn starch

1/4

teaspoon

salt

3

tablespoons (45g)

melted unsalted butter

Optional:

powdered sugar

,

for serving
Preheat the oven to 350ºF (180ºC).

Overturn an 8-inch square pan on the counter and wrap the outside snugly with foil, shiny side up. Remove the foil, turn the pan over, and fit the foil into the pan, pressing to nudge the foil into the corners. Then smooth it as best you can. Lightly butter or spray the surface of the foil with nonstick spray.

In a medium bowl, mix the flour, 1/4 cup (50g) sugar, 1/4 teaspoon salt, 8 tablespoons (115g) melted butter, and vanilla, stirring just until smooth.

Smooth the batter into the bottom of the pan, using your hands or a small offset spatula to get it as level as possible.

Bake the crust for 25 minutes, or until it's deep-golden brown.

While the crust is cooking, cut the lemon in half, remove the seeds, and cut the lemon into chunks.

Put the chunks of lemon in a food processor or blender along with the sugar and lemon juice, and let it run until the lemon is completely broken up. Add the eggs, corn starch, 1/4 teaspoon of salt, and 3 tablespoons (45g) melted butter, and blend until almost smooth. (A few tiny bits of lemon pieces are normal and encouraged.)

When the crust comes out of the oven, reduce the heat of the oven to 300ºF (150ºC). Pour the lemon filling over the hot crust and bake for 25 minutes or just until the filling stops jiggling and is barely set.

Remove from the oven and let cool completely. Once cool, carefully lift out the bars grasping the foil. Cut the bars into squares or rectangles. Sift powdered sugar over the top just before serving, if desired.
Notes
Storage: The bars will keep in an airtight container at room temperature up to three days. You can freeze the lemon bars as well for up to one month, letting them come to room temperature before serving.
Related Links and Recipes
The Best Tartelettes au Citron in Paris (Le Figaro, link downloads PDF file)
More on Tarte au Citron (Paris Breakfasts)
Ladurée Tarte Citron (Paris Pâtisseries)
Note: In the post, there are pictures of the Lemon Bars with both the gingersnap crust (the darker ones near the beginning of the post) and the bars I made with the regular crust (shown at the end), which I preferred.