Wielding Her Tampon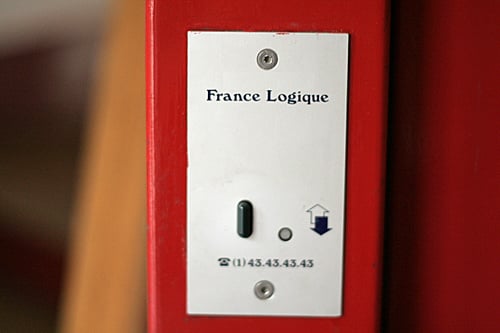 In a country where one of the tenets is égalite, there are, believe it or not, some people who are more "equal" than others. It's one of the less-discussed French paradoxes. No, I'm not talking about the motor scooter drivers who ride roughshod through Paris, bombarding pedestrians on the sidewalks or breaking through traffic, cutting off buses, bicyclists, and generally wreaking havoc in their noisy, smoke-spewing wake.
It's les bureaucrats.
The other day I had to go to the bank. And in France, before you go to the bank, if you need to do anything other than make a withdrawal or deposit, you need to make an rendez-vous. Each client is assigned a bancaire who is in charge of your affairs. You can't just go to any bancaire; you have to go to yours.
So it's important that they like you.

But you also can't get too cozy with them, since my bank forces you to change bancaires every two years because, I'm told, they don't want you getting too cozy with them…if you know what I mean.
(Actually, I don't know what they mean either, so if someone could explain it to me, that'd be great.)
You might have read about the bank scandal here where an employee lost five billion dollars of the bank's money. Jérôme Kerviel, of course, denied all responsibility for his actions—"C'est pas ma faute!"—and public opinion seemed to be in his favor since everyone in France seems to hate their bank. And with good reason.
In France, the banks are all-empowering institutions and they issue what's called a RIB. It's an identification number that means you have an account and are solvent. You need RIB to open a gas & electric account and get power and a bill, which you need to present to get your visa to prove you live here.
(Okay, I don't know what they mean again, either.)
To make a long story short, unlike in America, the banks in France treat you as though it's a privilege to allow you keep your money there; that they're doing you a favor. They pay meager interest, if at all, and the costs for keeping an account are exorbitant. I was paying €7.5 monthly for some silly bundle of services called 'Jazz', which I realized was a huge waste of money (I don't know how to say 'rip-off' in French…) so I made an appointment to switch to a regular account.
To all those people in America who say, "I hate my bank too," to them, I say right back: "You have no idea."
In American, at least when you get someone to help you, they actually do help you, rather than belittle you and argue with you about their stupid policies. For years, when depositing cash at my bank, I had to hand it to them in a sealed envelope, which they dropped in a safe. I was like, "Um…aren't you going to count it to make sure it's correct?"
The banks don't trust anyone around here I guess, even their own tellers with money. Although after losing $5 billion, I'm beginning to see why.
One time my landlord's bank never got my rent check. When I asked at my bank if they could get me a copy of the check for proof, they said, "You need to get it from your landlord's bank.
" Scratching my head, I asked, "Um…how can they give me a copy of the check—if they never got it?"
"C'est pas ma faute, Monsieur!" she said, before I was turned away.
In a country of endless paperwork, banks can't (or won't) produce copies of checks. They think it's weird American banks do. As someone who's learned to save each and every receipt, no matter how insignificant, I think that's pretty weird that you can't get a copy of a check you wrote.
It took me a couple of days to prepare, both in terms of paperwork, as well as psychologically, for my rendez-vous. And after an hour of haranguing and arguing, they finally let me switch my account. I think they make money since most people think it's easier just to pay extra fees then spend a morning battling a bancaire.
I had lunch last week with a French business owner who had just come back from a trip to New York. "In France, the first words you always hear are 'No!', whereas in America, it's always, 'Yes!'" he exclaimed, which is somewhat true. The challenge here is to get them to go from "Non" to "Oui", in your favor. And unlike in America, they're under no obligation to get to "Oui."
When I did manage to get to "Oui!", I had to read and sign two 8-page contracts full of legalese. (With all the paperwork and photocopying around here, I think France is responsible for more clear-cutting of trees than all those disposable chopsticks I've been so studiously eschewing.)
And when all is said and done, after you've dealt with any bancaire, bureaucrat, or fonctionnaire, they pull out their tampon, a massive metal contraption, a rubber stamp with a big pump-style handle. That is the all-important move. When they draw the handle down and leave an indelible impression, that's when you know that victory is yours to savor. Depending on her mood, she'll either lightly-stamp your documents and send you on your way.
Or perhaps if you've angered her at all, she'll use that tampon as a final tool of grudging approval, slamming it down on the counter with as much force as possible, stamping your paperwork with so much force that everything else on her desk, and those around hers, jumps in response. And you do, too.
Part of that, I think, has to do with the fact that Parisians are always struggling for power. Knocking you off the sidewalk, cutting in front of you in line, and the idiot dangerously swinging his pointy umbrella on the busy Métro the other day unaware that anyone else was around him; they're all by-products of that mentality.
But the worse offenders are those motos, the scooter riders who buzz between traffic, terrorize pedestrians on the sidewalks, and wreak havoc by honking, revving their engines, removing their mufflers, and disobeying every traffic rule that they can. People ask me, as a cyclist, if I'm afraid of getting killed by a Parisian driver. I assume they're talking about Parisians who drive cars.
(Which explains those ten, nearly-symmetrical finger-sized holes in Romain's dashboard.)
To me, the motos are the most dangerous, and like the tampon wielding-women, are indicative of the "Napoléon effect" of someone little having a bit too much power. I steer clear of them as much as possible, like I do bankers and other bureaucrats. I did score a victory last week when I changed my cable tv and internet provider.
Even though it required three separate trips to their ridiculously jam-packed, ventilation-free office, and even though the problems were their fault (and the promised "free" service call that, of course, fell into "Non" category, for which I was unable to get to "Oui"), I eventually succeeded on my own. Unlike Napoléon, I did not meet my Waterloo.
And I was so happy after that last victorious visit to my cable office, that I didn't want to jinx my luck, and took the bus home. I don't mind living a little on the edge around here, but I steer clear of obvious dangers. I can deal with Romain behind the wheel, but scooters and women with bone-crushing metal plungers?
I'd rather not.