France is supposedly all about liberté, but in fact, everyone is really judged, and categorized, by one thing: the number on their license plate. Paris is number 75, and if you drive anywhere else in France, aside from your black clothing, the chain-smoking, and the mad tapping on your iPhone, you're pegged as a Parisian if your license plate ends with the oft-feared soixante-quinze.
Parisians have a bit of a reputation in les autres départements and as we drove home from dinner one night when I was in the Poitou-Charente on vacation, a typical French family attempting to cross the street retracted when they saw our car approaching; "Il n'a rien vu les autres, le Parisien!" ("He doesn't see others, the Parisian!") shouted the father, frantically pushing his beloved a safe distance from les soixante-quinzes.
And sure enough, the driver of our car floored it past the French family, who wisely kept their distance, and were left in a cloud of diesel fumes as we sped past.
Another thing that some find vexing, which a few French friends pointed out, was that in The Sweet Life in Paris, I had the temerity to make up a word: bousculer. I didn't realize that making up a word was going to cause such a reaction—"It is just not done!" I've been told. And considering the many times as I've tried to explain what a "staycation" or a "breastaurant" was, I guess I shouldn't be surprised to find their dismay when someone runs so loose with their language.
(Similarly, I once spent a half-hour once trying to explain to a completely perplexed Romain why I was humming the theme song from Jeopardy while I was waiting for him to make a decision, and now he thinks I'm even more odd than he previously realized.)
My friend Jackie may not consider herself a bousculeur (or heaven forbid, bousculeuse), but when I mentioned le resquillage, she didn't bristle a bit. Navigating the markets of Paris all her life, she's a pro at avoiding waiting in line.
For example, when we walked into the jam-packed supermarket in her village, the butcher counter was, like, five-people deep with folks anxious to get something for their weekend meal. Jackie saw an opening, interrupted the salesgirl in mid-order, and told her she wanted to speak to the butcher. Like Moses parting the Red Sea, out came the butcher to have a word with her about her upcoming order.
Like most Parisian women, she wouldn't dream of hitting the market without her chariot, which is the French equivalent of the sport-utility vehicle. When I lived in San Francisco, at any of the myriad of four-way stop signs, the one who got to go first after the stop wasn't the one who had arrived first; it was the largest vehicle at the intersection who would floor it regardless of whose turn it was. And heaven help you if you were in a Mini Cooper and confronted with a pony-tailed, spandex-wearing woman in a Range Rover who was late for her yoga class. Even les soixante-quinzes would dodge out of the way for her.
Well, maybe.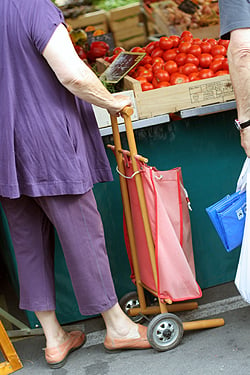 Notice how at the counter Jackie steps forward and positions herself, and the rolling cart where no one can step into that space. As her husband insisted when she is driving behind someone else: "Collez! Collez!", or "Stick! Stick!", since he rightly knows that if you leave four centimeters of space between you and the car in front of you, someone is bound to try to wedge in there. At the market, the same rule applies.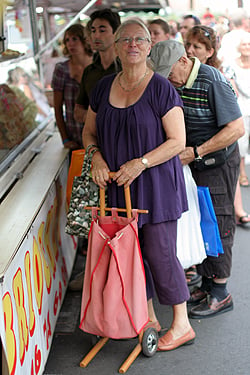 But she is having none of that, and as you can see, after firmly guarding her place—voilà! She's scored her purchase and is ready to hit the next stand.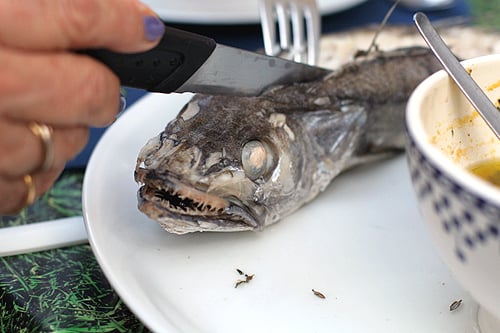 Aside from how to successfully maneuver a French market, and terrorize the locals, Jackie also taught me a new phrase: Au pif, which means cooking "by the nose." As I'd mentioned before, some Americans have trouble with French recipes since they're often less-precise because one is expected to tackle the recipe au pif.
Her signature Sauce Gribiche is a good case in point. The recipe in the book that she follows calls for "4 or 5 capers"…for four servings. When I questioned what kind of kooky recipe parsons out one dinky caper per person, she waved me away with a knowing laugh—"Au pif, Daveed!" In the way of a Frenchwoman, one doesn't necessarily need to follow the rules all that carefully.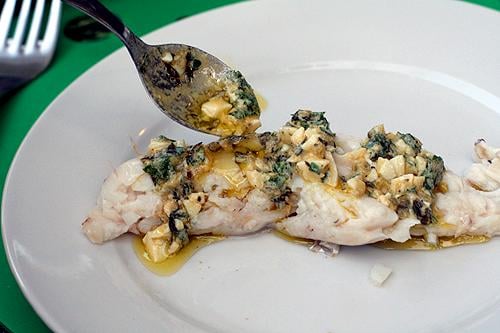 And the one rule I'm following toujours is to stay out of her way at the market, which is something I've learned au pif.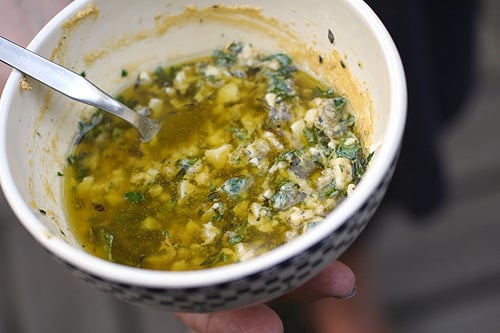 Sauce Gribiche
This is a fantastic sauce and is one of those stand-bys that you can make when you don't think you have anything on hand. If you keep a jar of capers and one of cornichons (gherkins) in the refrigerator, along with a some herbs, you can make this pretty easily. Traditionally sauce gribiche is served over tête de veau, boiled veal head, which is something I've yet to try. (And I'm not dying to, either.) But it makes a simple piece fish, like the merlu (hake) Jackie poached, into something special. It can also be spooned over halves of hard-cooked eggs or steamed asparagus. The recipe also calls for using a bunch of herbs, but Jackie said it's best with just one: parsley. Being contrary, I like to use a mix. And when I suggested chopping the capers to distribute them more easily, she looked as if I suggested that she wait at the end of the line at the butcher. Still, in your kitchen, feel free to adjust the recipe—au pif.
1

large egg

1

teaspoon

Dijon mustard

1/3

cup

extra-virgin olive oil

1

teaspoon

red wine vinegar

1

cornichon

8

to 10 small capers

,

drained, rinsed, and squeezed dry

about 1/4

cup

(gently-packed) mixed chopped herbs

,

flat-leaf parsley, chervil, and/or tarragon

salt and freshly-ground black pepper
Cook the egg in boiling water for 10 minutes. Remove from heat, drain away the water, and cool the egg by adding ice and cold water to the pot.

Once cool, peel the egg then extract the yolk. In a medium-sized bowl, mash the yolk until smooth with the mustard.

Dribble in the olive oil, beating with a fork or wooden spoon while doing so (trying to make an emulsion), then adding the vinegar.

Chop the egg white and cornichon separately into fine cubes, the size of the capers, and add them to the sauce. Then add the capers themselves.

Stir in the herbs and add salt and pepper. Taste, and season with additional salt, pepper, and vinegar, if necessary. Serve at room temperature.
Notes
Storage: The sauce gribiche, can be made up to one day ahead and refrigerated. *Her recipe calls for un verre (one glass) of olive oil. And when I asked what that was on behalf of you, my readers, she waved me away, tapping the side of her nose. "Au pif, Daveed!" But it looked to me to be about one-third of a cup. You can add more or less to make the sauce the consistency that you want.