10 Romantic (and Sexy) Things to Do In Paris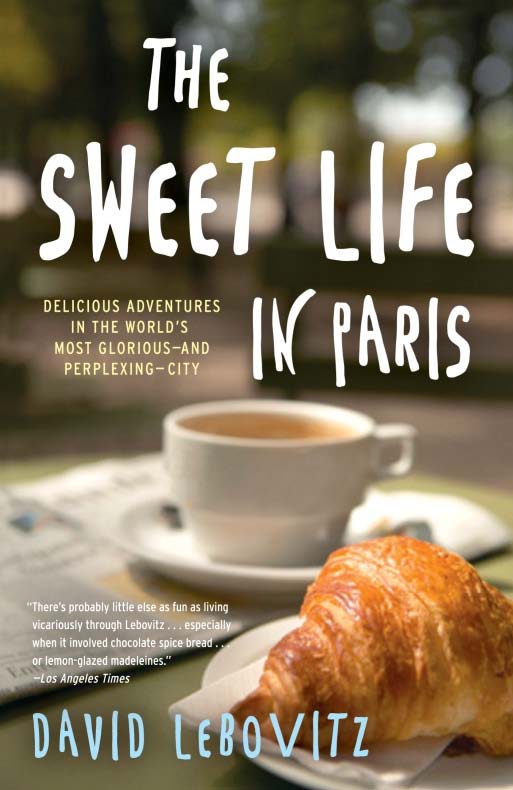 For those of you who have The Perfect Scoop, you may already be familiar with my friend Heather Stimmler-Hall, who writes the popular website, Secrets of Paris. She's the one who attempted to seduce her Parisian neighbor with a batch of my ice cream. Not that she needs my assistance (I didn't ask her how it turned out since I'm such a gentleman, and she's the model of discretion). But for the rest of us, I tend to take help whenever—and wherever – I can get it. I asked Heather for a list of her favorite, most sensual things to do in the city. So here is Heather's list of Ten Romantic (and Sexy) Things to Do in Paris. Merci ma chèrie! -David
A lot of people ask me advice on romantic things to do in Paris, and if they're visitors, I usually reply, "It's Paris, what's not romantic about it?" After all, you've got a gorgeous setting of historic monuments and scenic bridges over the Seine, a fashionably-dressed cast of Parisians sans baseball hats and "Who dat?" emblazoned sweatshirts, and some of the most mouth-watering cuisine on the planet. Well, that is if you know where to go.
I can already hear the locals and Paris habitués groaning that they've already done all of the Valentine's Day clichés: a show at the Moulin Rouge, a cruise on the Seine, dinner on the Eiffel Tower, macarons at Ladurée…and I think everyone should try all of those things at least once in a lifetime (okay, once a week for the macarons). But then what? So let me tell you more. Some of these are obvious, others less so, but all are perfect for a romantic rendez-vous when you're hungering for more than just a kiss. ; )
1. Oysters and Wine at Le Baron Rouge
Candlelight, soft music and a quiet table in the corner? Please. There's nothing more intimate than being crammed against each other in a cozy wine bar, jostling with the friendly locals and market stall-holders from the neighboring Marché d'Aligre for a glass of Burgundy and a platter of cheese and charcuterie.
On chilly winter weekends the jovial crowd spills out onto the sidewalk for fresh oysters and Sancerre, couples among them clinging together for warmth, or to hold each other up when the wine starts taking effect…
Le Baron Rouge
1, rue Théophile-Roussel (12th)
Tél: 01 43 43 14 32
2. High Tea at the Ritz
If you're going to do High Tea, do it in style in one of the poshest settings in Paris, surrounded by sparkling crystal, priceless antiques, and polished silver. Your gourmet tea (or an amazingly thick hot chocolate) is served with a tower of delectable pastries, tiny sandwiches, and scones with cream and jam. And of course, no one—including the politely efficient staff — will bat an eye if you and your amoureux steal a few kisses at the table. PDA is de rigeur in Paris.
Paris Ritz
15, Place Vendôme (1st)
Tél: 01 43 16 30 30
Tea served from 4-7pm.
3. Kitsch Cocktails at the Blitz Tequila Bar
The über-exclusive Black Calvados Bar (aka BC) has been taken over by Blitz, the first European brand of tequila from the Black Forest of Germany. Try and imagine the black lacquered walls and black leather sofas of the BC decorated with glowing mushroom lamps, a cuckoo clock, kitsch 60s record sleeves, and your barman dressed in real authentic lederhosen.
He somehow – like the bar itself — still looks impossibly cool and sexy. Check it out yourself before this bar ephémère closes in June of 2010. There are 41 different kinds of tequila and amazingly tasty cocktails that will convert even the most adamant tequila-haters into (rather inebriated) raving fans.
Blitz Tequila Bar
40 Avenue Pierre Ire de Serbie (16th)
Reservations by e-mail
Open from 10pm.
4. Champagne at Flûte
This tiny venue hidden on a tiny side-street just off the place de l'Etoile was once a "gentleman's bar", and still has an illicitly naughty feel to it. Take a seat on the red velour banquette next to the fireplace with a Champagne cocktail, or find a quiet alcove upstairs for a more intimate tête-à-tête. And despite the location and quality bubbly, the prices are more than reasonable, and if you go on Tuesday for Happy Hour (5-8pm) you get two drinks for the price of one. Dozens of Champagnes available by the glass, gourmet appetizers for les petits faims (little appetites), and live jazz on Wednesday nights.
Flûte l'Étoile
19, rue de l'Étoile (17th)
Tél : 01 45 72 10 14
Open Mon-Sat from 5pm.
5. Cocktails and Wagyu Burgers at Prescription Cocktail Club
An anonymous black façade gives no indication of the stylish speakeasy-style cocktail bar hidden inside. Which is just the way the jeunesse dorée of Paris like it. But despite the confidential private club feel (reinforced by the stern-faced doorman), the welcome is warm and sincere once you're inside.
The décor has an elegant 1930s style, with Magritte-inspired bowler hats used as lampshades and comfy upholstered sofas. Come for apéritifs –the creative cocktails are made with ingredients like ginger beer, elderflower liquor, or Japanese whiskey – but if you find it hard to tear yourself away for dinner, their divine Wagyu beef mini-burgers made with foie gras will fill you up without slowing you down.
Prescription Cocktail Club
23, rue Mazarine (6th)
Tél: 01 45 08 88 09
Open Mon-Sat from 7pm-2am (4am on weekends)
6. Vin Chaud on the Seine
A bottle of red, some cheese, and the Pont des Arts…summertime romance in Paris is easy, even if you're still hurting from la crise économique. But it's been a rather brisk winter, so keep warm and cozy by sipping from a thermos of vin chaud while wrapped in a thick and fuzzy blanket. Views from the quays of the Île St-Louis are always fabulous at sunset, and the high walls will help shelter you from the freezing winds.
7. Dinner at the Dame du Canton
Add a bit of gypsy-themed romance to your evening on this vintage wooden péniche (barge) formerly known as La Guinguette Pirate. Most people come here for the live World music, particularly gypsy jazz "Manouche" (think Django Reinhardt), but below deck you'll find a cozy, lantern-lit restaurant serving traditional French dishes. Reserve the cushion-filled, shag-pile-carpeted nook in the back for the most privacy. Just make sure your date isn't prone to seasickness…or the gentle rocking of the boat may end your evening prematurely!
La Dame du Canton
Moored permanently on the Left Bank of the Seine just east of the Passerelle Simone de Beauvoir, Port de la Gare (13th).
Tél: 01 53 61 08 49 (or reserve by e-mail)
Open Tues-Sat from 8pm.
8. A Chocolate Massage at the Four Seasons
Instead of the traditional box of chocolates, impress your sweetheart with a decadent, "All About Chocolate" spa treatment at the Four Seasons George V hotel. A chocolate-mint body scrub is followed by a Swiss chocolate and toffee body wrap, and finished up with a deep tissue massage using cocoa oil. In short, two and a half hours of pure bliss…without the guilty calorie counting.
Spa at the Four Seasons George V
31, Avenue George V (8th)
Tél: 01 49 52 72 10
9. Book a Night at The One by The Five
If you're coming to Paris for a naughty tryst and money is no object, book yourself into the amazing One by the Five, a private five-room apartment suite managed by the Five Hotel across the street. Discreetly hidden on a quiet street near Port Royal, this unique suite was designed with couples in mind to evoke the five senses of seduction, from the ingredients to mix your own Erotic Elixir in the black lacquer kitchenette to the bedroom where you and your lover will float amidst the clouds and sparkling stars on a bed suspended from the wall. Just don't plan on any sightseeing; you won't want to leave The One.
The One by the Five
3, rue Flatters (5th)
Tél: 01 43 31 52 31
Rack rate €990
10. The Buffet at Moon City Sauna
Some people claim to read Playboy for the articles. Perhaps these are the same people who go to the Moon City Sauna for the buffet. On the popular "couples-only" Wednesday nights, the exotic Thai-themed sauna in the heart of Pigalle takes on the feeling of a Club Med cruise, with a surprisingly good-looking crowd of ladies and gentlemen in matching sarongs lining up for the couscous, pasta salad, roast potatoes, and grilled meats.
Of course, you can stay after your meal to enjoy the steam baths, sauna and a soak in the Jacuzzi, with no pressure to join the more adventurous couples who disappear into the rooms in the back for a bit of adult romancing in private.
Moon City Sauna
34, Blvd Clichy (18th)
Tél: 01 42 59 52 24
(The best night for couples is Wednesday, from 8pm. Get there early for the buffet. Entry €53 per couple. Note: This site has adult content.)
[Prices, hours and other information subject to change. Please contact the establishments for up-to-date information.]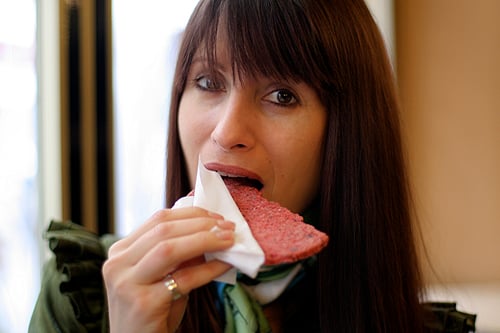 Visit Heather at:
ParisHeather (Twitter)
---
Related Links and Paris Posts
10 Common Ordering Mistakes People Make in Paris
Paris Cooking Classes & Wine Tasting Programs
10 Things to Do With Kids in Paris
10 Delicious Things Not to Miss in Paris
Health Care Tips for Travelers to France
Where to Find the Best Steak Frites in Paris
Some Favorite Paris Restaurants
Vegetarian Dining Tips for Paris and a list of Vegetarian Restaurants
Where to Find a Great Hamburger in Paris (Kid-friendly)