The A-Z Guide to French Food
When I was taking pastry classes at Ecole Lenôtre years ago, they had a shop at the school filled with all sorts of great professional baking equipment. Aside from the room where the croissants were freshly-baked (and handed out) every hour, it was my favorite place at the school.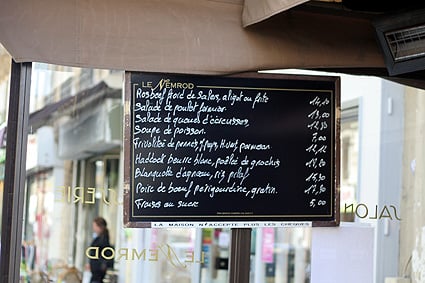 PIled up on the shelf was also a stack of slender books: The A-Z of French Food. I flipped though it and was impressed by how much was in this comprehensive little guide, so I bought one. Since then, I've used it countless times, and it's the book that I inevitably reach for first when I have any questions about French dishes, ingredients, or cooking terms, from the normal, to the obscure.
In fact, I wished I'd had it the week before, when I was sitting in a restaurant and the waiter proudly presented me with a big, steaming cassolette, piled high with tripe. And there I was, thinking that I'd soon be digging into cassoulet, the classic Gascon dish of beans and duck confit. Quelle déception!*

Since then, my French has improved—marginally, some might argue, but at least I haven't been served boiled stomach lining in a while. For those with an aversion to offal, all those fish that one sees at the market, and on menus, are in here. And when my American friends visit and ask me about the corresponding cuts of beef, I whip out the guide and hand it to them. (Many of them simply don't have American counterparts since French butchers cut beef differently, which no one can wrap their heads around. But at least it buys me time to scan the wine list and get that part of the meal going.)
The book brims with definitions of the desserts, game, pastries, cheeses, liquors, fruits and vegetables, herbs, as well as French cooking techniques, all translated into English. It's the first place I turn when I have a French culinary-related question.
The A-Z of Cooking Verbs is not something that would be of equivalent interest to the general public or casual diner, unless you're interested in knowing what terms like luter mean. (When I first saw it on a menu, I thought it was perhaps a misspelling of lutter, or 'fight'.) But it actually means sealing a casserole with dough, and baking it.
And there's other handy verbs and phrases like, "éviter les grumeaux", which means 'beating out the lumps', or "en crapaudine", which translates to "spatchcock", or (translated from the French), "to remove the backbone, which opens the chicken flat, like a book."
The book contains 450 verb translations, is arranged in both English-to-French (106 pages), as well as French-to English (29 pages), so if you saw the word, say, écumoire in a cookbook, you would know that you should be reaching for that 'skimming ladle'.
Both books are, admittedly, not inexpensive. However as far as I can tell, most of the culinary terms, ingredients, and dishes of French cuisine aren't changing their names any time in the near future. So if you travel to France often, or are keenly interested in French cooking, I do recommend the A-Z of French Food. The A-Z of Cooking Verbs is for anyone interested in translating recipes and delving deeper into the vocabulary of French cuisine.
Availability
Each of these pocket-sized volumes can be purchased directly from Scribo, the publisher, who ships globally. You can find copies of The A-Z of French Food on Amazon in the United States, although they're quite expensive.
In Paris, you can stop in to WHSmith booksellers, which stocks copies of The A-Z of French Food at list price, which is €24. (Price subject to change.)
There are a limited number of The A-Z of French Food available at Cookin' (399 Divisadero, San Francisco, tel 415-861-1854) for $22. (Price subject to change.) Inquire with the shop if you're interested in copies of The A-Z of Cooking Verbs, which they can obtain.
Related Posts and Links
Eating & Drinking in Paris (Menu Translation Guide)
Marling Menu-Master for France
10 Insanely Delicious Things You Shouldn't Miss in Paris
French/English Food Glossary (Patricia Wells)
Gluten-Free Eating & Dining in Paris
Paris Favorites: Eating, Drinking and Shopping
Tips for Vegetarian Dining in Paris
*Speaking of French translations, déception means 'disappointment', but in this case, either could apply. Although technically, that restaurant menu wasn't deceptive. Unless they were trying to foist off a surplus of tripe on an unsuspecting American.