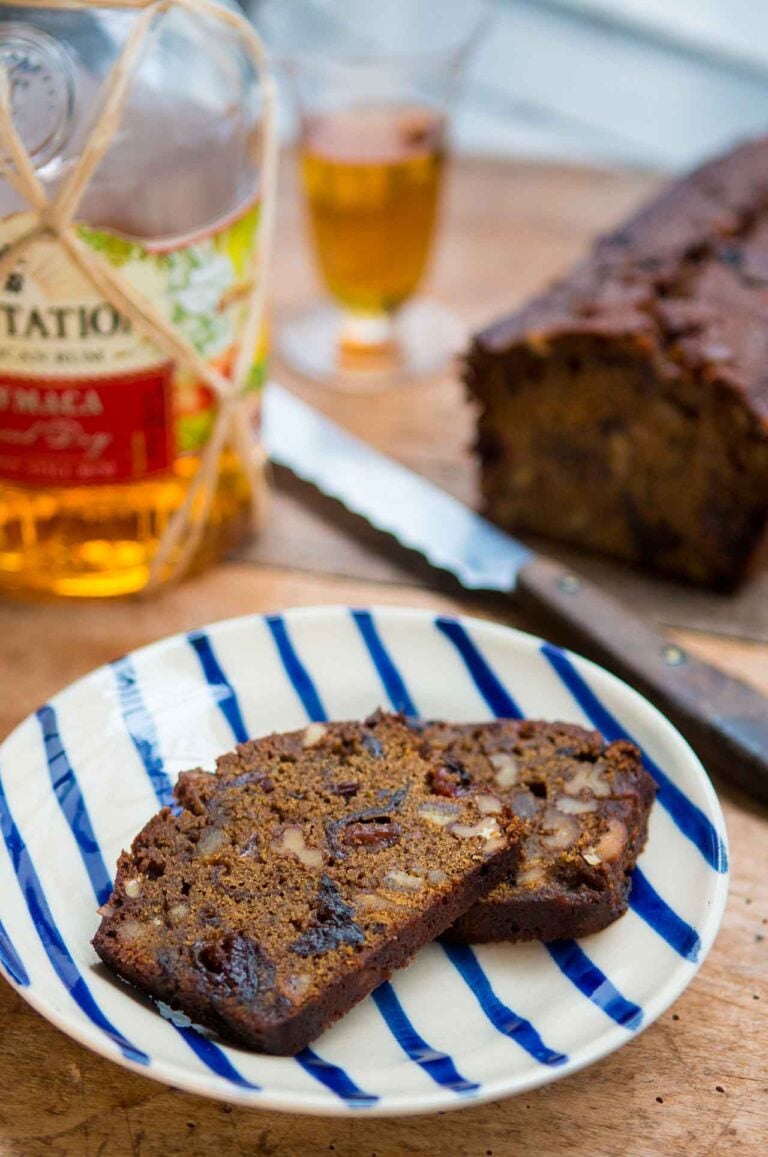 Over the last several years, people suggested that I write a book of fruit desserts. I point out, helpfully, that I already have, but every year a few books of fruit desserts come out, mostly relating to pies or crisps and cobblers. So it was interesting to see one devoted solely to cakes, called (appropriately) Fruit Cake: Recipes for the Curious Baker.
But no need to worry that it's a book of Christmas cakes with sticky green cherries in them. It's by Jason Schreiber, a food stylist and recipe developer, who dreamed up with seventy-five cakes that feature fruit, everything from Key Lime Meringue Cake to a tropical fruit Panettone. There are also Pineapple Breakfast Cakes, his riff on the classic Sachertorte with chocolate and apricots, and a Jamaican Black Cake, that caught my eye for a number of reasons.
I've been intrigued by Jamaican Black Cake ever since I had a slice at a local restaurant. It was like a moist gingerbread, but loaded with bits and bites of dried and candied fruit, and yup, a good amount of rum. Since we're all adults here (we're using rum, right?) we can dismiss any notions or jokes about fruitcakes since Panforte and others fall into the "serious" category, and you won't find any sticky green cherries in this one. (Unless you put them there.)
I did some scooting around looking at recipes for Jamaican Black Cake, and found a few examples in some of my cookbooks in my library, and some online. I made a few; some were soft and gooey, like a steamed pudding, others were more cake-like. Some were soaked in wine (through one blog post I learned about Red Label Wine), others used in cherry brandy, but most involved rum. Origins were traced to the British Caribbean, and its similarity to both steamed pudding and gingerbread does suggest that. A few of the recipes didn't quite work, so I was interested in Jason's version.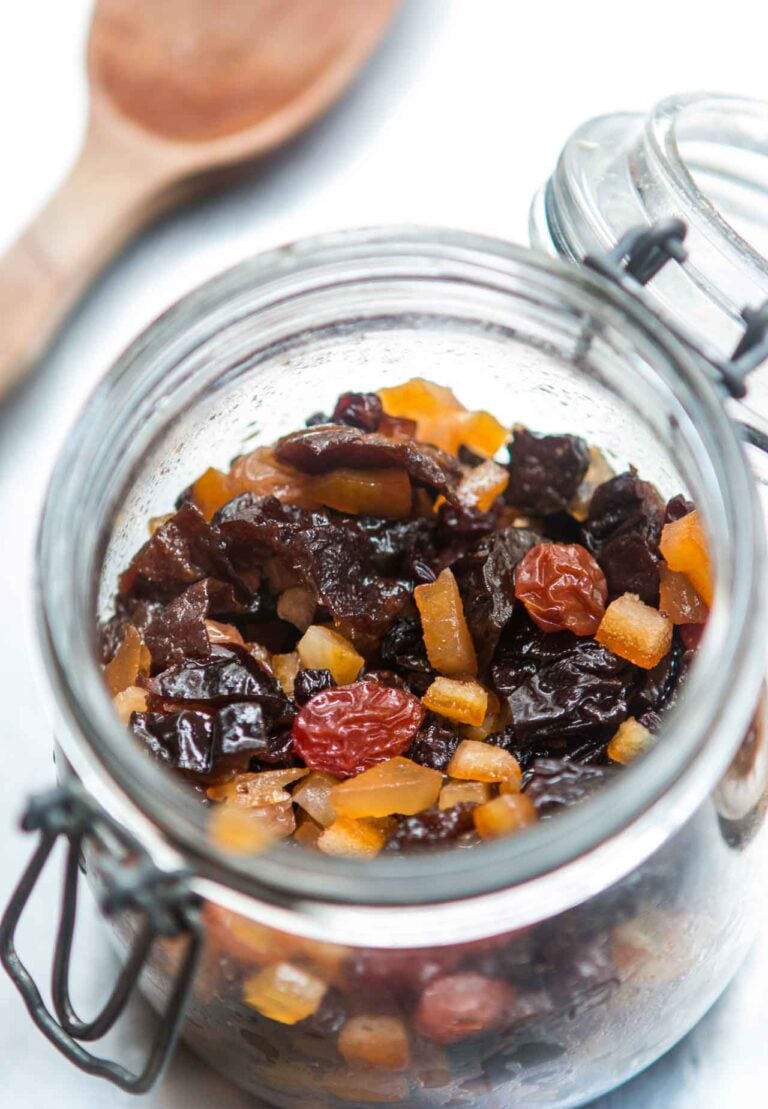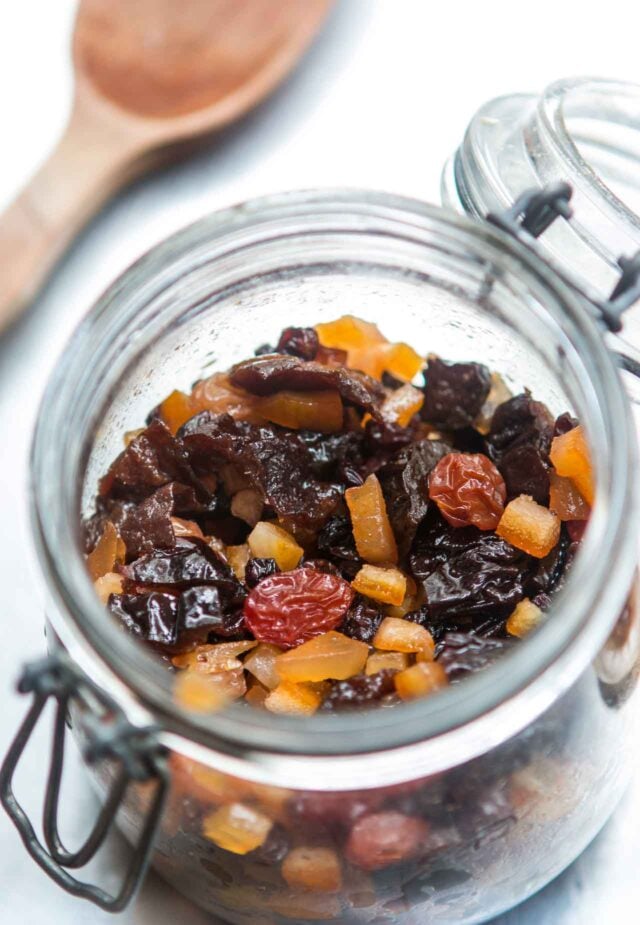 For its black color, "browning" or burnt sugar syrup is typically used. I found some recipes online, which were basically caramel, so I suspect the real deal is something more nuanced and special. Unfortunately the bottled ones sold online are out-of-reach (as in, three thousand miles away) so I went with blackstrap molasses as Jason suggested, which is stronger than the light molasses that's normally used in baking. It's darker and a lot more bitter.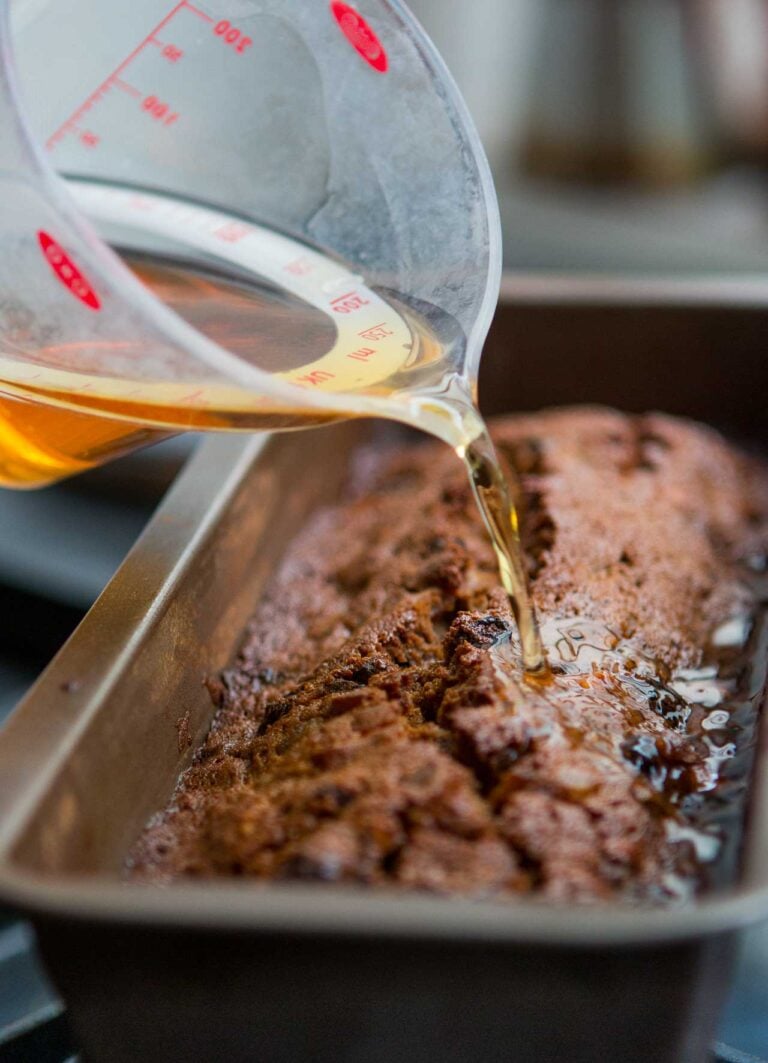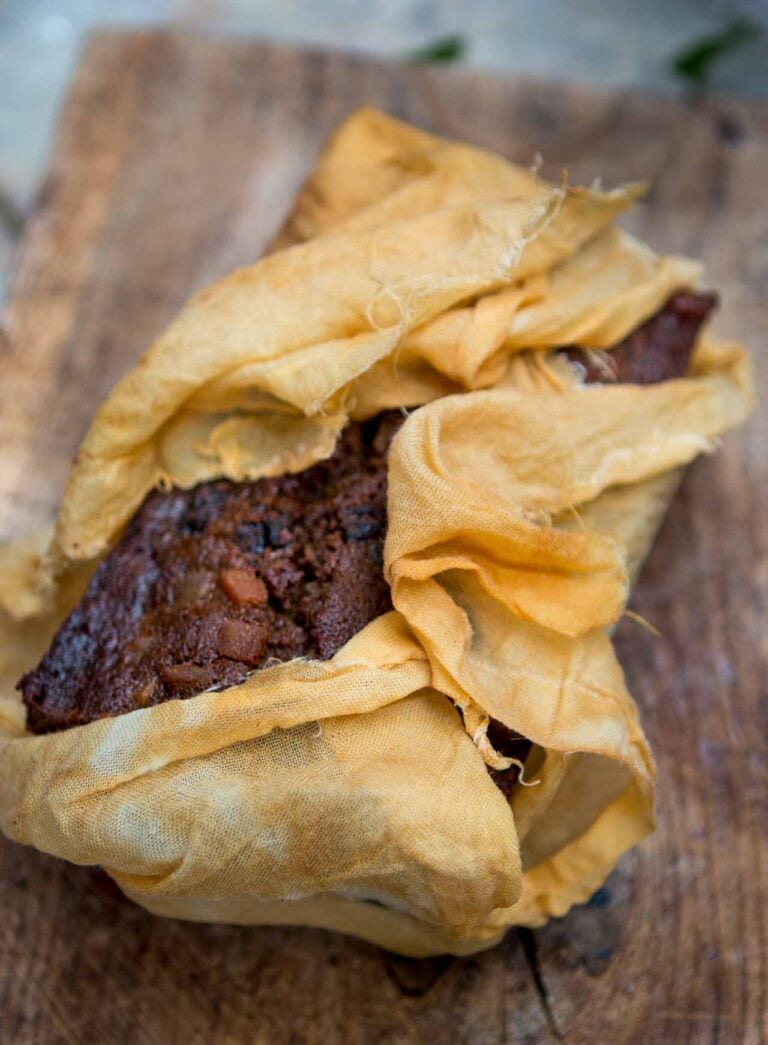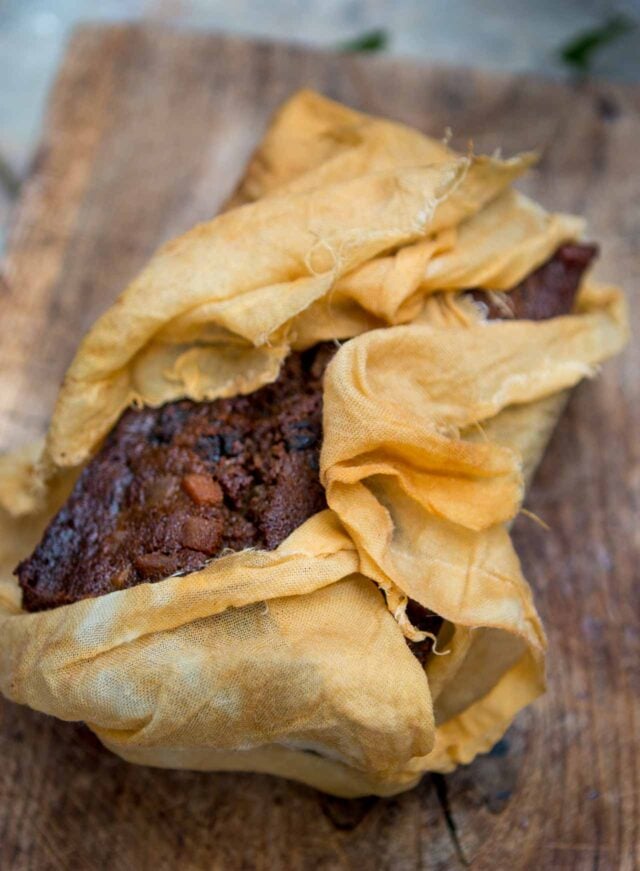 Since it's an adults-only cake, if you want to make it extra grown-up, after it's baked and cooled, you can swaddle the cake in rum-soaked cheesecloth or étamine (muslin cloth), as I did, and let it mellow for a few weeks where it gets better and better. And better. I was hoping to save mine for the holidays but I've been lopping off slices every few days – okay, every day – so will give it another go. It's worth returning to.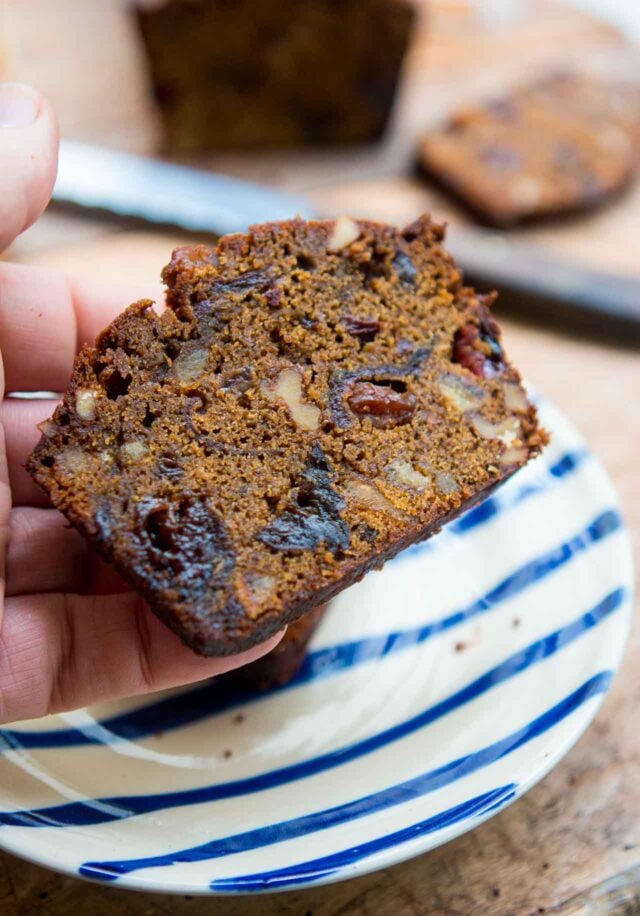 Black Fruitcake
Adapted from Fruit Cake: Recipes for the Curious Baker by Jason Schreiber
It's typical to find cakes like this that use burnt sugar syrup. You can buy it online at Kalustyan's and Amazon. I've seen recipes online, although most of them look like caramel, which I don't believe is quite the same thing. I used the molasses sold at the natural food stores in France, which I think is (or tastes close to) blackstrap molasses, which is often sold in the molasses aisle alongside the regular mild varieties of molasses. Black treacle can also be used.
For the dried fruit
1/2

cup (50g)

dried unsweetened (sweet or sour) cherries

1/3

cup (90g)

prunes

,

pitted and diced

1/2

cup (80g)

raisins

1/2

cup (90g)

candied orange or lemon peel

,

diced

1/4

cup (35g)

dried currants

4-5

tablespoons (60-75ml)

dark rum
For the cake
1

cup (140g)

all-purpose flour

1

teaspoon

baking powder

,

preferably aluminum-free

1/2

teaspoon

kosher or sea salt

1

teaspoon

ground cinnamon

3/4

teaspoon

ground allspice

1/4

teaspoon

ground cloves

1/2

teaspoon

freshly grated nutmeg

4

ounces (115g)

unsalted butter

,

at room temperature

3/4

cup (155g)

packed dark brown sugar

2

large

eggs

,

at room temperature

2

teaspoons

vanilla extract

1

teaspoon

aromatic bitters

,

(optional)

1/4

cup (60ml)

blackstrap molasses

,

(regular molasses can also be used)

3/4

cup (80g)

walnuts

,

lightly toasted and coarsely chopped

1/3

cup (80ml)

dark rum

,

for aging the cake, plus more if desired
Mix the dried cherries, prunes, raisins, candied orange peel, and currants in a jar. Pour 4 tablespoons of rum over the fruit. If they aren't covered with rum, or if your fruits are on the dry side, add the additional tablespoon. Cover the jar, shake it and let the fruit sit for at least 24 hours or up to one week. (Although you can let it sit for longer.)

To make the cake, preheat the oven to 300ºF (150ºC.) Butter an 8 1/2- to 9-inch (23cm) loaf pan. For extra insurance, you can line the bottom of the pan with parchment paper.

Whisk together the flour, baking powder, salt, and spices in a small bowl. Set aside.

In a stand mixer fitted with the paddle attachment, or by hand in a large bowl using a spatula, beat the butter and brown sugar on high speed for 3 minutes, until light and fluffy. On low speed, add the eggs one at a time, stopping the mixer after adding each egg to scrape down the sides.

Stir in the vanilla, aromatic bitters (if using) and molasses. The batter may appear a bit curdled. If so, beat it on high speed for a few minutes which will aerate it and bring it back together. Remove the bowl from the mixer and stir in the flour mixture by hand, mixing it only until the dry ingredients are abotu three-quarters combined. Fold in the rum-soaked fruits (they should have soaked up most or all of the rum; if there is a small amount of rum in the jar, like a tablespoon or less, add that to the batter, too) as well as the walnuts and stir just until combined but do not overmix.

Scrape the batter into the prepared loaf pan, smooth the top, and bake until a toothpick inserted into the center comes out clean, about 1 hour, 15 minutes. (The original recipe said 1 hour, 45 minutes, but mine was done sooner, which may be because my loaf pan is narrower and higher than a typical loaf pan.) Remove from the oven and use a toothpick to poke about 50 holes in the top. Pour the 1/3 cup of rum all over the cake. Let the cake cool completely.
Notes
You can "feed" the cake by wrapping it in cheesecloth or muslin that's been soaked in dark rum and putting the cake in an airtight container at room temperature. Check the cake every few days and tipple a tablespoon or two of rum over the cake if it dries out. Mine was wrapped in rum-soaked cloth for three weeks, kept in a plastic container, and it did just fine. (You can find some tips here which describes the process using parchment paper and tin.) There's a picture of the cake that I took a few weeks later after the recipe, and you can see how much it's changed after absorbing extra rum, with the ingredients in the cake melding nicely together.
Not sure how long you can continue to keep the cake that way (the USDA says traditional fruitcake can be kept 3 months in the refrigerator, up to a year in the freezer), but I can say for a fact that it will keep at least three weeks. If you keep it longer, let me know in the comments!
jason