Butterscotch Caramel Blondies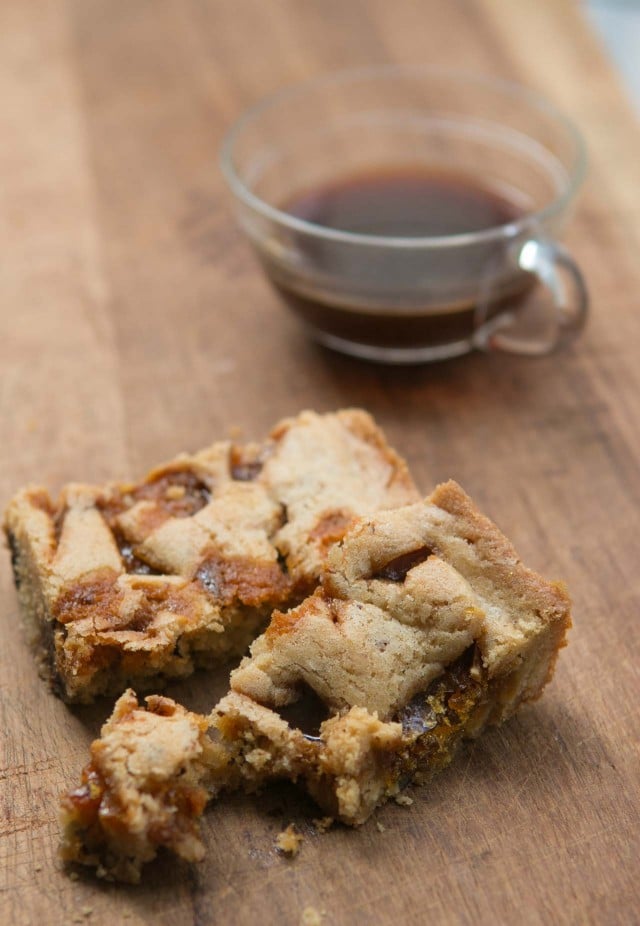 I've been in San Francisco this week, doing some events – which is actually an excuse for eating my way around town. San Francisco is a city that seems to reinvent itself every few years. But what thing that keeps going in the same direction is the quality of the food and the ingredients that are available.
I've spent time with a French artisan butcher, met the master of laminated pastries, and gorged in the palace of the reine (queen) of the Kouign Amann, and all I can say is "Wow!"
Like me, a number of people who were influenced by the food culture that's flourished in the Bay Area have scattered far and wide, and gone off to do our own things. And like me, Claire Ptak of Violet in London seems to be doing the same. I haven't been to her bakery but she worked at Chez Panisse after I left for a number of years, before heading to England to open a cake shop. I never got to meet her…although I'm sure everyone else in the Chez P. kitchen had a lot to say about me ; )
Claire is the author of The Violet Bakery Cookbook and right off the bat, let me just say this: I love the design of this book. The font, size, and photos reminds me of one of those issues of Vogue magazine from the 1970's with a clear, crisp font and slightly saturated pictures that makes me wish I was in London, having a spot of tea, accompanied by a slice of cake or a scone with some clotted cream.
This year has been a banner year for cookbooks when I had dinner with my publisher in New York early in the fall, he brought along a big stack of cookbooks to replenish my collection. I wasn't sure what he was thinking, since I had to lug everything home. But once I dove into them, I was happy to have so many excellent new cookbooks in my kitchen. So many recipes that I wanted to try, so little time! (And after a week in San Francisco, so little stomach space left.) And this book was amongst that stack.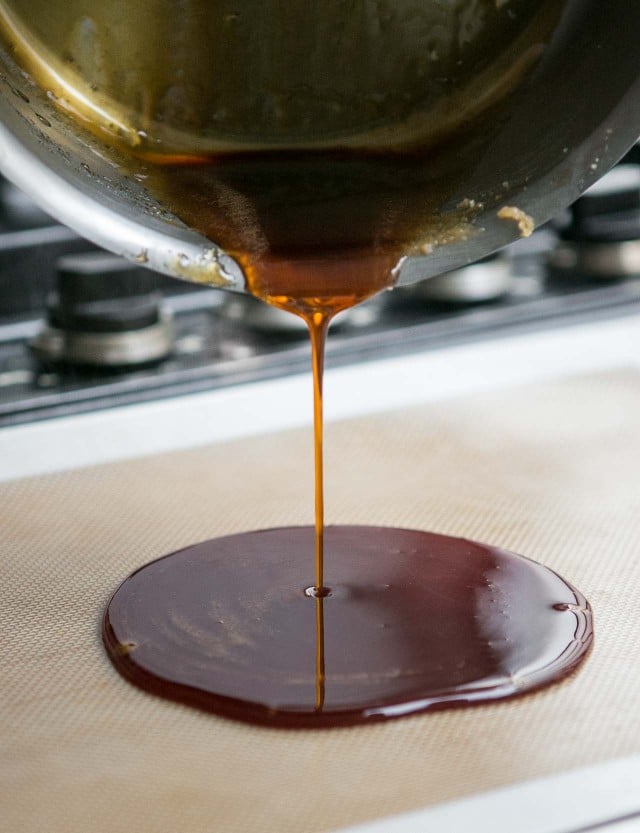 Even though I thought I was overwhelmed with so many great cookbooks – and I had limited stomach space, I am a trooper and boldly forged ahead. (Another one prompted me to make shrimp and chive potstickers, which were also a big hit.) And it's hard to blame me because with a name like butterscotch caramel blondies, what's not to like? Wispy chards of caramel baked onto a base of buttery, butterscotchy batter, which result in soft, chewy bars that don't overwhelm, but hit the right balance.
Unlike other baked goods, these were actually better the next day, when the crumbles of crisp caramel softened up enough to make them "meld" better to the blondies. They were definitely a snack or dessert bar that was worth making more room for.
The one trick to this recipe is getting the caramel thin. It's okay if it's on the thicker side – I've learned not to try to show certain things, like flaming marshmallows or working with scalding caramel, while trying to snap the pictures at the same time.
And my live-in help didn't quite understand the urgency needed to get it thin as I attempted to capture the moment on camera while urgently giving directions in two languages before the caramel could cool down, while I futzed with all those dials on my camera. (In his defense, I kept stopping him so I could get a picture.) But it's not difficult if you're on your own: As soon as you pour the caramel, lift the silicon sheet, getting it even to vertical, to encourage the hot caramel to spread thinly. Note that the caramel is very hot so some may want to wear oven mitts.
But not to worry if a few pieces are on the thicker side. The first day they might be a bit toothsome. But after sitting overnight, they'll soften and meld nicely with the buttery blondies underneath. Pas de problème, as they say in France.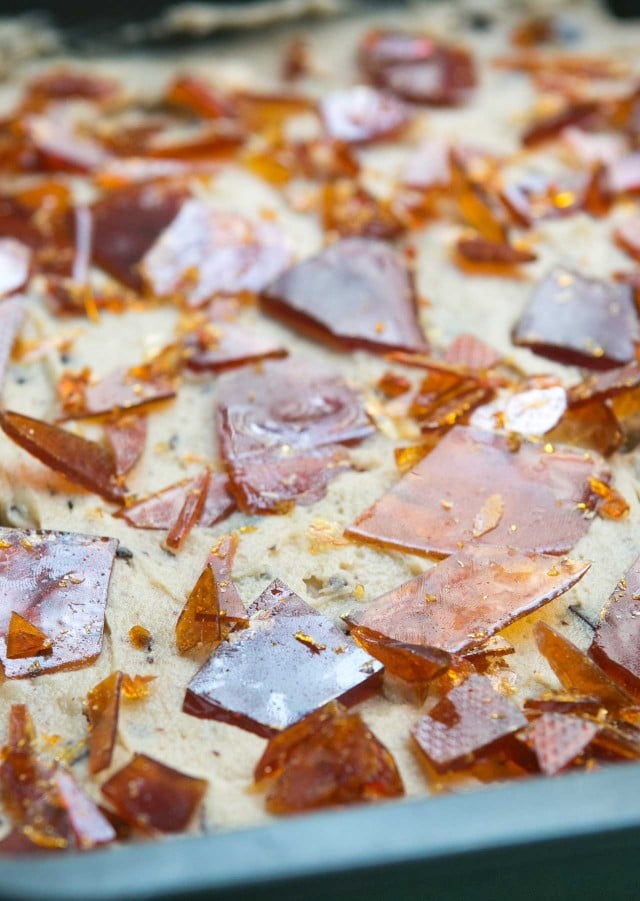 I had a little trouble capturing how good these are in a picture. Part of it was I kept tearing off pieces of them as I sliced. (And the other part is that I've only figured out how to use about 3% of those dinky little knobs on my camera.) However don't let that stop you from making these. I forgot the French word that Romain used to describe them, but they're pretty terrific, perhaps even incroyable.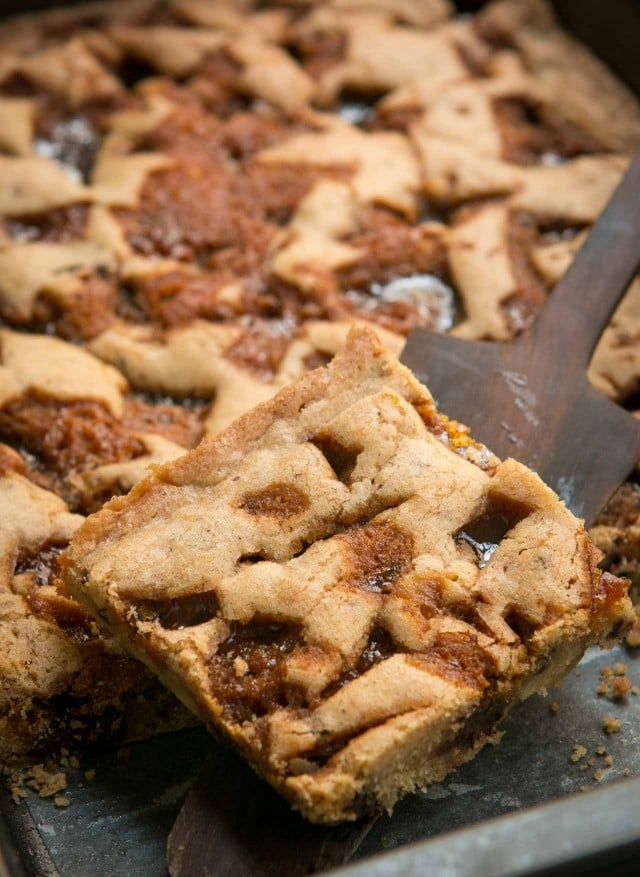 Butterscotch Caramel Blondies
Adapted from
The Violet Bakery Cookbook
by Claire Ptak For more detailed instructions on making caramel, check out my post
How to Make the Perfect Caramel
. Yes, I'm aware the baking pan sizes are listed a bit differently in inches than in centimeters. But Claire recommended the metric-sized one, which is likely the size available in England, and mine I lugged over from America, and used that. I think if you have a pan that is close to either of those sizes, you'll be good to go. Any chocolate that you have will do. Claire uses milk chocolate but I found they were good with dark chocolate, which is what I used. The chocolate should be chopped in irregular pieces, roughly the size of shelled almonds, more or less. I did use a
silicone baking mat
for the caramel and highly recommend using one if you have it. If you don't have one, a lightly greased baking sheet will do but work fast as the caramel does cool quickly. Note that the recipe is in metrics primarily and I recommend if you have a scale to use it when making this recipe. If not, measurements in cups and measuring spoons are offered.
For the caramel
3/4

cup (150g)

granulated sugar
For the blondie batter
1 cup plus 1 tablespoon

(250g)

unsalted butter

2

large eggs

,

at room temperature

1 3/4 cups

(300g)

light brown sugar, packed

1 1/2

teaspoons

vanilla extract

1 3/4 cups

(240g)

all-purpose flour

1 1/4

teaspoon

baking powder

,

preferably aluminum-free

1

teaspoon

kosher or flaky sea salt

4 1/2 ounces

(125g)

chopped good-quality milk or dark chocolate

,

bittersweet or semisweet
To make the caramel, melt the granulated sugar in a skillet or wide saucepan until the sugar melts. Stir gently, only enough to encourage it all to melt evenly. Once it's a deep amber brown, immediately pour the caramel on a silicone baking mat or lightly greased baking sheet. Quickly lift and tilt the silicone sheet or baking sheet so the caramel is as thin as possible. Set aside to cool, then break into shards.

Preheat the oven to 325ºF (160ºC). Butter a 9″ by 13″ (approximately 30 by 20cm) and line the bottom with parchment paper.

Melt the butter in a small pot over low heat. Remove from heat and set aside.

In a large bowl, whisk together the eggs, sugar, and vanilla until light and smooth. Whisk in the slightly cooled melted butter.

In a medium bowl, whisk together the flour, baking powder and salt. Using a spatula, gradually add the flour mixture to the eggs and butter, almost until completely combined. Add the chocolate pieces and mix just until combined.

Scrape the batter into the prepared pan and smooth the top. Scatter the shards of caramel over the surface of the batter and bake until the center just feels like it's just set, but is still quite soft, about 30 minutes. Best to err on the side of underbaking than overbaking as you want them soft in the middle when cool.

Let cool in the pan and cut into squares. Although just fine eaten the same day they are made, I found them even better the second day as the caramel pieces mellowed and melded better to the chewy blondies.
Notes
Storage: The blondies will keep for up to four days at room temperature, in an airtight container, or frozen for up to two months.
Related Posts and Recipes
Ingredients for American Baking in Paris