Globus
Yes, Switzerland has a reputation for neutrality, but the food in Switzerland is often an international mix. There are some wonderful local specialties but a good number of other dishes are influenced by its neighbors; namely Germany, Italy, and France. So it seems only fitting that the most wonderful department store in the country is named Globus, because its name seem to incorporate a philosophy of not just looking within the borders of Switzerland, but outside of them as well, in search of all things good to eat. And that certainly seems true of the grand food hall in the branch of their store in Lausanne.
Many department stores in cities around the world have entire floors dedicated to foodstuffs and are good places to make a whirlwind food tour, which I did with my tour group recently. But even on my own, I usually make it a point to hit one when I travel, such as the KaDeWe in Berlin, Marks & Spencer in London, or the Grand Épicerie in Paris. But whereas KaDeWe is super orderly and La Grand Épicerie can feel like a train station at rush hour, the food halls of Globus have an air of calm and comfort. And yes, even when you're in the presence of – *gulp* – my tentacled nemesis: octopus made into sausage.
It's always a pleasure to stroll the aisles and the various kiosks at Globus, while carefully avoiding anything with tentacles, which feature everything from local seafood (from Lake Geneva, just down the hill), lots of organic fare (the Swiss have seemingly embraced organic more so than most of their European counterparts), to a fairly astounding selection of Gruyère cheeses, spanning in age from 6 months to three years. Yet it's not all Swiss cheeses; French, Italian, and even English cheeses are well-represented, and I was especially taken with the massive cylinder of Stilton getting a good soaking courtesy of a bottoms up'd bottle of port wine.
There are other regional specialties as well, ranging from swirls of baked meringues meant to be dipped in rich double-cream from Gruyère – which is probably the best thing you'll ever taste in your life – to Moutarde de Bénichon, a favorite condiment of locals made from reduced pear syrup (vin cuit), spices, and a hit of mustard. Although I have to say, I bought some from an artisanal producer last time I was in the region and while it sounded like all the things I would like cooked into one, there's something about it that doesn't do it for me. But if you mention it to locals, they get rapturous and dewy-eyed, because many associate it with a beloved homemade version. So I think it's just me and if you're in the area, you should try it.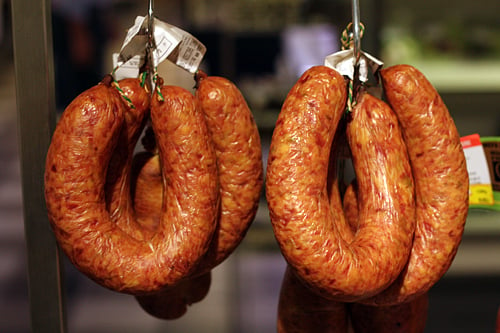 It's impossible to sell sausage in this region without offering at least a few kinds of smoked sausage with cabbage, as well as Gruyère cheese of all ages. Because it's such a popular item, behind the cheese counter are nearly a dozen kinds but a showcase offers pre-wrapped slabs (and tastes!), ready to be taken home and grated into a bubbling fondue, or just snacked on with a glass of some of the local white wine which I like so much.
There are extensive take-out foods, ranging from handmade Italian pasta to filets of entrecôte, spiced and seasoned, ready to be grilled off. Which I don't think my hotel would appreciate, but am sure the locals do.
As a lover of anything with carbohydrates, spätzle (or späetzle) is at the top of my list. Sauté up a skillet of these little irregular scraps of dough in enough butter to brown them nicely, and hold back on anything else – except maybe a few flecks of herbs, for color – and I'm happy. Very happy. Very, very happy.
Another regional favorite is viande sechée or air-dried beef (which, as you probably guessed…) is also a favorite of mine. And it's best enjoyed before a rich pot of fondue. I love the stuff, although it needs to be sliced extra-thin, like a papier de cigarette, so you can see through it. And it kind of irks me when people at charcuteries in Paris cut it too thick, most likely to make some additional money off people who request ten slices, and they figure ten slices as thick as a cardboard carton are going to weigh a lot more than ten cigarette paper-like slices. So I stopped buying it in Paris because no matter how hard I try, their electric slicers never seem to be able to go down to the lower numbers on their thickness dial, to get it right. Anyone know any Swiss charcuteries in Paris?
I often warn friends and guests not to try lardo when in Italy (or in Switzerland) because once you try it, you'll get hooked and you'll never want to stop eating it. Lardo di Colonnata is cured in marble and has a delicate taste; it should be very thinly sliced and is best when draped over grilled bread, still warm from the fire, drizzled with good olive oil and perhaps a few flecks of fresh rosemary leaves. And that's it. There's really no need to do or add anything else to it.
Even though the electric meat slicers seem to have different settings than those in Switzerland, one thing France does have over this part of Switzerland is the bread. I'm always sorry when to go to a bakery and find that even the heartiest, roughest looking loaf disappoints when sliced open. Invariably under the earthy crusty, the interior is airy and tasteless. I always make a pit stop at Brezelkonig just outside the Globus entrance for a pretzel (sometimes split in half and layered with a few thin slices of viande sechée), and it's nice to know that the bakery counter in the store offers the loveliest breads I've seen in Lausanne in case I ever decide to make the big move.
It's generally associated with France, mostly because of the folklore surrounding it, but Absinthe was invented in Switzerland, and it's a distillation of various herbs, including wormwood, which gives absinthe its unsavory reputation. I'm not a huge fan – perhaps because I'm more sweet than savory? – although I do use it for making absinthe cakes. But since the other day, I've never seen it used for baking anywhere else, until now. Absinthe is baked into, and flavors, hyper-thin wisps of Les Biscuits de la Fée Verte, each with the strong scent of anise and absinthe packed into each undulating, potato chip-like cracker.
Of course, there's the various eaux-de-vie distillations that Switzerland is known for, and Globus carries over four thousand different labels and brands of wines, liquors, and spirits.
There's also a riff on the caramelized almond tart from Chez Panisse, who version possibly precludes the one from the restaurant in Berkeley…
…and it wouldn't be Switzerland without rösti, shredded potato cakes cooked until golden and crisp, when done properly. Rösti is one of the few things I never order in a restaurant unless I can see one first, because it's so, so disappointing when one is set down in front of you and you eagerly stick your fork it in, only to find it's soggy. So when I saw these, I was ready to take a few home with me, to avoid future disappointment.
And being Switzerland, there has to be chocolate of all sorts. The dark chocolate-covered hazelnuts with a roasted Italian hazelnut in the middle are ridiculously addictive (I made the mistake of opening a package shortly before dinner, and ended up eating nearly all the way through it by myself), and hazelnuts find their way into tartufi, soft truffles made with ganache.
But I thought the prettiest were the tablets of chocolate. And yes, eating all this chocolate means I will never have tablettes de chocolat, or six-pack abs, as they say in French. But I'm comfortable with that. (Okay, not really. But what am I going to do?) So it's a good thing is that Lausanne is a city of hills, which makes rolling home easy. And that's exactly what I did.

Globus
5, rue du Pont
Lausanne, Switzerland
(Check website for other stores and locations in Switzerland.)


Related Links
Now THAT'S What I Call a Swiss Cheese Sandwich
Librairie Gastéréa: Gastronomic Bookstore
Vert d'Absinthe: Absinthe in Paris
Spaetzle (Smitten Kitchen)
Kasespätzle (Delicious Days)