La Ferme de Viltain
It's not a drag to be in Paris in August. In fact, those who stay in town always say the same thing – "This is the best time of year to be in Paris." (Or, "Wouldn't it be incroyable if it was like this all year?") Even though Paris is a lot smaller, imagine if 85% of the people left New York City or San Francisco in the summer, how different the cities would be.
My friends who have kids have told me they wish they could go on vacation during another month because it's harder to travel in August; Airfares, trains, and hotels are more expensive, and there are strikes to contend with. But for those of us who remain in the city, we have almost the whole city to ourselves.
One paradoxical thing about August in France is that many of the vendors at the markets also go away on vacation, which is exactly when all the great summer fruits and vegetables are in season. But I guess since there are fewer customers, they figure that they may as well close up shop and hit the road, too.
Open all year is La Ferme de Viltain. Cows, goats, and sheep don't stop producing milk just because the humans want to go away, and some of the best ice cream makers in Paris, including Martine Lambert, Berthillion (who close their shop in August), and Glazed, get their milk from the Ferme de Viltain.
La Ferme de Viltain not only is a dairy and cheese producer, but is a farm. And you can pick your own produce at la cueillette, as they're called in France, or the "you pick," as we say in English.
I headed to the farm with Jane from La Cuisine cooking school, who's was also remaining in Paris, for a half-day trip. Looking at the map, I saw the farm isn't accessible to Paris by public transit. So we took Baccara up on their offer to try their driver service.
(The driver was very nice and arrived early. And the last time I saw a car that clean was when I had a summer job in Long Beach, California as a teenager, unloading brand-new cars off the boats that arrived from Japan. I felt bad stepping inside his spotless van after traipsing through the dusty farm fields with my grubby sneakers.)
The farm offers tours of the dairy facilities daily, where you can watch the milking, which is adjacent to their store which is too big, and too well-stocked to call it a shop. Featured at their store are their dairy products, which include crème fraîche, fromage blanc, butter, yogurt, and milk, available raw or pasteurized.
You can also buy ice cream from Berthillon and other glaciers that use their milk and cream, although it might be tough to bring them back to Paris. (Even in August when there's a lot less traffic clogging the roads in and around Paris than normal, it's still at least a 35mn ride.) For those who are a lot less stressed out than I am about transporting ice cream, you could take back one of the spectacular ice cream cakes, frosted in burnished meringue. But I left them there to admire from the other side of the freezer doors.
The sleek store sells produce from out in the fields, as well as conventional produce – because you can't make Rosemary gimlets without limes and I don't think many limes grown in, or around, Paris. Judging from the other shoppers, locals use the store as their grocer, but artisanal products take up a majority of the store.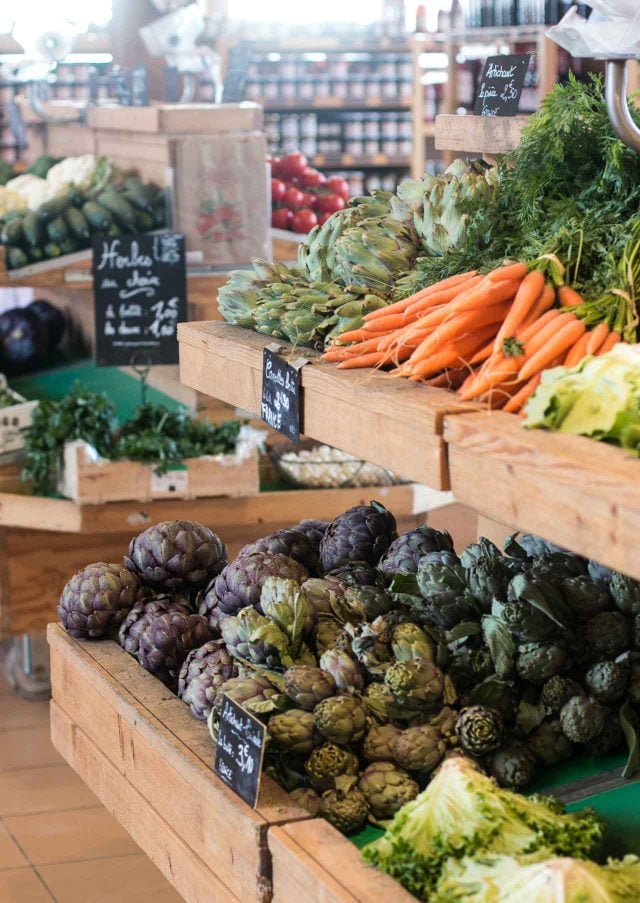 Being France, and being a dairy farm and cheese-making operation, the cheese display is definitely something to behold. They've offer cheeses that they make, as well as top-notch cheeses from across France. The second picture in this post are fresh cow's milk cheeses wrapped in paper that are still soft and creamy.
These goat cheese hearts dusted with ash caught my eye, as did the raw goat cheese disks crusted with grains of mustard and herbs.
Most of the goat cheeses in France aren't always named like other cheeses are, such as Livarot, Comté and Langres, Mimolette. They'll often called lingots (ingots), briquettes (bricks), crottes (poops), or crottins (turds), or boutons de culottes, underwear buttons, based on their shapes.
Even though you don't see them often in restaurants and cafés (other than the ubiquitous Dijon mustard), the French are getting into condiments, and love ketchup. Even though it's not my favorite condiment (bring on the aïoli!) it's nice to see some smaller companies elbowing onto the ketchup* scene, normally dominated by the big guys. This company, named Ketch'up, makes a line-up of ketchups with beets, carrots, and piment d'Espelette, dried Basque chiles that pack a moderate amount of heat.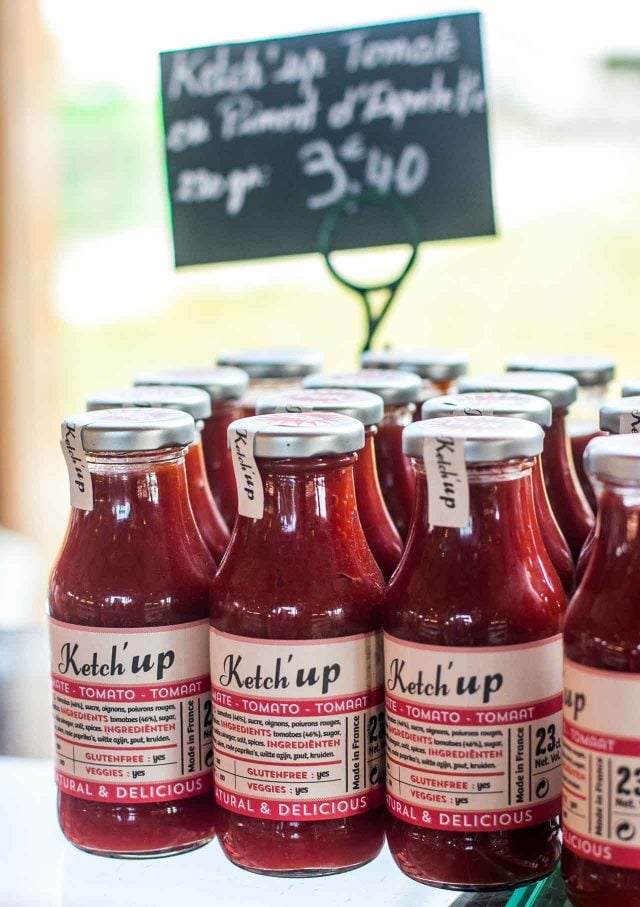 The French are especially fond of jam. My Frenchman can go through a half-pot at breakfast, and I've compared notes with friends who also have French partners, who are also surprised at how their breakfast mates can quickly put away a jar of jam. Romain puts so much on his toast that most of it slides off into his café au lait. Because I'm not a jam-making machine (even though it sometimes seems that way) I've taken to rationing him.
There are jams here in every color, flavor, and fruit. These jars of griotte (sour cherry) I thought were particularly charming, but I don't buy jam because the way it disappears in my house. Seriously, if I had to pay for it, I'd have to move to the poor house.
French people also love soup. And although I don't buy soup either, this one does look rather tempting…especially because it comes in that great jar…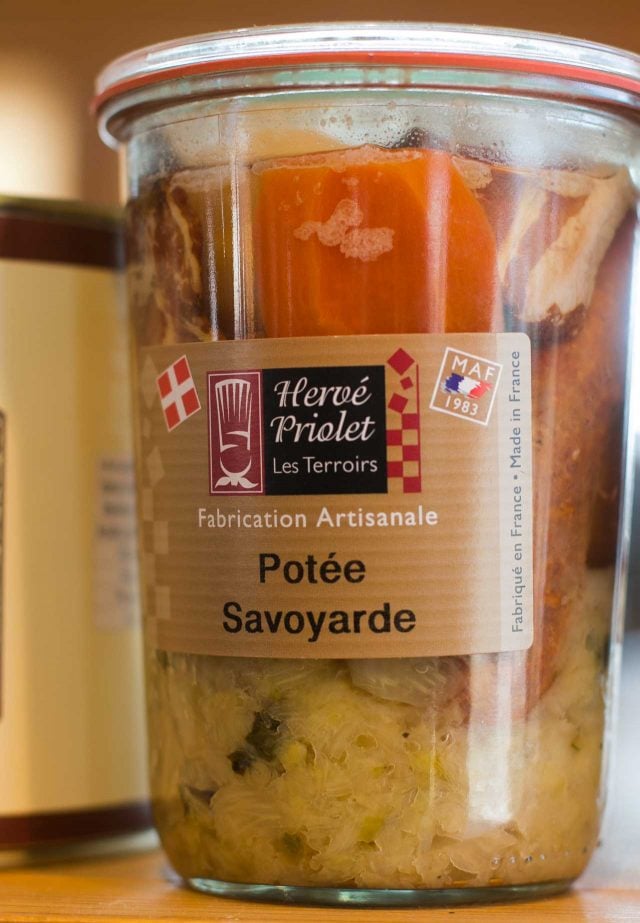 There are also shelves of pâtés, terrines, and this Pot'je Vlees, a Flemish meat spread, which I did a bit of digging to learn more about, but my Flemish isn't very good. However the La Grande Épicerie website says to serve it very cold, with hot French fries (is there another temperature for serving fries?), and a green salad. The label recommends almost the same accompaniments, and adds "good beer" to the meal. Sounds good.
Speaking of potatoes, I can't say I've ever seen cooked potatoes in a jar. But these French potatoes have their own aura and some say that since they are grown near salt marshes on an île, they have the slight taste of the sea. And the skins are so fine, even some of the fussy skin-peelers here will eat them in their entirety. I recently saw three different cooks meticulously peeling tomatoes for tomato salads, and another person peeling nectarines. I wonder if they peel blueberries and cherries, too…
There's duck confit, ready to fry up. And if you don't eat the skin of that, you have no business being in France.
The store also had a great butcher market, with sausages – dry and fresh – coming from La Ferme Elizaldia, also in the Basque region.
I picked up a few dried sausages for summer picnics.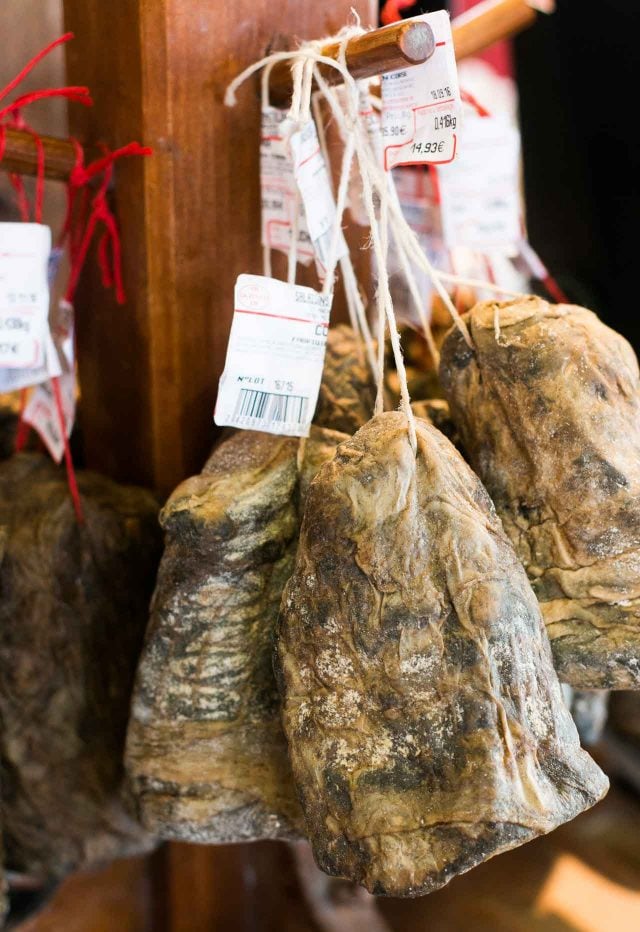 I didn't pick up the ones with chorizo, although I do like spicy sausages. The large chunks of fat are not for the faint of heart. And since I recently had to squeeze myself into a Speedo swimsuit when I went to a public pool and forgot that men can't wear regular swimsuits in pools in France (if you forget, they sell them in vending machines, as well as the bathing caps for men that many pools require you to wear…even if some of the other men have more hair on their back than you have on your head), I passed on these plump, rosy beauties.
We decided to do our shopping later, since we didn't want to lug bottles and sausages around with us, and hit the fields, where people were picking away.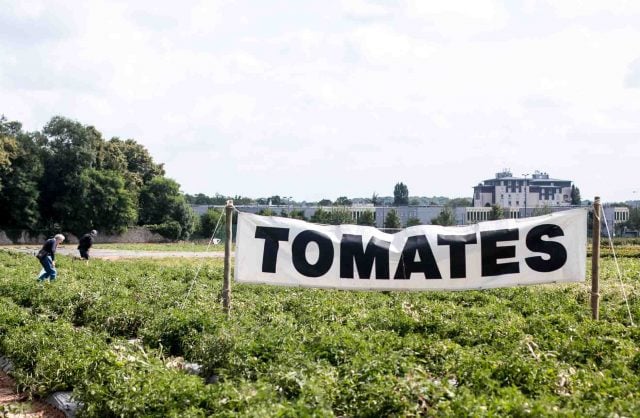 It must be pretty early in the season as most of the tomatoes were still green. A few people were walking by with baskets of red tomatoes although I didn't see any on the vines, and I wasn't ready to make green tomato chutney so early in the season.
For those who don't want to get down and dirty, you could buy already picked produce out in the fields. This fresh garlic looked enticing although it'd be a labor of love to peel all those tiny, sticky cloves. (Believe me, I've done it…)
Am not quite sure of the difference between a cucumber and a cornichon, although cornichon seems to be a particular variety, the one that's used to make the pickles. The ones above were the size of squat bananas and you'd need a pretty big barrel if you were going to pickle them. And if you were serving them on a platter alongside pâté and dried sausages, you'd need a very big plate to hold them.
We scratched our heads at someone who had loaded up their wheelbarrow with a half dozen zucchini that were as long as baseball bats, and as thick as footballs. You know, the ones that neighbors with overflowing gardens try to foist on you, that don't taste like anything and are as tough as a wooden canoe oar.
We weren't sure what the point of buying them was since there were lots of smaller zukes in the fields. And since everything is sold by the kilo, rather than per fruit or vegetable, it seemed odd to load up on the larger ones. Maybe they just don't like picking all that much?
Someone did pick these lovely smaller cornichons, which resembled Kirby cucumbers, which I like sliced for salads and snacking. If you want to keep it local with the fruits in your cocktails, you can skip the lime-based gimlets and make Chin Ups with cukes instead.
Amongst all the plants, dirt, garlic, and grass, I came across this recipe for Rhubarb Pie in the fields, that calls for frozen pie dough or puff pastry. I guess that's why the prep time is only 20 minutes. And I guess if you're spending your time picking your own produce, you can take a break from making the dough and not feel guilty about it. FYI: People shouldn't feel guilty about not making their own puff pastry, but pie dough is one of those things that if you're going through the trouble to make a homemade pie – and pick the fruit and berries for it – I would spend an extra ten minutes on making the rolling my own dough. (I'd also reduce the 600g/3 cups of sugar in that recipe too.) Just my 2 cents…
One thing about Paris is that berries, with the exception of strawberries, cost a fortune at the markets. Picking berries is quite a bit of work so the lofty prices are justified. (Although I've not seen local raspberries or blackberries at my market.) So if you're willing to put in the time and effort, you can come here and load up to your heart's content.
A nice couple walked by and I noticed their wheelbarrow was ridiculously loaded up with just-picked raspberries. When we asked what they were going to do with them all (and if they said, "We're going to make pies with these gorgeous raspberries, with store-bought pie dough," I would have made an offer to buy all those berries from them), they replied that they were going to make jam out of them. If Jane wasn't there with her cameraphone at the ready, Snapchatting with me, I might have made a face-dive into them.
I didn't want to ask her if her other-half Hoovers up jam like mine does. But those would not have made it back to Paris with me. I would have eaten them all in the car on the way home. (Don't tell, but we did eat a few in the fields. Thankfully they don't weigh you going in to the field, then later on the way out.)
We had a pretty great morning at the farm and were back in the city by noon. We both did some shopping and while it's a trek out here if you don't have a car, I think if you were visiting Paris, it's an interesting place to visit if you can get yourself here. From my place, according to Google maps, it's three métros, a bus, an RER C train, then a forty-five minute walk from the station. So you'd have to rent or hire a car.
I don't have a car, but my jam-junkie does. So perhaps we can make a deal for rides in the future.
La Ferme de Viltain
Chemin de Viltain
Jouy-en-Josas, France
Check the website for opening hours and times for guided visits, which vary depending on the season.
---
Notes
There are a number of cueillettes outside of Paris, some in the Seine-et-Marne region, which is a little more rural than this region, although Le Ferme de Viltain has a sleek store, fresh (and aged) cheese, and other foodstuffs on offer, as well as tours of the dairy facilities. You can find other "you pick" farms using a search engine along with the word "cueillette." Many have websites that list their locations and opening hours.
The car service, Baccara, had offered my friend a ride with no talk of a mention on this site. (They didn't even know I was going.) It's a premium service that offers half-day and day-long trips and outings. To visit the farm, you'll need a car or a driver.
*While ketchup is considered a sweet tomato condiment these days, closely associated with the United States (and increasingly, other western countries), it's origins said to be in Asia, the original made with fermented fish. The first recipe for making a tomato-based ketchup appeared in 1812.