Liqueur de noix: Green Walnut Liqueur
I recently stayed with some friends who have a house in the Lot, a lesser-visited area of France which is really beautiful. Because it lacks beaches, that's seems to be the only thing keeping it from being an ideal summer vacation spot for hoards of tourists. Consequently, I was able to score some gorgeous old bistro wine glasses at a local flea market, which would've been ten times the price in Paris or Provence. (Actually, in Provence, they would've been twenty times the price.)
And speaking of amazing deals, when I spotted a few walnuts trees loaded with green walnuts behind their house—and the huge pool…and the immaculate vegetable garden…and the fabulously-equipped kitchen, they told me to take some, as they won't be there in the fall, when they're ready to harvest.
They'll be gone? Party in the Lot, everyone!!
Near the end of June, specifically the 23 and 24th, is when the walnuts are traditionally harvested in Italy, although in the center of France, the walnuts are usually just right around the middle to the end of July. They're perfect to use for liqueur-making when the walnut, and a slightly-crackly shell, is starting to form in the center.
So I picked a big bag and hauled them back to Paris with me to make liqueur de noix: green walnut liqueur. Otherwise known as Nocino. When I used to make a version of this back when I lived in health-conscious California, my fingers got so stained from the walnuts, people I didn't know thought I had a smoking problem. Around here, no one would give me a second look about that.
So if you're concerned, you might want to wear gloves. But I like to wear my cooking stains proudly, and often leave the house with beet-stained hands, chocolate between my fingers, and flour in my eyebrows. As long as you don't wear sweats with holes in the backside or Crocs around here, you're okay.
(Although when I worked at the fish market and cut up fish all morning, well, that was a different story…my hands could clear a métro car in six seconds flat; people would flee, droit and gauche.)
The good thing about liqueur de noix is that it doesn't stink. In fact, it has a dreamy, espresso-like walnut aroma that's pretty intoxicating. Some people like to drink it by itself, after dinner as a digestive. That's pretty high-test for me, but I frequently use it to flavor custards and ice creams.
But most of the time, I find myself simply pouring a few spoonfuls over a scoop of Vanilla Ice Cream. Call me nutty for green walnut liqueur, but that's my idea of a great dessert. Especially when served in one of my new wine glasses, which I hope to get as much use from before they begin their inevitable disappearance. As most wine glasses around here eventually do, unfortunately.
Liqueur de noix
Adapted from
Room for Dessert
Use the absolute (not 'Absolut') cheapest vodka you can find. It's lunacy to use something pricey when the least-expensive swill yields similar results. And believe me, French peasants ain't cracking open bottles of Stoli to make this. Be very careful cutting the walnuts. They're tough and if you're not careful, the knife can slip. I use a cleaver, tap it into the skin of the green walnut, then lift the cleaver and whack it down on the cutting board to split it, keeping my other hand well out of the way. Note that each batch of liqueur de noix will be different. I've made some that were lovely and sweet, others that had a distinctive bitter edge. For the first few days, the steeping walnuts will take on a extraterrestrial-green hue, which is normal. After a week or so, it'll get darker and darker.
2 1/2

cups (500g)

sugar

1

liter

vodka

2

sticks cinnamon

10

whole cloves

1/2

vanilla bean

,

split lengthwise

in

zest of one lemon

,

unsprayed, removedwide pieces with a vegetable peeler

30

green walnuts; washed

,

dried, and quartered
Mix everything in a large jar, one that will be big enough to hold everything. Stir until the sugar is mostly dissolved, then add the walnuts.

Tightly close the jar and let stand for two months on the counter, shaking the jar every day.

When it's ready to bottle, filter the liqueur through cheesecloth or a coffee filter and pour into a clean bottle.
Notes
Storage: Liqueur de noix will keep for years stored in a cool, dry place. I use to keep mine in the refrigerator, but now I store it on my liqueur shelf and haven't noticed any difference.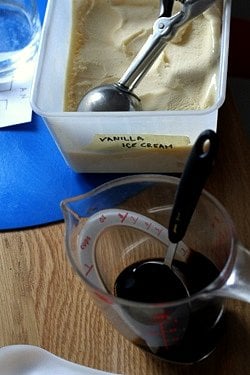 Related Links and Recipes
Green Walnuts (Mail order from Local Harvest.com)
Nocino (Simply Recipes)
Glyko Karythi: Green Walnut Spoon Sweet (About.com)
Shallot, Beer, and Cocoa Nib Marmalade
Vin de noix (Lucy's Kitchen Notebook)
The Real Deal: Balsamic Vinegar in Modena
Nocino da Napa (Married with Dinner)