One of the happiest days I've spent in my life was the one when I landed at the train station in Beaune, hopped in a car with a stranger, who took me to a cemetery out in the middle of nowhere. I found myself facing a large copper contraption spewing steam in the air, surrounded by bins of what looked like the outcasts of an agricultural experiment gone wrong, and a guy behind it all, wearing a red knit beanie and a fleece vest, to ward away the cold.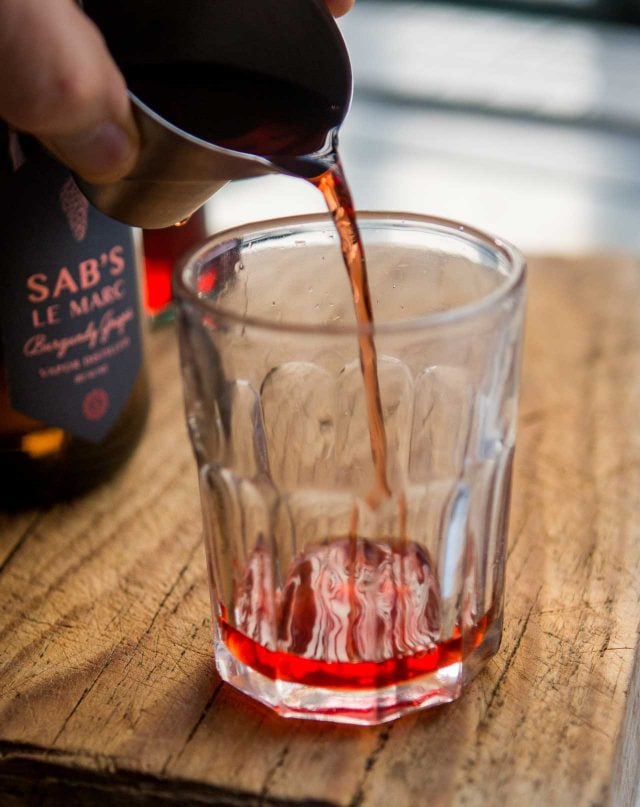 I did an Instagram video Story about it here. But I remember the day vividly. That was Mat Sabbagh behind the still, owner of Alambic Bourguignon. I was in the region doing research in Dijon for Drinking French and while drinking a mustard-flavored cocktail at Monsieur Moutarde, a local bartender I was having a drink with, urged me to go to Beaune to see Mat at work.
Mat is a distillateur ambulant (also called a bouilleur de cru), a traveling distiller who goes around the region, parks his truck (holding his copper stills) in a village, and distills anything people bring to him from their gardens and farms. There are only a handful left in France, but Mat, a Frenchman, quit his job in Los Angeles to return to France, and submerge himself in the craft of distilling, in a region well-known for its wine.
That day, Mat was hefting sludgy piles of gentian root from the still, having been distilled into a beautiful, crystal-clear liquid (above) known as eau-de-vie, or "water of life." When it comes out of the still, it's close to pure alcohol at that point, but he gave me a taste anyways. One tiny sip knocked me for a loop, and of course, it was so good, I wanted more.
I didn't plan it this way. I swear. But our arrival coincided with lunchtime. One thing that's great about France, is that when you are out in the countryside, the pace is much more relaxed and people are warm and friendly. The nice fellow who picked me up at the train station, a friend of Mat's, joined us for a hearty lunch, and a few other locals arrived – coincidentally – just as Mat was putting out something to eat.
As we were out in the middle of nowhere, I didn't see any stoves or ovens around, but I think he cooked this delectably crisp duck confit on one of the alembic stills. It really hit the spot, along with glasses of local white. Another thing that's a pleasure about getting out of town is that people in Burgundy enjoy white wine (most people in Paris favor heavier reds) and I've become more of a white wine person. A glass of brisk Chablis with duck confit, or a vin du Jura with a slice of Comté or creamy Mont d'or? Yes!
I featured Mat in Drinking French, but we had a tight shooting schedule for the book, as is inevitably the case when you've got a photographer with you and you want to shoot as much as you can in a limited amount of time. So Mat came to Paris to fix me a drink at Le Dôme. I'd brought him a bottle of American red apéritif bitters that he wanted to try, and he mixed it up with his marc de Bourgogne, an aged brandy that's distilled from the skins and seeds of the grapes after they are pressed for wine. The clear eau-de-vie is aged in oak barrels that were used for aging cognac, then bottled after four years of mellowing.
Since my visit, Mat's branched out. In addition to the marc de Bourgogne and fine de Bourgogne (distilled from the wine lees, purple yeasty grape slush left in the wine barrel after the wine is removed), he's bottling up eau-de-vie de Poire Williams made from fragrant local pears and le Gin, a maceration of juniper berries in eau-de-vie made from local grapes. One of Mat's goals has been to prevent marc and fine de Bourgogne, regional specialties, from going extinct. Both are in danger of falling into the category of "forgotten spirits" and there aren't any big brands doing marketing campaigns, and few in France have much knowledge of it anymore.
Mat sent me a bottle and when I cracked the wax-sealed cap off, I involuntary said aloud, "Oh, wow!" when I took a sniff. I made his Marcgronic with it, a Marc Negroni, mixed with equal parts red apéritif bitters and sweet vermouth, and took a sip.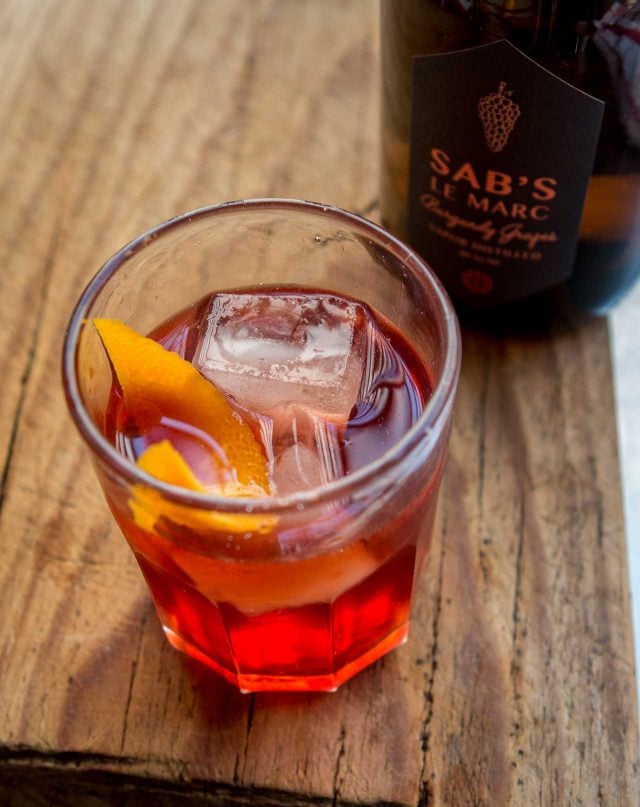 It was so good, I'm going to make this my house Negroni for a while. It's generously fruity, thanks to the herbaceous red vermouth and barrel-aged grape brandy, with some contrasting bitterness provided by the red apéritif, which also gives it an inviting color. So here's your invitation to mix one up!
[Sab's spirits are available on Mat's website, Alambic Bourguignon and Sab's Spirits. Shipping is limited to certain countries; inquiries can be sent through the website. Follow Mat and Sab's Spirits on Instagram. Mat will also be my guest today, April 11th, on my IGTV Instagram "Apéro Hour" Live at 6pm CET, Noon ET, 9am PT, mixing up the drink from his home in Burgundy. Click here on how to tune in! If you miss it, you can watch it in replay in my Instagram Stories up to 24 hours afterward.]
The Marcgroni
Although not the same as marc de Bourgogne, another high-quality brandy would work in its place
1

ounce

marc de Bourgogne

1

ounce

red aperitif bitters

, such as Dolin, St. Georges, Forthave, or Campari

1

ounce

sweet red vermouth

orange or grapefruit twist

,

for garnish
Pour all the ingredients into a short tumbler. Stir briefly.

Add ice and garnish with an orange or grapefruit twist.