Sain Boulangerie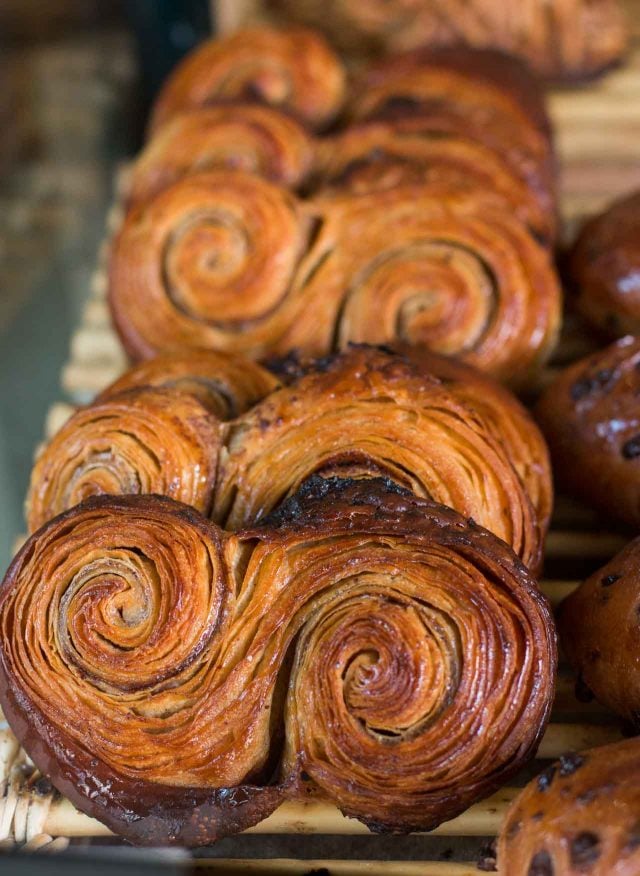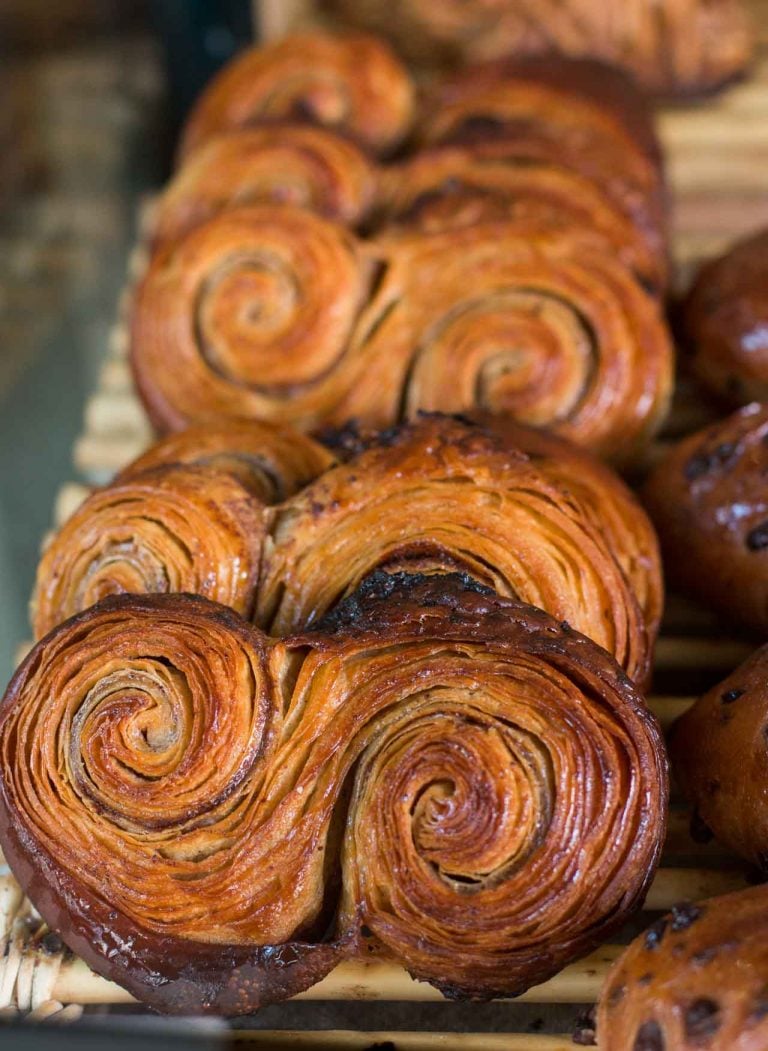 I was expecting something a little different when I took a stroll over the Sain boulangerie, a bakery I'd heard about, which was on my list of bakeries in Paris to visit. My friend Romina of Les Madeleines bakery was is in town, and she's always up to visit new places, or places new to us, so I arranged to meet her there. I figured we'd walk into a place with polished glass showcases, brass-tipped racks of breads, and a line-up of attractive pastries. Instead, we found an unassuming neighborhood spot, not a shop where the pastries were displayed like jewels, whose pastry counter was right on the sidewalk.
The sun was rather blinding the day we went, as we commandeered one of the squat stools on the sidewalk outside. I had trouble balancing on the tiny tabouret, so I multitasked by getting a little ab workout, keeping myself from tumbling over, while getting my fill of buttery pastries. It was a win/win situation. (Although the pastries seemed to get the upper hand by having the opposite effect on my midsection.)
Owner and baker Anthony Courteille worked at Le Grand Véfour, as well as in England and in Spain, is part of the younger generation of French bakers fighting against the industrialization of bread, and pastries. He is into long-fermentations of his doughs, which deepens and improves the flavors, and uses the skins from the apples that are packed into his Chausson aux pommes to make his natural yeast. We'd come for pastries, but you can watch the production of everything going on in the workshop, which is as wide open as the pastry counter on the sidewalk. Nothing is hidden.
While we were ordering some pastries, we both noticed the enticing smell of roasted hazelnuts coming from the kitchen and we simultaneously asked what it was. The Addict bars (above) certainly lived up to their name. The Tonka bean shortbreads I skipped since I don't love tonka beans, even though an acquaintance of mine with a chocolate shop in Bordeaux, Saunion, assured me the reason I didn't like them is because people put too much of them in things. He gave me one of his tonka bean-flavored chocolates, to prove it. I had to admit, he was right. But I'm still wary of it as I've had that waxy, furniture polish-taste of them linger in my mouth after trying pastries made with them.
The woman at the counter told us that we must order a Chausson aux pommes. I've learned that when in France, when someone tells you to eat something – even if they work at the place, and they might have other motives for getting you to buy something – in France, they are almost always right, and you should take their advice.
Although it didn't look all that spectacular and didn't have the fancy frilly edge of a traditional Chausson aux pommes, it was, indeed, excellent. Thankfully we'd taken her advice.
She told us that everyone in the neighborhood, when they stopped by, that's what they got.
Truthfully, their looks belie how delicious they are (above). Biting through the crackly exterior, a flaky shell of buttery dough crusted with coarse sugar, inside we found layers of caramelized apples with a deep, almost toffee-like richness. Hoo-boy, were those good. So good, they nearly knocked me off my stool.
The ones that day were definitely on the rustic side, but when I've gone back to the bakery for more, they were more polished. Either way, they're excellent and worth heading over there for in the morning. (I hear they run out of them as the day wears on.) But you'll find baskets of other pastries worth trying and all of them got a big thumbs up from us.
Although Sain is well-known for their breads, I know, I know…I didn't get any. I had two loaves of bread at home that we were working our way through. Plus, this was a pastry date, after all. And it's impolite to cheat on a date, isn't it? But they all look worth going back for.
Sain Boulangerie
15, rue Marie et Louise (10th)
Tél: 07 61 23 49 44
Métro: Belleville or Jacques Bonsergent