Slow Food: Salone del Gusto (Part 2)
Now that I've had a few days to digest everything I tasted at the Salon del Gusto, I thought I'd show you a fraction of what was on offer.
The event was an unparalleled opportunity to sample foods from all over the world, with a focus on Italy, of course, since that's where the event takes place. That meant an abundance of cured pork products and Italian cheese, like handmade ricotta which you could taste just after it'd been made, but also Mexican Chinantla vanilla beans, so ripe, fragrant and oily…and a few bars of chocolate stacked up here and there.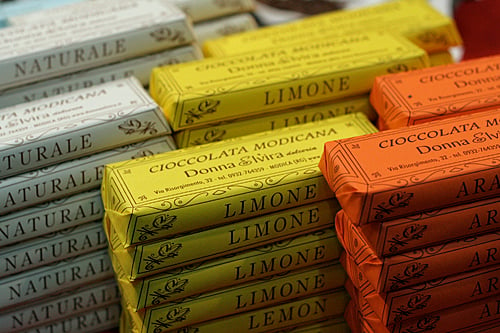 Even if you don't think you like sausage or ham, the ones sliced and served at the Salone were really the best of the lot.
And if you don't like pungent gorgonzola cheese, perhaps covering it was finely-grated chocolate might help?
Although I was close to pork-overload (if you didn't think that was possible, my stomach is proof that it is), I was utterly-charmed by this fellow playing "violin" ham, slicing each pieces towards him, and managed to fit in a slice. Especially since the people manning his booth saw me coming with a camera and rousted him from the back, and he came hustling out. I wonder if that's where the term "hamming" for the camera came from?
And even though I live in the land of cheese, cheese, and more cheese, when I saw this tender-soft sheep's-milk cheese floating on a slick of aged balsamic vinegar, well…with two of my favorite things on one plate, it was impossible to resist.
More cheese?
Mais oui!
This was the best one I had at the Salone, called Tcherni Vit Green Cheese. It was made in Bulgaria, and covered with damp towels, hence the mold. If any of you lives with someone who wads their towels up after a shower and tosses them in the corner, you can show them this picture of what might be growing on their bathroom floor, albeit a less-delicious version.
And just when I thought that took the cake, there was…
But man, especially this one, cannot live by cheese alone. So there's bread and, of course, chocolate. These Swiss 'pocket' breads (Valais) were made with rye flour, a smattering of seeds, and were quite dense. I was told that they're meant to go stale, for long-conservation, and workers would slip them in their sacks and re-hydrate chunks of them in wine or another favorite work-day beverage.
There was also a fair amount of chocolate. Aside from the parade of tablets and roasted cacao beans to snack on, I ran into my friends from Taza chocolate, in the US, who by day two, had blown through most of their chocolate bars and disks, and were down to the last few nibbles. They had a new product; chocolate-covered cocoa nibs, which were everything I like about chocolate, tumbled into one delicious handful.
On the other side of the 'delicious' scale were stockfish, otherwise known as tørrfisk, which are line-caught cod, from Norway. I've never cooked this, er…delicacy, but they're rock-hard after a two to three-month drying period and require a week of softening prior to cooking. They're trying to restore this industry and I wish them luck.
I didn't bring one home in my suitcase, but was happy to admire them—from afar.
In the Terra Madre section of the Salone, which featured producers from countries like Mali, Lebanon, and Mexico, I was particularly enamored by the gorgeous vanilla beans, which were so fragrant, the stand was constantly surrounded by folks drawn into the sweet aroma.
Vanilla the most labor-intensive crop grown anywhere in the world, and each orchid needs to be hand-pollinated in order to produce one of the slender green beans. (There's a membrane between the two 'private parts' of the flower that need to be circumvented.) Looking at one of these green pods, it's hard to believe that one day, after pollinating, harvesting, curing, and drying, that they'll one day be vanilla, as we know it.
It's believed that natives got the idea to dry the green beans after seeing monkeys chewing on the dried beans that they were collecting off the floor of the jungle.
In the center of Terra Madre were African women, sprawled amongst the hallway, selling their wares. There were strange and unusual seeds and oils, which were fascinating to see.
But what really fascinated me was the offering of hamburgers!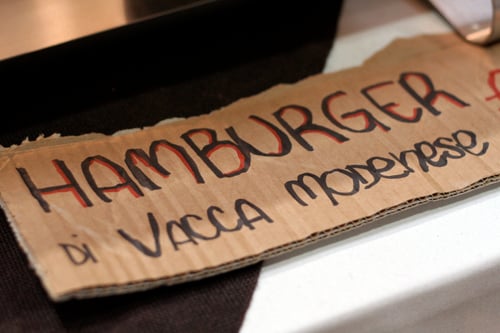 As some of you know, I've been on the quest for a great hamburger for quite a while, but it seemed kind of funny to come to Italy and chow down on a burger. So I sadly passed, even though these were made with beef from Modena.
And I was starting to feel like a little….
After all that food, I needed an espresso, bad. Through the miracle of one of my Italian pals, I got access to the super-chic Lavazza pavillion (which was decidedly-different than the African pavillion), but thought after three days of braving the crowds, I deserved a bit of pampering. I was elbow-to-elbow up there with Italians in smart suits and gold rings, and finally got to sample the èspesso by Ferran Adrià .
Available only at limited boutiques, including their mothership location at San Tommaso 10, in Torino proper, I'm not sure this was any improvement on a perfectly-extracted Italian espresso, but it was interesting to eat. (Which they've just introduced as La Voglie, in canisters for home users to squirt out themselves.) And the spoon, alongside, has a whole punched in it, in case you need reminding that you're not drinking a liquid espresso.
The publicist told me the spoons were now considered "highly-collectible" and since I was the only one up there not in an Armani suit and tie, she kept a close eye on my spoon, which did not make it back to Paris in my suitcase with me. Unfortunately.
So there you have it. My first visit to Slow Food's Salone del Gusto. Would I go back? Yes. Thankfully, they're held every two years, which is about the time it's going to take me to recover from it all. As mentioned in the previous post, unlike other events, this isn't an elitist opportunity to congratulate ourselves on our ability to appreciate organic arugula and lardo (as Arlene in Rome pointed out, these foods are part of everyday life in Italy, and in many parts of Europe), but the opportunity to taste foods from all over the world, meet the people who produce them and learn about their cultivation. And in many cases, rally for their preservation.

Related links:
Slow Food: Salone del Gusto (Part I)
Slow Food's Salone del Gusto (Ms. Adventures in Italy)
Salone del Gusto (You Tube video)
Eataly (Over a Tuscan Stove)
Salone del Gusto 2008 (Flickr pool)
Slow Food Presidia: Descriptions of the food producers at the Salone