Beer Tart
I was invited to a lovely lunch at the 3-star restaurant Alléno Paris (Pavillion Ledoyen), hosted by Mauviel, a French company that makes copper cookware in Normandy, that one day, I'm hoping to visit. Although mispronouncing the name when I was introduced to the owner probably didn't help my chances!
Nevertheless, I did my best in the charm department. (Foreigners are often given a pass with goofs in French, since even the French know how intricate their language is.) I did excel, however, in making my way through the meal – cleaning everything from my plate. My reward came at the end of the meal with post-modern Pear, Vanilla and tonka bean cake, then a copious plate of mignardises (lots of little cakes and candies) and then…whew!…out came a burnished amber tart, sliced precisely into six perfect wedges.
After I ate more than my share of them – no one at the table was tackling the sweets with the same fervor as I was…but the only problem with having to wear a suit just once or twice a year is that trying to pull the waistband closed is an uncomfortable indicator of how much you've been eating in the interim. I asked what the tart was, because it had a flavor that I couldn't quite pinpoint. They told me it was tarte à la bière.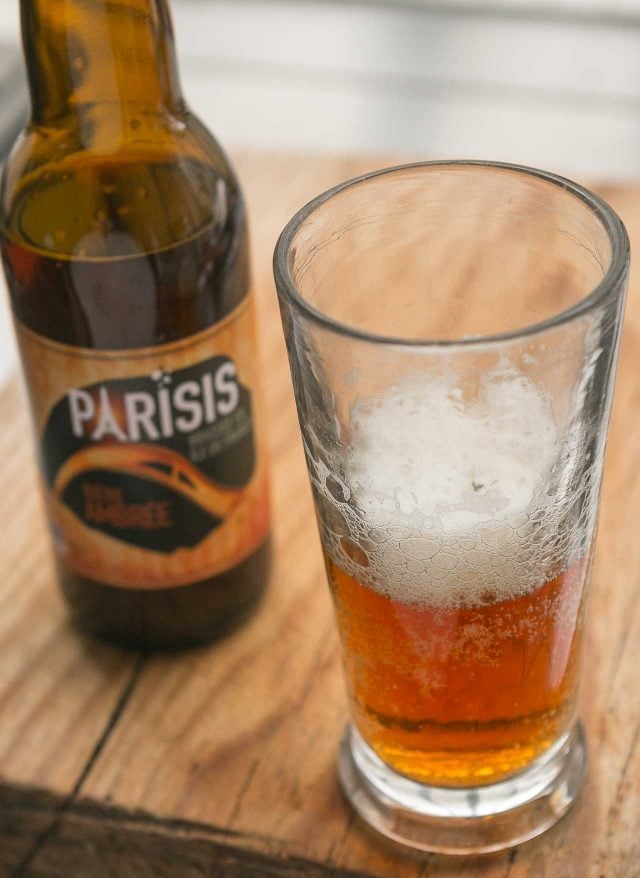 After I made it home and changed my clothes (and now have a permanent scar from when my waistband viciously flew open when I released the top clasp to my trousers), I did some scouting around and learned that the tart hails from the Nord-Pas-de-Calais region, once under Flemish rule, and a region where both beer and brown sugar are popular. I noticed every recipe I came across was nearly identical, with some variations, and got to work on one to share, starting off by pressing homemade pâte sucrée pastry dough into a tart mold to bake.
It's probably time here to mention that this is a dessert that would typically be made by a home cook or small, local restaurant. French cooks don't try to compete with the local pâtisserie and are happy with "homemade" desserts, that may be a little off-kilter, or whatever. They don't take points off for things like a crack in the crust or filling running over the side.
When I served this one to French friends, although I didn't think it looked so great (certainly not as nice as the one at the three-star restaurant), they loved it because they said it looked, and tasted, "homemade." So if you want to live like a (French) local, baking this tart fits the bill.
I've got quite a collection of brown sugars, and although I think sucre vergeoise (brown beet sugar) is the traditional sugar that's used, if you have light brown American sugar, or one similar to those shown, you can use that. No need to torture yourself over what is the "right" kind of sugar; any sugar that's light amber in color will work.
I prefer to make my own crust. But many of French home cooks use pre-made tart doughs, which are widely available in French supermarkets. Pizza dough and puff pastry are also both readily available, and I even saw tart dough that is gluten- and dairy-free when I went to the supermarché, to help me figure out how to present a tart that would be a little more durable than flaky, yet delicate tart I made using pâte sucrée, which was a challenge to remove neatly from the tart mold.
Easy access to pre-made tart doughs mean that one can have a tart or quiche ready for dinner by just unrolling dough, adding a filling, and baking it. My tart doughs are always made with pure butter and meant to be flaky, but some of the pre-made tart doughs are made margarine, which is a French invention, btw, so you need to read the labels. And that's what I did, when, for the second time in my life, I bought pre-made tart dough to try it out, because I'm so open-minded. Well, sometimes.
My first and second Beer Tarts were a hit. Still, I was intrigued by the creamy, custardy tarte à la bière that I had at Alléno Paris and wrote to the restaurant, who supplied me with their recipe…which made ten tarts. As open-minded as you and I are, I thought that might be too much for both of us, plus their filling was a seductive combination of heavy cream, egg yolks, and a beer reduction. It was delicious at the restaurant, for sure – with those ingredients, how could it not be? – but it seemed a little over-the-top* for home cooks, so decided to soldier on, hewing close to tradition.
Another astuce (cooking tip) is that French home cook use a solid moule à tarte, not false-bottom tart pans, that can be lined with parchment paper. (Another bonus to the pre-made dough: They come with their own sheet of parchment paper.) Anticipating the backlash if I suggested a piece of bakeware that you couldn't get your hands on – rightfully – or if I asked you to go out and buy pre-made tart dough, I made my own pâte brisée, a studier dough that's generally reserved for savory tarts.
Fortunately the third time was a charm and my persistence paid off, without resorting to "le rouleau" (the roll), which worked well in a traditional removable bottom tart ring. Just like I'm making a vow to go shopping for a new pair of trousers before the next swanky meal that I'm invited to, so I don't have to sit through a two-and-a-half hour meal without exhaling. I was glad that my vow to get the tart right paid off as well.
This tart dough recipe is adapted from my book, My Paris Kitchen (page 155), which I use for quiche. For this tart I used a removable-bottom tart pan, which I removed while it was still warm. The best strategy for releasing the tart from the pan is to let the tart cool for a few minutes after you remove it from the oven, then set the tart on a coffee can or similar object, and coax the outer ring off. If it's sticking in some places, gently pry it loose with a paring knife. Transfer the tart back to the cooling rack (a wide metal spatula or pancake turner might help with moving the tart around), and let cool, then run a bread knife between the dough and the bottom of the tart pan to slide it off. Traditional recipes for tarte à la bière call for bière ambrée (amber beer), which according to this article, is called pale ale in some countries. I tried one with Guinness stout and it worked well.
Tart dough
1
cup, plus 5 tablespoons (195g)
flour
8
tablespoons (4oz, 115g)
unsalted butter,
cubed and chilled
Beer tart filling
1
cup, plus 2 tablespoons packed (230g)
light brown sugar
1
cup (250ml)
amber beer (or stout)
3/4
teaspoon
vanilla extract
2
tablespoons (30g)
butter, salted or unsalted,
cubed
For the tart dough
1. Mix the flour and salt in the bowl of a stand mixer fitted with the paddle attachment (or in a food processor, or by hand in a medium-sized bowl) until combined. Add the butter and mix on medium-low speed until the butter is in small pieces, about the size of small peas. Add the egg and continue to mix the dough until it comes together in an almost-smooth mass.
2. Remove the dough from the mixer bowl and shape it into a disk with your hands. Wrap the dough in plastic wrap and refrigerate for 30 minutes or put in a cool place.
3. Roll the dough on a lightly floured surface until it's a 13-inches (33cm) circle. Transfer the dough to a 9-inch (23cm) tart pan with a removable bottom and fit the dough into the pan, including into the corners, trying your best not to stretch the dough out. Trim any excess dough by rolling the rolling pin over the top of the tart and reserve some of the scraps of dough for patching the tart later. Prick the dough about five times with a fork and chill the dough in the freezer for at least 30 minutes.
4. Preheat the oven to 400ºF (200ºC). Line the frozen tart dough in the mold with foil. Fill the foil with dried beans or pie weights and bake until the sides are light golden brown, about 15 minutes. Remove the beans and foil and bake for a few more minutes, about 5-7, until the bottom is very light brown. (If it's puffed up, gently press it down with a spatula, being careful not to tear the dough.) Remove the tart shell from oven.
5. Use bits of the reserved dough to fill in any holes, including those from the tines of the fork. It's best to knead the bits of dough with your fingertips to soften them first, then gently work them over any holes in the still-warm dough with a soft touch, to cover them over.
For the beer filling
6. In a medium bowl, whisk together the brown sugar and eggs until smooth. Whisk in the beer, vanilla, and salt.
7. Scrape the beer mixture into the pre-baked tart shell. Strew the 2 tablespoons of butter cubes over the tart and bake the tart until it's just set, 30 to 35 minutes. The filling will puff up and be jiggly and soft, like barely-set jello, when it's ready. Let the tart cool on a wire rack before serving.
Serving: I gave instructions before the recipe to help release the tart from the tart pan, which should help getting a neat slice out. It's often served by itself, but could be served with softly whipped cream, crème fraîche, or vanilla ice cream.
Storage: This tart is best served the same day that it's made. The dough can be made ahead and kept for 3 days in the refrigerator or up to two months in the freezer. It can also be rolled out and frozen for up to two months, if well-wrapped.
*In case you want to give the Alléno Paris recipe a try, it's 402g cream, 138g of Guinness beer that's been reduced by half, 172g egg yolks, and 287g of powdered sugar for 10 medium-sized tarts (poured into pre-baked tart shells and baked at 120ºC for 25 minutes), which I estimate might make 5 standard-sized (9″/23cm) tarts, for those doing the math.
Related Links and Recipes
Baking Ingredients and Substitutions
La tarte à la bière (Slate.fr video)