There's been a lot of discussion about what is the best salt in the world. There's lots of opinions, tastings, and scientific studies floating around.
But I'm here to tell you, my absolute favorite salt is Fleur de sel de Guérande. I think there's no finer salt available anywhere.
When I was invited to visit the salt marshes and learn to rake the highly-prized, precious crystals of fleur de sel, I decided that the Guérande, in Brittany, would make the perfect place to begin my August vacation. Brittany is a rugged part of France that faces the Atlantic and is unspoiled by tourists. The coastline is gorgeous: large rock formations are piled everywhere, giving one many opportunities to ascend the boulders and enjoy the magnificent views in all directions. The ocean was a bit too cold for me to swim in, but Bretons have no trouble diving right in.
(Trust me, it's freezing cold, which meant no swimming at the beach for me…especially the naturist beaches!)
But there's also lots of buckwheat crêpes and sparkling apple cider to keep your spirits up as well, just in case you get stuck in one of the rainstorms, as I often did. And although the Guérande lies in the south of the region, and in spite of Breton flags everywhere, I was curiously told by the locals that the Guérande was actually part of the Loire-Atlantique, not Brittany.
Like the numbered roadway signs that lead to nowhere (locals told us not to follow the signs since they're wrong), and in spite of the magnificent Michelin maps, driving in France provides its fair-share of frustrations.
Still, we managed to make it, and by the time we arrived I was ready to throttle someone. Yet looking out over the marshes did indeed have a calming effect—perhaps they can build a salt marsh in Paris, visible from my apartment?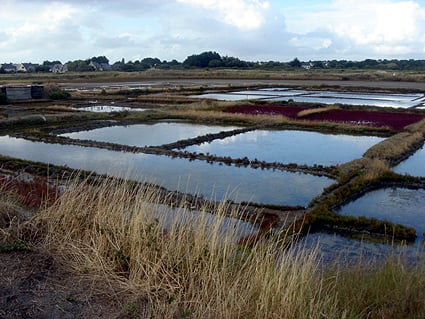 Le Marais Salant of the Guérande.
These are the salt marshes of the Guérande, les œillets.
They're so prominent, that they're visible on the Michelin maps of France, although when I got home and tried to look on Google maps, viewing the region was prohibited. Perhaps there's a military installation nearby, since it's on the coast. The exceptional salt from the Guérande is justifiably famous since it tastes like no other salt in the world. Although the words 'fleur de sel' have been bantered around and used as marketing tools for many salts being promoted (nowadays you find salts labeled as such from Portugal, Italy, and elsewhere) nowhere else on earth does the salt have the same fine flavor and delicate crystals of Fleur de Sel de Guérande.