Champagne, Reims, and Veuve Clicquot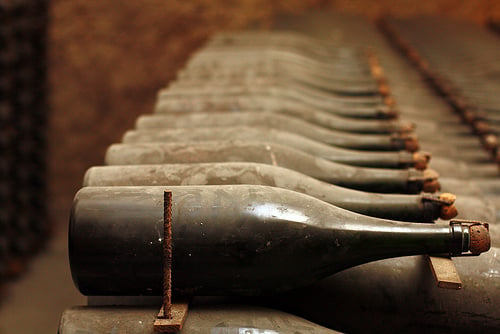 I was perched on the fence, whether to say yes to staying home to work, and no to Champagne. And, well, I guess I don't need to tell you that I simply could not fight the battle of the bubbly. And so I headed out for a quick day and night in Reims, where Champagne is made.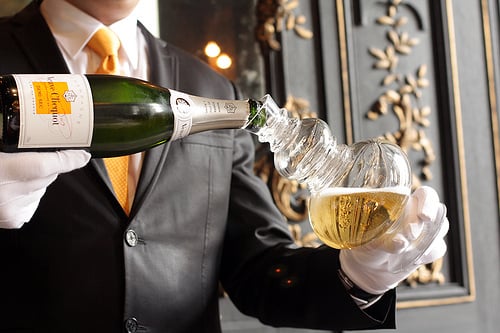 Fortunately the city of Reims is just a quick 45 minutes from Paris and I was invited to the region to eat, drink, and, well…I won't tell you what else I did. But it involved a long, hot, much-appreciated bath, and a rest on the adjacent canapé.
Okay. I didn't hit the couch. Because if I did, I am sure that no one would have seen me for the next 23 hours. And on a 24 hour trip to Champagne, invited by Veuve Clicquot, the odds that someone would come knocking on my door to come and rouse me are pretty high.
Still, it was worth extracting myself from the marble bathtub for a meal at the Hôtel du Marc, cooked by Chef Joël Robuchon, who is launching a series of meals at various venues here and there.
After learning from the woman dining to my right that French is the only language you can use to talk about food (even though she wasn't French), we chatted – in French, English, and a little Italian – about our meal. I reasoned that if one speaks various languages, it's nice to dip into several, or the one that's most appropriate – ie: if talking about espresso or bollito misto, use Italian. If you're talking about soufflés and éclairs, use French.
However, comme d'habitude, my reasoning didn't quite go as far as I thought it merited. And while I wanted to say, "Well – how do you say 'corn dog', 'Hooter's wings', and 'Blooming onion' in any other language than English, girlfriend?" But I kept my trap shut.
But since our meal was decidedly French, so be it. And we started with – what else? – a little cup of Parmesan espuma (foam) with port, which I guess is an Italian-Spanish (and Portuguese) hybrid, kept alive by the Fr…. Then we had individual tins of caviar with crabmeat hiding underneath in a coral gelée.
La Langoustine, which is one of Chef Robuchon's signature dishes, was a "turban" of spaghetti (okay, now I'm confused-does that make it Italian, or French?), which was visually dazzling. I was so busy trying to find the spaghetti ends that I didn't take a picture.
Of course, there was also a dab of Chef Robuchon's famous potato purée made with an overload of butter, served with roasted quail, foie gras, black truffles, and 1990 vintage Veuve Clicquot Champagne.
I kept diving into the plate of salted butter that was so good, it made me wonder – "Who do you have to sleep with around here to get your name on a block of butter?" And now I have a new goal in life: My name in French butter.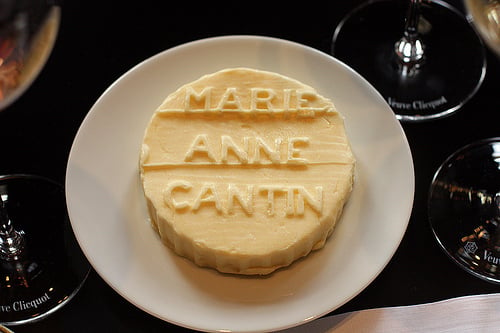 The meal was accompanied by a selection of Veuve Clicquot Champagnes, whose cellars we were going to visit the next day. All were, of course, superb. And there was such a parade of them that they (..or was it I?) started to blur. But the ones that stood out were the 2004 vintage, the Carte Jaune et Rosé, and the finishing bubbly, a demi-sec (half dry, which means it's a touch sweet), that was decanted.
I was surprised that I liked it because slightly sweet Champagne isn't usually a crowd-pleaser. But it worked tremendously well with the desserts; Le Rubis, a lime cheesecake filled with berry coulis, and Le Fleur Caramel, a caramel cake with honey crackle.
As we finished the last of, well…everything that was on the table, I remarked how much I liked the rosé Champagne and was told that Champagne is the only rosé in Europe that is allowed to be made by mixing white wine (made from red and white grapes) and red wine (made from red wine grapes) whereas regular rosé is made from red wine grapes by macerating the crushed grapes with the skins to obtain the color.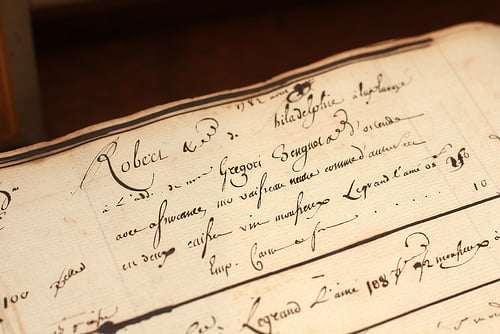 (The rosé Champagne that we know now, was first made in the Veuve Clicquot cellars. Prior to that, sparkling rosé was tinted with inky elderberries.)
I'm a big fan of Champagne, and its bubbly cousins, and fortunately it's one of those affordable luxuries that we indulge in at home from time-to-time. And fortunately, it's always an appropriate host or hostess gift in France, and I take any and all bottles that guests offer chez moi. (However they don't usually last that long.) But we did go out to dinner in Reims at L'Assiette Champenoise and was leafing through the wine list, as we were deciding on a bottle, and gazed through the pages of offerings….
Yowza! At €1 = $1.30, so that €5385 bottle of Krug costs $6927. And let's face it, no one whose dream is to spend the rest of their life in a bathtub with a couch next to it is going to be able to afford bottles like that. But since in France, prices include tax and service, I guess one could imagine the savings. Still, even though we didn't try it, we had a lovely time in this hyper-modern restaurant. The chef was very humble, coming out and saying hi and we told him how much we were enjoying the meal. And as a little gift on the way out, they handed me a tiny loaf of bread that they made in-house, which I had mentioned during the meal that I thought was amazing.
The next day we woke up bright and early at 7am. I didn't have a chance to engage in any foosball….
Nor was I feeling like I was ready for my close-up….
But just before we left the hotel, on the way out, we visited the "Once Upon a Dream" room, designed by Mathieu Lehanneur for the perfect sleep.
Apparently Madame Clicquot had some sleep problems (I hear ya, sister!), so although it's too late to help her, the hotel created this room designed for perfect sleep. It's got temperature control, sound baffling, lighting control and light blocking…and a magnum of Champagne if all else fails.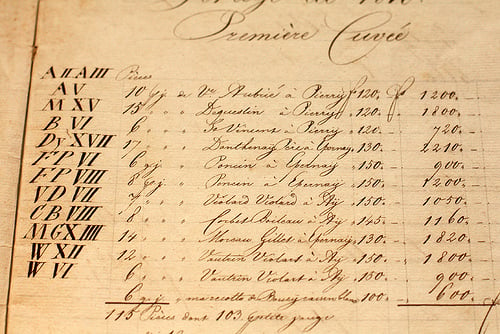 But I did learn more about Madame Clicquot, the veuve (widow), who took over the Champagne house when her husband died when she was just 27 years old.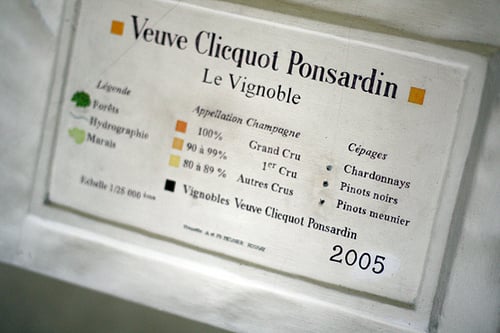 We went through the vaults (and for all of us expats that complain about all the paperwork, whining about all the trees we are killing), the arguments for all those carefully prepared papers that we need to turn in, maybe we should assume that someday we will be famous for something and history will thank those tireless employees who have archived all of our carefully prepared documents, so others can look back and see how we lived.
I don't know if they've saved all of her paperwork (I know mine is now taking up 65% of my bookshelves, pushing out the recipes), they did save her original shipping orders….
But Madame Clicquot wasn't a fan of paperwork either, and did not want to put labels on her bottles, instead preferring to let the contents speak for itself. (Kind of like me?) However this time it was someone else who wanted paperwork, and they ended up labeling the bottles for les américains. So next time anyone thinks the French are inflexible, Madame Clicquot was certainly an exception to the rule. And so was her great-granddaughter, who was the first woman in France to get her driver's license, and, of course, the first woman in France to get a speeding ticket. (And certainly not the last.)
As a show of how France and American culture sometimes overlap in more creative and fun ways, there was a celebratory bottle of Champagne, released in 1986 to celebrate the 150th anniversary of the independence of the Lone Star State of Texas.
After poking through the archives, we headed over to where the vins de base are kept, tasting (and spitting out) the fermenting grape juice in large oak barrels, which would later be Champagne.
Most were funky, fizzing, fruity, and you could detect flavors such as toast, brioche, yeast, dark berries in the glasses. The cellarmaster (chef de cave) evaluates each to decide what goes into which bottles, and which are special enough to be considered "vintage" Champagne. Most Champagne that you buy is a blend, which is why there is no year on the bottle. But during special years when they find the grapes to be of exceptional quality, a millésime is released, which is a vintage Champagne.
Although taste and smell are important, so is sound. And I caught the wine "chefs" listening to the fizz, which I started to do as well. So next time someone says, "Raise a glass!", don't be afraid to hold it up to your ear. Expect some funny looks, though…
Like the cobwebs in the Cognac caves, the dust protects the Champagne, as well as the darkness from being stored underground. And Veuve Clicquot has 24 kilometers (15 miles) of underground tunnels. The oldest bottles down there date back to 1904, but when I asked how many bottles are stored there, they just shrugged and said that no one quite knows.
Another reason women rock, and always have, was that Madame Clicquot also invented the riddling rack, a way to disgorge the yeasty mass that collects in the neck of the bottle if held upside down. She had someone cut some holes in her own dining room table to try it out. And now all Champagne is riddled. (The French even have a word for the person who does it, a remeur.) However nowadays it's done by machine.
Once the yeast is disgorged, a dosage is added back, to make up for the liquid that's been riddled away. The dosage also contains some sugar, which is determined by the Champagne house; on the average, a liter of brut Champagne has between 9 to 12 (some go up to 14 or 15) grams, which is about 2 teaspoons of sugar per quart. Here at Clicquot, it's between 9 and 10 grams.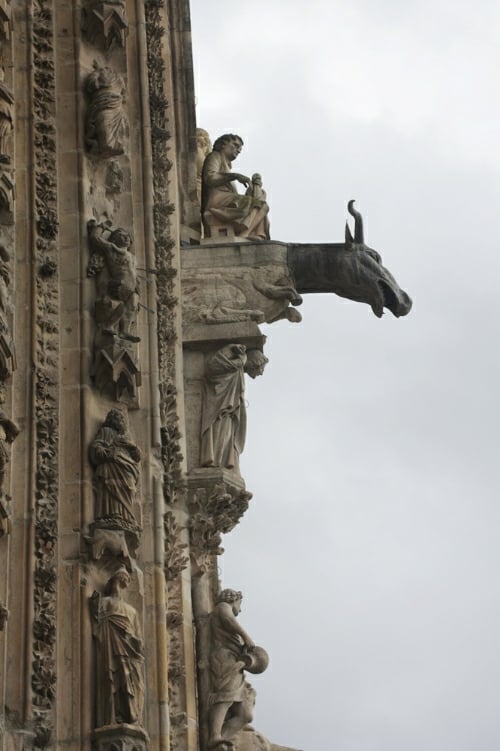 But lest you think I spend my time lounging in marble bathtubs, guzzling Champagne, and filling out forms and spending weeks and weeks getting all the paperwork together and photocopying it only to have to redo it because you were given conflicting information, then having to wait in line for hours while staving people off who are trying to cut in front of me, to get it all stamped and signed, then having to go home and re-file it in one of my fourteen massive, bulging files of paperwork that I carefully need to keep organized and arranged by name, date, and size of paperclips used, I also need a little bit of history and culture.
So we took a tour of the soaring Reims Notre-Dame cathedral, which is even more spectacular than Notre-Dame in Paris. And it looks like history shows us that even some of the folks outside in the cold were feeling happy from a little Champagne, too. Although the poor fella seems to be feeling no pain and doesn't even notice his hands are missing.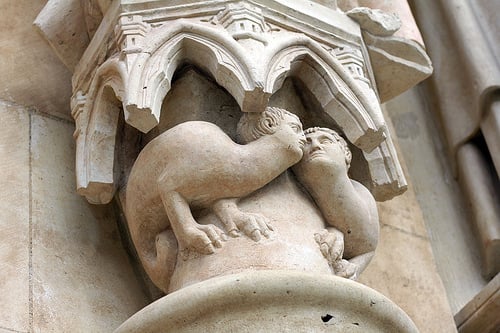 Before heading back to Paris on the train, to get back to work (and finish my filing duties) we had a quick lunch at the Restaurant Café de la Paix. I never had Jambon de Reims…
…which was a delicious slice of jellied ham, and was my favorite part of the meal.
I had to wave off dessert, but decided to make time – and room – for a quick, yes, Café Gourmand, the de rigeur workhorse of French desserts menus, with a few little bites of various treats, along with a cup of strong coffee.
Then we downed the last few sips of the Champagne, and headed back to Paris.


Note: This trip was hosted by Veuve Clicquot. The photograph of the sleep chamber was provided courtesy of Veuve Clicquot, because my camera lens was too dinky to get a good shot of it.