Chocolate That's "Too Good To Use"
Once upon a time, I worked in a restaurant that was well-known for using ingredients of exceptional quality. The most magnificent fruits and vegetables would come barreling through our kitchen door every day, from plump, rare black raspberries to teeny-tiny wild strawberries, fraises des bois.
While I can't really guess the psychology behind it, we would often treat these marvels like precious jewels, reserving them for the perfect moment.
Or we'd just forget about them, then throw them away.
Unfortunately, because they were so fragile, they'd often last no longer than a day or so, and we'd arrive the next morning to find they hadn't been used the previous evening and had to be tossed. While I don't want to apologize or make excuses for this inexcusable behavior, restaurants are odd places full of strange people acting unusual…and no, it's not just the customers. There's mis-communications, too much going on all at once, and frankly, things don't always happen like they should. And don't tell me that you haven't let something accidentally spoil in under your eagle-eye either.
Because I'm not buying it.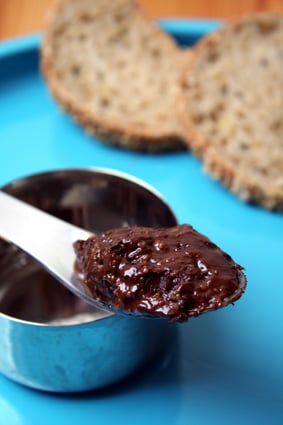 So one day, one of the other cooks started to dub things as they came through the door, "Too good to use."
He used the phrase to refer to things that were so special, that we just couldn't bear to use them. And soon, the rest of us picked up the phrase too, and when something beautiful would arrive, it became the joke to label it as being something that was "too good to use."
So, last year when I led an Italian Chocolate Tour through Tuscany and Torino, we stopped at Slitti in the tiny town of Monsummano Terme. Although Slitti started out in 1969 as a coffee-roasting company, Andrea Slitti (the son of the founder) started applying his roasting expertise to chocolate-making and now Slitti is regarded as one of the top chocolate-makers in the world. After our visit, on the way out, Palmira Slitti (Andrea's wife who runs the shop) pressed a jar of their Crema da spalmare al Cioccolato Fondente ricca di nocciole into my already loaded-up bag of chocolates with a cheerful ciao bella.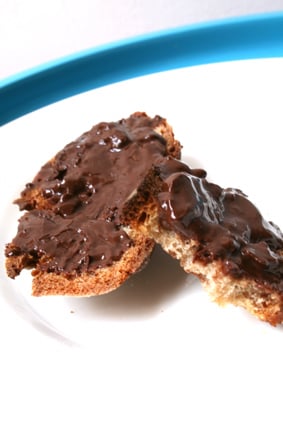 When I got home, I put the jar on my kitchen shelf so I could admire it, and it sat there day-after-day. Each day I would gaze up, all glassy-eyed, imagining the chocolate-y goodness through the glass of the jar, and I could practically taste the tiny bits of roasted Piedmontese hazelnuts, embedded in a rich, dark chocolate paste that were speckled throughout.
One day I decided it was no longer "too good to use" and abruptly pulled the jar down from its perch, opened it up, and with knife poised, got ready to spread.
Ugh!
Instead of dipping into the tasty spread, I peered inside first and saw that the entire surface was covered with green, dusty mold. Ick! So at 6:30am, I had the unenviable task of cleaning moldy chocolate. Not a pretty thing to wake up to. I managed to get all visible signs of mold off, then I poured in a shot of Jack Daniels (which around here is definitely not too-good-to-use) and swished it around to kill any microscopic traces of green hairiness.
Thankfully I didn't toss it, and the hazelnut-chocolate paste was the best I've ever tasted. Unlike commercial hazelnut and chocolate spreads, this crema da spalmare from Slitti was made from the best, just-blended chocolate imaginable, studded with the world-famous Piedmontese hazelnuts from Langhe. And I've been enjoying it for the past few weeks, the warm weather in Paris makes it the perfect spreadable (ie: heap-able) consistency for my morning toast.
So maybe you have something in your cabinet, something you picked up on a trip that you're holding on to. Or do you have a bottle of wine you've been saving for a special occasion? Or is there something else that's so special that you can't bear to open it?
Do you have something that's "too good to use"?


Slitti
Cioccolato e Caffè
Via Francesca Sud, 1268
Monsummano Terme
Italy
Tel: 0572.640240


Note: Slitti chocolate but you might want to try the Askinosie Chocolate-Hazelnut Spread, or try my Chocolate Hazelnut Spread recipe.