There's a lot to like about savon de Marseille, the French soap made in Provence. Its history dates back nearly 600 years and in 1688 an edict came into effect under Louis XIV that standardized what savon de Marseille was; a soap with no artificial additives, no colorants, no perfumes or fragrances, no animal fats, and must contain at least 72% olive oil, which accounts for its natural green color. It took me almost two decades to move to the "72% percent side," but now that I'm there, I'm not going back.
Like many things in France, there is the original, and there are copies. Everything from Laguiole knives to camembert and brie is based on the originals, but they're not necessarily made the same way or are of the same quality. At one time, there were nearly a hundred soap-makers in and around Marseille but nowadays there is only a handful of "official" producers of savon de Marseille. The soap is said to have fallen out of favor when washing machines came into use and a large square of soap wasn't compatible with a newfangled machines à linge, as the soap was when everyone was hand-washing their frocks down by the Seine. Nowadays, with many people aching to go back to where we were a few decades ago, if you want to use savon de Marseille for laundry, it's sold in copeaux (flakes) and you can find the recipes here and here if you'd like to use it for washing your duds.
Savon de Marseille comes in green and white versions. The newer white version contains other oils in them, including palm oil but the green must be made with olive oil, and only olive oil, and also contains ash and local seawater. The 72% amount of oil is stamped into each cube and each block is part of a process that takes three weeks, which includes aging the soap in the open air. You can watch the process here:
I'm not ready to lug my laundry down to the Seine to handwash it, and since I discovered Vanish gets those stubborn stains out that used to have me turn stained clothes into household rags, I skip the white bars. (Which some people swear is the best for getting out stains, so perhaps I'll give it a try.) But I now use the green savon for bathing, and the bars seem to last forever.
Admittedly a blocky 300-500 gram (3/4- to 1-pound) cubes are hard to handle in the slippery shower, so I cut mine in half with a bread knife. The olive oil keeps the soap moist so it's easy to cut. Savon de Marseille is biodegradable and is also sold in bars for bathers who don't have bread knives, as well as slabs on ropes, in lemon-shaped ovals for soap holders, and long 2.5kg/5 1/2-pound bars that you can slice and use as you wish. For fans that want to go even bigger, Fer à Cheval sells a 16,5kg (35-pound) block of soap through their website, which they advise cutting up while still fresh. From the looks of it, you may need a band saw.
Brands that make traditional-style savon de Marseille include Fer à Cheval, Savonnerie de la Licorne, Savonnerie du Midi, Savonnerie du Sérail, Grand Savonnerie de Marseille, Rampal-Latour, and Marius Fabré. Be aware that there are sound-alike brands, such as Le petit Marseilles, which is manufactured by Johnson & Johnson.
At market stands and some shops in France, and elsewhere, you also may come across similar-looking bars, which are made outside of Provence or France. (Savon de Marseille is indeed inspired by savon d'Alep, which is also wonderful soap made with olive and bay oils. Beware of copies of that as well.) Similarly, you'll often come across shops with colorful (and scented) bars of soap lined up by size and color, usually in tourist-heavy areas, which aren't the true savon de Marseille, which has no scents or colorants added.
As someone with sensitive skin, it can be a challenge to find unscented products in France, where even toilet paper is sometimes colored and perfumed (and hypoallergenic, including baby products, are often perfumed too), but "sans parfum" products have been more available in recent years, so I don't need to bring shaving cream back from the States anymore. But the high calcium content of the water can wreak havoc on one's skin, so the fewer irritants in the soap, the better. And as a cook who washes his hands about six hundred times a day, I once made the mistake of buying hand soap that I had to throw away because of the heavy scent; the last thing I want in my kitchen is scented hand soap. (Yes, I'm the guy in the supermarché aisle opening all the bottles of soap and detergent to make sure they're not scented.) I like to smell the foods I'm cooking, not flowery hand soap.
(As a reader pointed out in the comments, there's also a belief in France that if you put a piece of savon de Marseille in your bed by your feet you won't get leg cramps. I'm not sure of the science of that, but just putting that out there.)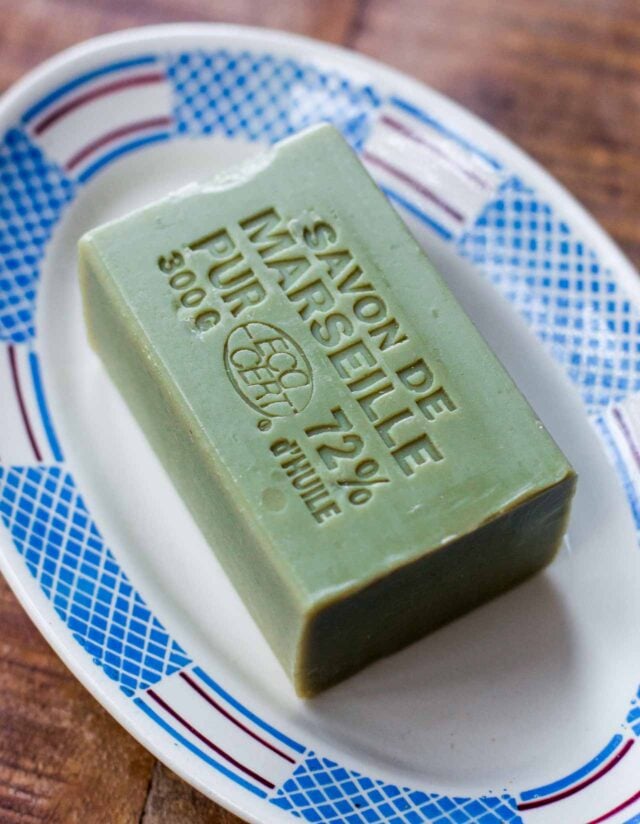 There's a French penchant for organizing and naming things (with a slew of accompanying rules) but there's hasn't always been an official designation for Savon de Marseille. The debate in France rages on, but in 2015 the UPSM, the Union des Professionels du Savon de Marseille (the French also love acronyms, and organizations) was set up by a few soap makers to standardize production and keep the quality up. In short, savon de Marseille should be a cube with a round stamp, with no colorants, preservatives or fragrances added, but the full list of criteria is detailed here. (In French.)
A favorite place to get mine is at Bio Bazar in Paris, where they sell the La Corvette and Fer à Cheval brands, which cost around €3,5 ($4) a cube. Biocoop stores in France sell organic savon de Marseille, and Marius Fabré has its own shop in Paris too.
Interestingly, we were in Burgundy last summer and I saw the exact same soap at a touristy shop branded by a French television personality, whose store was loaded up with real, and some faux French antiques, to make people feel like they were living in vintage France. (Also interesting; the store was filled with French people.) The shop was selling blocks of savon de Marseille for a très cher €12 a bar. It's not cheap in the States either, making it something you might want to bring back with you on your trip to France. (I didn't notice any locals picking up blocks there either.) Even if you have to pay a bit more, though, it takes me a year to go through a block, which I use daily, so I consider the soap a bon marché, or a "good deal."
[Note: I didn't link to places where to get savon de Marseille online because availability and prices can vary so it pays to shop around and also read the information carefully. I listed brands of traditional savon de Marseille in the post to check out, but also note the size before you order: The soap is available in 200 to 500 gram blocks, so if comparing prices, compare the sizes as well. If you'd like, you can check out my post How to Find French Foods and Other Items Online.]