Quiche got a peculiar rap back in the 1980s when eating it was described as something that was not masculine. I'm not sure where that came from, but in France, everybody eats quiche.
As the French debate how to address gender pronouns, in a language where crème, baguette, and salade are feminine and pâté, vin, and quinoa are masculine (although quinoa is a plante céréalière, which is feminine), for no reason other than to make the language more challenging for the rest of us to learn (whether tique, the word for tick, was masculine or feminine has been hotly debated), quiche is enjoyed by tous (or everyone, which is masculine) in France, without any blowback.
Got that?
Bakeries in France make and sell quiche by the slice, which is called une part because they're triangular, not by the tranche, which are flat slices. They're also sometimes called tartes salées, savory tarts. It's a lot to practice for non-native speakers while waiting in line at the bakery, rehearsing the phrase carefully in your mind so when it's your turn, you don't make the mistake of asking for a tranche of quiche or un tarte, but the upside of getting to know the people at your local bakery is that an occasional goof isn't the fin du monde.
For those who don't want to risk it, fortunately quiche is easy to make at home, especially in France where tart dough is sold in supermarkets already rolled out, packed in long, narrow cardboard boxes or pouches. I'm not a strict DIYer; if I woke up every morning and roasted my own green coffee beans, squeezed my own orange juice, cured my own bacon, raided the henhouse for eggs, baked my own bread, and churned my own butter, I'd be ready for dinner by the time breakfast was on the table. But I don't mind making my own pastry, which tastes better than the store-bought stuff and to me, is worth the extra effort.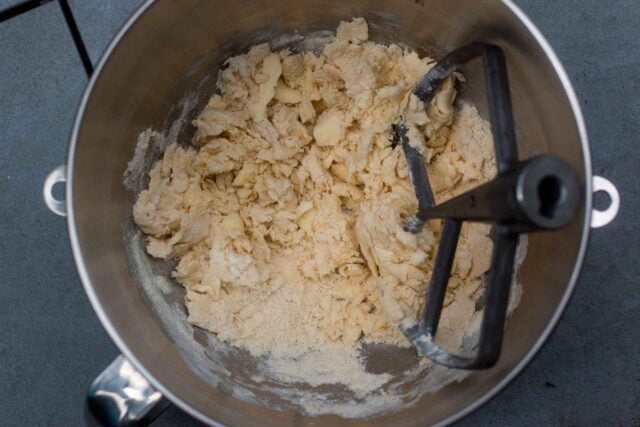 When I met Vallery Lomas a few years back, I learned she'd won the third season of The Great American Baking Show. Due to allegations against one of the judges, the network decided not to air it…like, at all. Personally, I don't know why they can't edit shows, to let the contestants shine as they did on Ru Paul's Drag Race "out of respect for the hard work of the other queens." As a fellow baker, I was sad that one of the queens of baking wasn't allowed to shine. But no one asked me.
Formerly a lawyer, Vallery left the legal field to bake. Proving that hard work and talent sometimes do pay off, a year after she left her job as an attorney, she began work on her first cookbook: Life is What You Bake It. A number of factors were part of her journey, one was living in Paris, where she learned about clafoutis, madeleines, soufflés, canelés, and Parisian macarons, which are all included in the chapter En France. Back in New York, while she was a practicing attorney during the week, Vallery was perfecting her macaron skills and launched a macaron business where she made, and delivered, 1500 macarons at a time, on weekends.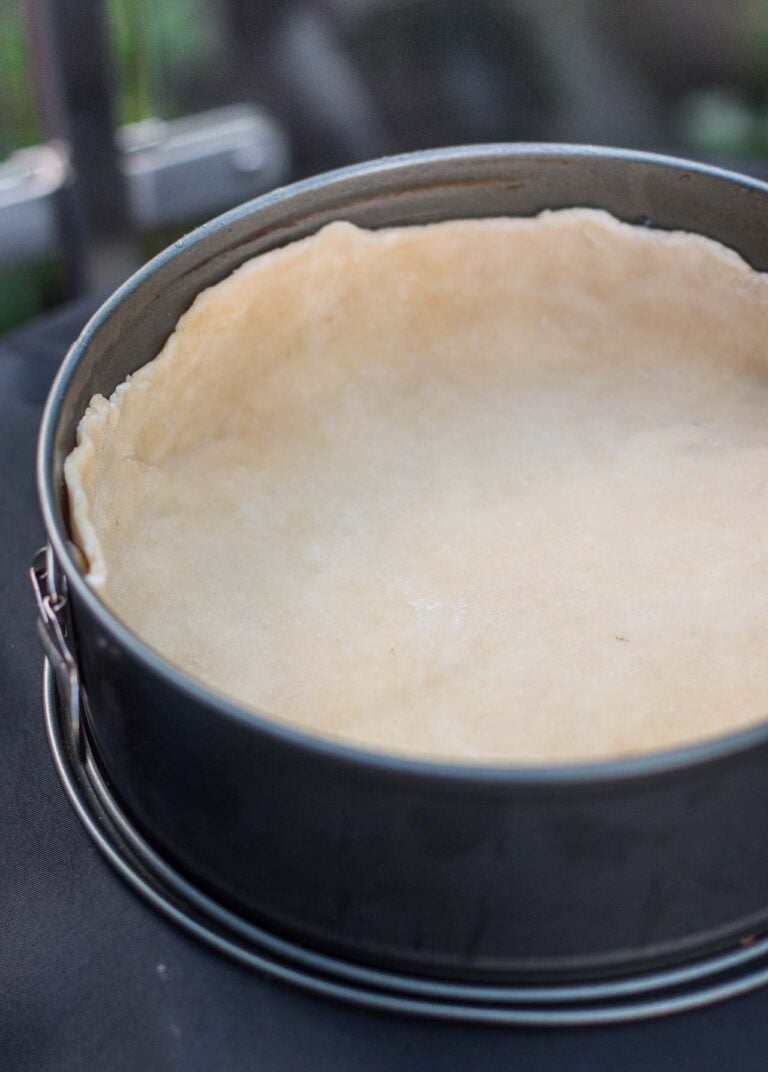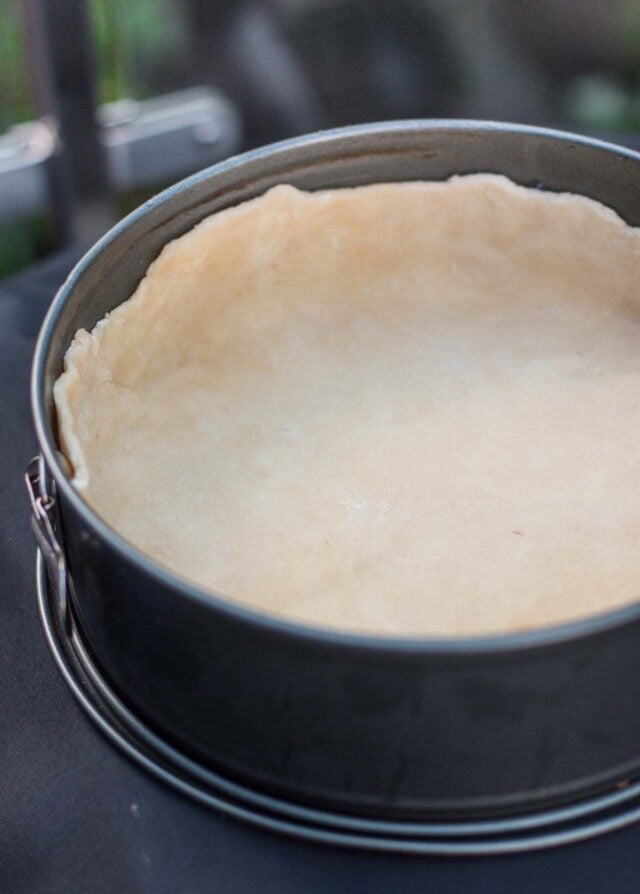 Her cookbook does double-duty as it's also a memoir, with stories about everything from finding out the show, where she took the top prize, wouldn't be aired, to her time living in France. Tucked in between the cakes, cookies, and tarts, there's a recipe for Cake Pan Quiche Lorraine that looked like just the thing to bake this fall, with the weather getting chillier.
ValIery points out that her Cake Pan Quiche Lorraine is a bit non-traditional because it's baked in a cake pan. I don't want to argue with a lawyer (or a baking show first-prize winner), but her "cake pan" version does indeed hew to what is sold in France, where quiches and savory tartes are sometimes served in taller wedges, not always as a flat tart. The nomenclature varies but thankfully, bakeries aren't staffed by pedants (or the grammar police, in case you mix up what's masculine or feminine) so the nomenclature can vary. And the last thing you want to do is pick a fight with someone handing you freshly baked pastries. Trust me, you want to remain on their good side.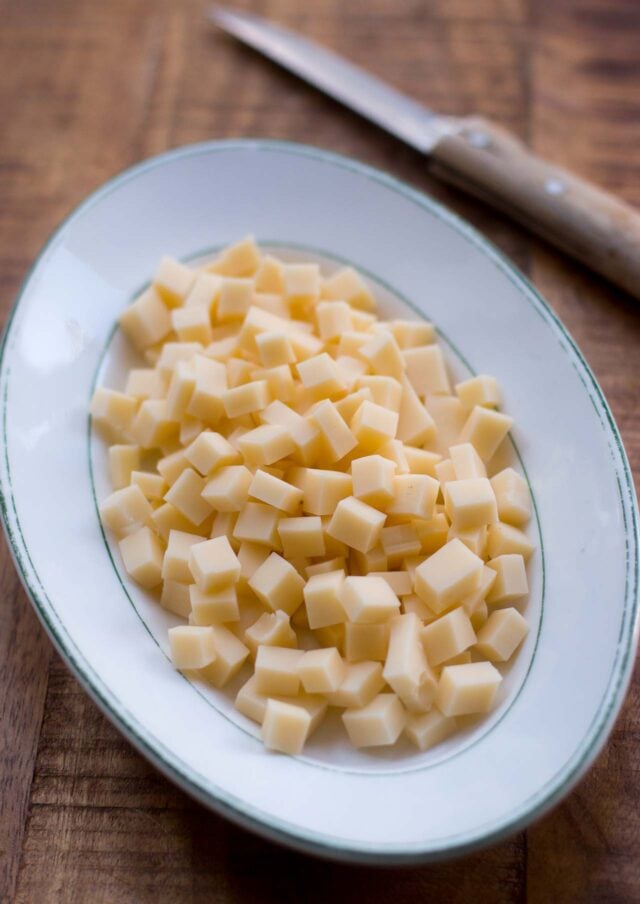 While cheese is not in the original quiche Lorraine recipe, nowadays many have cheese added. I've read that the original recipe was also cooked in a cast-iron pan, not in a tart pan, and was baked in bread dough, not a buttery crust. Some say quiche Lorraine also didn't have bacon in it either. (And that it was likely invented in Germany.) I wasn't around in the 16h century when quiche Lorraine was invented so can't say for sure but food evolves and changes with the times and tastes.
As journalist and writer Bill Buford pointed out, legendary pastry chef Gaston Lenôtre said, "You can change anything, as long as you make it better." And this quiche is proof of his point. It's great.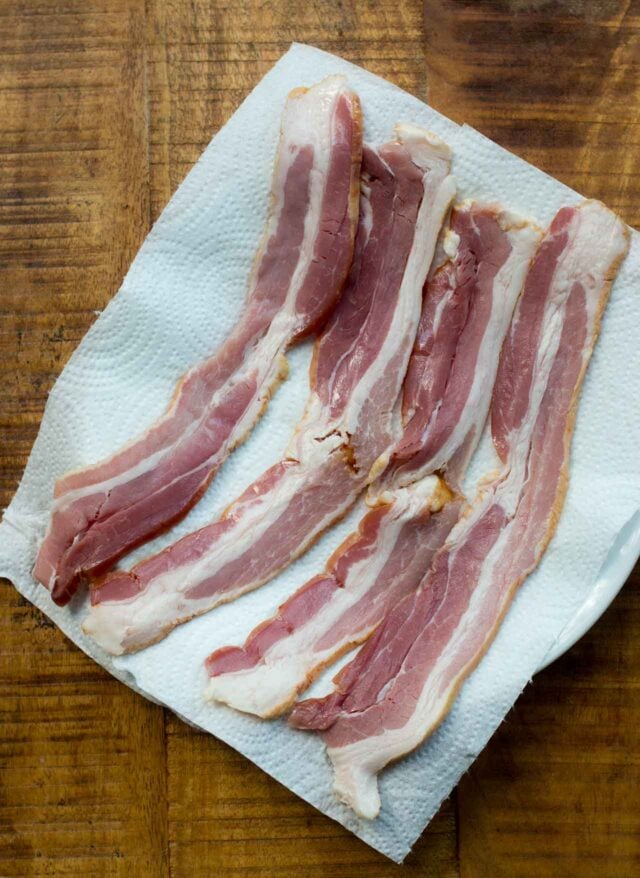 Speaking of bacon, there have been a few articles, chefs, and cookbooks recently letting you know that it's okay not to hate your microwave. I learned it's great for cooking corn on the cob (and saves you from pulling off all those annoyingly stringy strands of corn silk), as well as quickly cooking beets and hard squash if you don't feel like turning on the oven for an hour. Barbara Kafka roasted eggplant in it and famously made risotto in the microwave. Although I still make risotto on the stovetop, I'll often fire up the micro-onde for making bacon, since it's less messy and produces very tasty strips of bacon.
Like the French, Vallery isn't a stickler for homemade tart dough so if you want to shave some time off making this quiche, go for it. And if you're not into the cheese, that can be omitted as well. But I followed the advice of Lomas and Lenôtre, and loved this quiche just as it is. If you give it a go, I think you'll agree.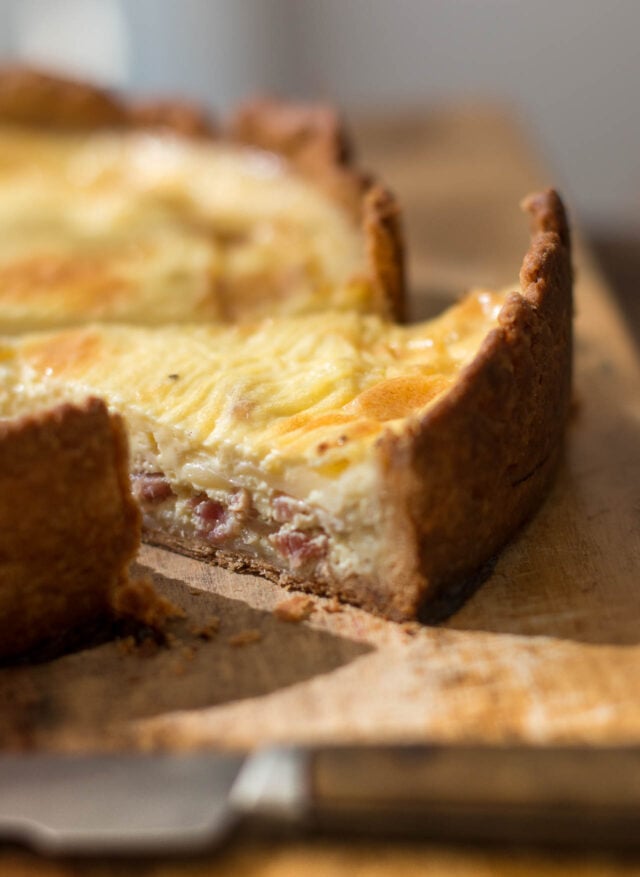 Quiche Lorraine
Adapted from Life is What You Bake It by Vallery Lomas
I made a few changes to the recipe, adding more bacon (sorry/not sorry), and dicing the cheese, rather than grating it, so there would be little pockets of cheese inside the eggy custard. I'm not convinced it made a difference so you could do it either way. Vallery doesn't turn up her nose at store-bought crusts, and she's not alone; pre-made tart dough is very popular in France and every supermarket has several varieties, including tart pastry (pâte sucrée), pie pastry (pâte brisée), and puff pastry (pâte feuilletée), sold in rolls, like aluminum foil. I don't buy them regularly, but feel free to use one if you wish. I do recommend using an all-butter one.
If you'd prefer to cook the bacon in a skillet, cut thick-cut bacon or pancetta into bite-sized cubes and fry them in a skillet until crisp. Drain them on a paper towel, tip most of the oil out of the pan (reserve about a tablespoon in it), and use the bacon fat for frying the shallots or onions, rather than butter.
Although Vallery makes it a point to note this is baked in a cake pan, which is how they are often cooked in bakeries in France, if you only have a relatively deep 9-inch (23cm) tart or pie pan or dish, you could use that instead.
For the crust
1 1/4

cups (170g)

flour

1

teaspoon

sugar

1/4

teaspoon

kosher or sea salt

3

tablespoons

ice water

1

tablespoon

apple cider vinegar

8

tablespoons (4 ounces/115g)

cold unsalted butter

,

cubed
For the quiche filling
4

strips (200g)

thick-cut bacon

1

tablespoon

butter

2

medium (60g)

shallots

,

peeled and minced (or one medium onion)

3/4

cup (130g)

finely cubed (or coarsely grated) Swiss-style cheese

,

such as Emmenthal, Comté, Gruyère (or cheddar)

3

large

eggs

,

at room temperature

1

cup (250ml)

heavy cream

1/2

cup

milk

,

lowfat or whole

1/2

teaspoon

kosher or sea salt

1/4

teaspoon

freshly-ground black pepper

1/4

teaspoon

freshly-grated nutmeg

1/8

teaspoon

cayenne pepper
To make the dough, in the bowl of a stand mixer fitted with the paddle attachment, or in the bowl of a food processor, mix the flour, sugar, and salt. (The dough can also be made by hand in a bowl using a pastry blender.) Add the pieces of butter and mix on low/medium speed, or pulse, until the butter is in pea-sized pieces. If using a food processor or pastry blender, pulse it in the processor just a few times (or mix with the pastry blender) until the butter is in irregular dried chickpea-sized pieces.

Add the ice water and vinegar and continue to mix (or pulse a couple of times) just until the dough comes together. Turn the dough out onto a very lightly floured countertop and gently pat the dough until it's in a rough rectangle about 1-inch (3cm) thick. Fold the dough over in half, then repeat two more times, patting the dough out until it's 1-inch/3cm thick and folding it over in half, for a total of three times. Wrap the dough in plastic or an eco-friendly alternative, and refrigerate for at least 1 hour. (The dough can be refrigerated for up to three days.)

To roll and bake the crust, remove the dough from the refrigerator and if very firm, let rest a few minutes before rolling. On a lightly floured countertop, roll the dough to a 12-inch (31cm) circle. Brush off excess flour and fit the dough into a 9-inch (23cm) springform pan, easing it into the corners and making sure it evenly goes up the sides. The dough is forgiving so feel free to use your fingers to make sure the dough is even around the sides so there are no lower spots, as you want the custard layer you'll be pouring in later to be even. Chill the dough in the refrigerator or freezer for 30 minutes. (The dough can be refrigerated for 2-3 days, or frozen, if you'd like to do this step in advance.)

To bake the tart crust, preheat the oven to 375ºF (190ºC.) Line the dough inside of the cake pan with a large sheet of foil, easing the foil into the corners of the pan. Be sure to use a sheet of foil that's large enough to cover the dough, as well as all the way up to the top edges of the cake pan which will prevent the edges of the crust from getting too dark. Fill the foil with pie weights or dried beans and bake until the dough is partially cooked, about 30 minutes. Remove the foil and pie weights and let the crust cool while you prepare the filling.

To make the filling, place the bacon on a dinner plate lined with paper towels. Place a paper towel over the bacon and cook in the microwave, turning the bacon over midway during cooking, until it's cooked through and relatively crisp. (The French don't usually crisp bacon, but prefer it on the chewy side.) Thick-cut bacon will take about 6 minutes. (If you use thin bacon, reduce the cooking time.) Uncover and let cool.

While the bacon is cooking, heat the butter in a small skillet and sauté the chopped shallots until soft and translucent, about 4-5 minutes. Set aside to cool.

Crumble or cut the bacon into bite-size pieces and evenly strew the pieces into the baked tart shell, along with the cheese and shallots.

in a medium bowl, whisk together the eggs, cream, milk, salt, black pepper, nutmeg, and cayenne. Pour the custard into the tart shell and bake until the filling is just barely set, 35-40 minutes. The center should still jiggle when you shake the pan gently and the top will be light golden brown. Let cool for 10 to 15 minutes then remove the sides of the cake pan and serve.
Notes
Serving: The quiche can be served warm or at room temperature. It's typically served with something like a green salad or steamed green beans.