Hirsinger Chocolate
I wasn't expecting to find a great chocolate shop in the Jura, a region of France known best for its exceptional cheeses, namely Mont d'Or, Comté, and Bleu de Gex. But a friend had arranged a visit for me since he knew I loved chocolate, and I was surprised (yet happy) to see such a sleek store run by a master chocolatier in a lesser-known part of France, where I was visiting.
It's a bit unusual to find sophisticated pastries in the smaller towns in the countryside. One of the main reasons is that, as you can imagine, they're expensive to produce because of the work involved and the ingredients. So many of the chocolatiers and pastry makers set up shop in Paris. But Édouard Hirsinger the forth generation of chocolatiers and pastry makers in his family, who've been in business for over a hundred years in the charming little town of Arbois, seems to be doing pretty well right where he is.
The region is also known for the Vin du Jura and Vin Jeune, both are hearty wines that compliment the mountain cheeses that the region is justifiably famous for. And if you go, definitely try as many of the cheeses as possible, plan to spend a little time strolling around the town and sipping some of the unusual wines in the tasting rooms. But also leave some time for a visit Hirsinger.
The owner and head chef is an MOF, a designation given to very few pastry chefs in France who pass a difficult test and are given the honor of wearing red, white and blue stripes on the collar of their chef's jacket. (One chef told me you could go to prison for wearing the collar if you didn't have the MOF designation.) Some of you might have seen a film called Kings of Pastry which detailed the behind-the-scenes of the pastry competition, which was quite riveting. I won't ruin the film but I actually jumped off my seat when a culinary mishap occurred. In short, I felt their pain.
There were some lovely tartlets and small cakes at Hirsinger, plus a stack of round, sugar-covered panettone loaves that the bakery makes after they had an Italian fellow working in the bakery, which have become a popular holiday treat in this French town.
I went up the attic of the building with Chef Hirsinger. As we took the elevator up, which was actually just big enough for half a person, and the door opened, he said this room was usually empty. Yet for now, the long tables were lined with boxes of chocolates which they were packing up to sell the upcoming week, since it was right before Christmas. And indeed, when I was in the shop, one woman walked in to pick up her order for twelve boxes. Then bought another six to add to her bag.
Unlike some of the other French chocolatiers, M. Hirsinger calls his chocolates Chocolat Vivant (Living Chocolate) because he uses a variety of unusual spices and flavor combinations, many of which I'm pretty sure would have surprised his father and grandfather.
Some of the chocolates I tasted were filled with quince jelly made from fruits poached in spiced red wine, a crunchy Speculoos spice cookie topped with a dab of salted caramel then enrobed in dark or milk chocolate (I had to try both, for the sake of comparison…of course), a curious saffron-flavored ganache, the "raised comma", which indicated a roasted cashew nestled just under the surface, and le Palet d'or a square of chocolate filled with barely sweet chocolate ganache topped with a dab of gold leaf.
A few others were spiced exotically with piment d'Espelette (smoked pepper powder) and green cardamom. Another was flavored with Absinthe (which is made locally) and the Quattro which he told me was the only chocolate in France that had four textures. I took one for the team (ie: you) and although I can't vouch that it was indeed the only four-textured chocolate in the country, if anyone wants to finance further explorations to verify that claim, I'm happy to take on the task.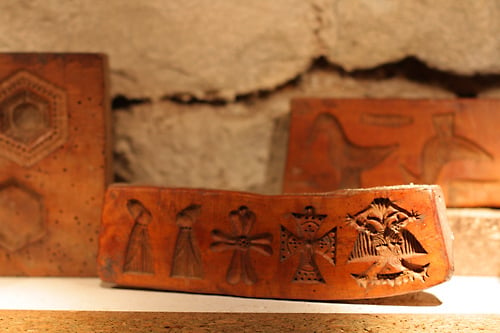 People often quip that France is "a country of museums" because no matter how small or insignificant something might seem to be, there's certain to be at least one museum dedicated to it. And because chocolate museums are the most profitable, those seem to be the most frequently opened, even in places with just the scarcest relationship to the history of chocolate. But no town, large or small, seems to be without at least one museum touting the local specialty.
In the museums, after you pay the few euros for admission, they make you watch a movie that was seemingly made in 1978, grainy and overly saturated with colors. And invariably the films are full of smiling people, think women with broad hairbands and bangs and men with shags and bushy mustaches, sitting in verdant pastures eating whatever it is that the museum features. I usually can't resist giggling at how goofy they seem, although the other patrons are usually oohing and aahing and I have to keep my, um, 'delight' under wraps.
(Recently we were at a cheese museum and I whispered to Romain that the woman ladling the milk into the cheese molds bore a striking resemblance to George Washington, complete with the elongated nose and resplendent sidecurls of white hair. After trying to hold it in, and trying not look at each other, we finally had to excuse ourselves since the other folks were having difficulty concentrating on the film.)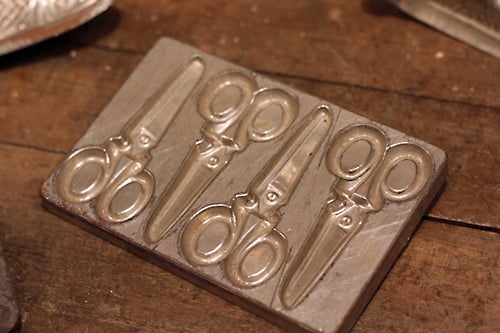 I always want to race past the hokey displays of mannequins stirring cauldrons or sitting around a table in those places. So when Chef Hirsinger asked us if we wanted to go see his museum in the basement, I wasn't all that excited. When we reached the bottom of the stairs to the basement, I did anything but laugh because underneath the ancient gothic arches was a room full of antique baking and ice cream-making equipment that was like nothing I'd ever seen before.
A giant Bonnat mixer from the 1930s that was reminiscent of the vintage KitchenAid model I saw when I toured the KitchenAid factory. The wall was lined with pristine condition wooden Speculoos molds for making the famed spiced cookies, and it was hard to believe they were over two hundred years old. I especially liked the two peas in a pod and I was especially glad to see that I'm not the only one in this business with a goofy sense of humor.
There were a pair of beautiful vintage metal ice cream molds in the shape of doves that came apart in three places, which his grandfather had used to make frozen decorations for wedding cakes. (Which I was sure would fit nicely in my suitcase, and in my kitchen.) And there were some pretty unusual chocolate molds, like these scissors.
A hundred years ago, ice wasn't easy to come by in France (come to think of it, it still is…) hence ice cream wasn't so easy to make and he said that in the early years his great grandfather would take a customer's order for ice cream then go downstairs and hand-churn a scoop of order until it was firm enough to serve. Quelle service!
Being a bit woozy from the chocolate tasting, I didn't catch the precise date when it was used, but there was an imposing distributeur automatique (vending machine) that sold ice cream in little cups which the chef told me used to be stationed outside the shop in the summer. He opened the door to show me the mechanism which held six various flavors, and clients would drop a five centime coin in the slot and out would pop a small cup of ice cream.
But of all things, I was smitten with the two sets of metal popsicle molds they had. I mean, since he had two, he certainly could stand to part with one—right? In fact, next time I go I think I'll ask. And I'd put it to good use. No snickering.
Hirsinger
Place de la Liberté
Arbois, France
Tél: 03 84 66 06 97


Related Posts and Links
Comté Cheese Making (part 1)
Comté Cheese Ripening (part 2)
Chocolate-dipped white chocolate and berry popsicles
Chocolatiers and Chocolate-makers